Bertram J. Canagarajah, Ph.D.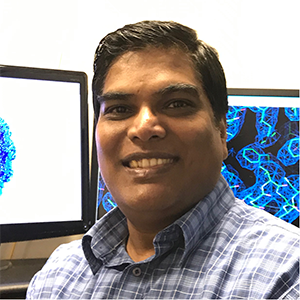 Scientific Focus Areas: Structural Biology, Cell Biology
Professional Experience
Ph.D., University of Texas Southwestern Medical Center, 1999
B.S., University of Texas at Austin, 1994
Research Goal
My research goal is to use cryo-electron microscopy (cryo-EM) to determine the molecular structure of proteins and multi-protein complexes to understand their function.
Select Publications
Cryo-EM of the dynamin polymer assembled on lipid membrane.

Kong L, Sochacki KA, Wang H, Fang S, Canagarajah B, Kehr AD, Rice WJ, Strub MP, Taraska JW, Hinshaw JE.
Nature (2018 Aug) 560:258-262. Abstract/Full Text

Structural basis for recruitment and activation of the AP-1 clathrin adaptor complex by Arf1.

Ren X, Farías GG, Canagarajah BJ, Bonifacino JS, Hurley JH.
Cell (2013 Feb 14) 152:755-67. Abstract/Full Text
View More Publications
Research in Plain Language
Proteins are complex molecules that play important functions in living organisms. We use cryo-electron microscope to study protein molecules in detail. Knowing the three-dimensional structure of proteins help us to understand their function, and to design drugs to treat diseases that they may be involved in.