Salvatore Sechi, Ph.D.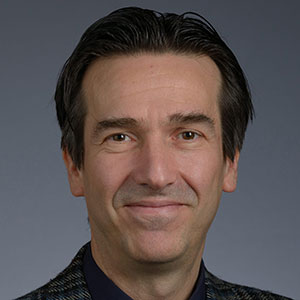 Proteomics, Systems Biology, and Structural Biology as applied to diabetes, metabolic, and endocrine diseases
Responsibilities & Activities
I am the program director for proteomics and systems biology. My responsibilities include the oversight of a research program on the application of structural biology and proteomics to diabetes, endocrinology, and metabolic diseases. The structural biology component comprises studies that are aimed at characterizing the 3-dimensional structure and function of proteins, and studies related to folding, stability, and novel structure design. The proteomic component focuses on characterizing the proteome or subset of the proteome, with the main goal of furthering our understanding of disease etiology and pathophysiology. For this purpose, researchers within this program often aim to identify protein biomarkers and examine signal transduction pathways and networks. Typically, large-scale approaches such as protein arrays or mass spectrometry are applied within these types of projects. The samples used can include biofluids or biopsies from human specimens as well as animal and cell models. The portfolio also involves computational and bioinformatic studies that address proteomic issues as they relate to diseases of interest to the NIDDK.
The systems biology program that I manage comprises research projects that study how the higher-level properties of complex biological systems arise from the interactions among their parts. Within this new discipline, researchers often use high-throughput technologies (e.g., genomics, proteomics, epigenomics, and metabolomics) and integrate the resulting data sets to develop models of complex biological systems. Within this program, researchers aim to characterize molecular pathways that lead to diabetes and develop predictive models.
I am also the coordinator or science officer for several Common Fund programs.
Committees & Working Groups
NIH Common Fund Protein Capture Reagents Program, Team Leader and Program Coordinator
Big Data to Knowledge (BD2K), Member
NIH Common Fund Glycomics Working Group, Member
NIH Roadmap Building Blocks, Biological Pathways, and Networks Implementation Group, Member
NIH Common Fund National Centers for Biomedical Computing, Lead Science Officer
Human Proteome Organization Plasma Proteome Project, NIDDK Representative
NIGMS Program on Structural Biology of Membrane Protein, NIDDK Representative
NIH Proteomic Interest Group Steering Committee, Member
Select Experience
Head, Mass Spectrometry Unit, NIA, NIH, 1999-2001
Principal Investigator, DuPont Life Sciences, 1998-1999
Research Associate, Laboratory of Mass Spectrometry, The Rockefeller University, 1996-1998
Fogarty Visiting Fellow, LEC, NCI, NIH, 1990-1993
Doctoral Degree, Department of Biology, University of Padua, Italy, 1987