Diagnosis of Constipation in Children
How do doctors find the cause of constipation in children?
Doctors use your child's medical and family history, a physical exam, or medical tests to diagnose and find the cause of constipation.
Medical and family history
Your child's doctor is likely to ask questions about lifestyle habits and symptoms, such as
How often does your child have a bowel movement?
How long has your child had symptoms?
What do your child's stools look like?
Do your child's stools have red streaks in them?
Are there streaks of blood on the toilet paper when he or she wipes?
What is your child's daily routine, including potty training, physical activity, and day care?
What are your child's eating habits?
What medicines does he or she take?
You may want to track your child's bowel movements and what his or her stools look like for several days or weeks before the doctor's visit. Write down or record the information so you can share it with the doctor.
Physical exam
During a physical exam, a doctor may
check your child's blood pressure, temperature, and heart rate
check for dehydration
use a stethoscope to listen to sounds in your child's abdomen
check your child's abdomen for

swelling
tenderness or pain
masses, or lumps

perform a rectal exam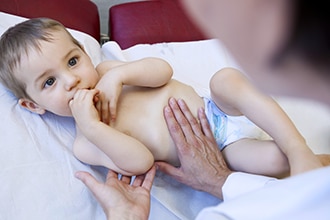 What medical tests do doctors use to find the cause of constipation in children?
Doctors don't normally need medical tests to diagnose constipation in children. However, in some cases, your child's doctor may use medical tests to help find the cause of constipation.
Lab tests
Your child's doctor may look for signs of certain diseases and conditions that may be causing your child's constipation or are related to your child's constipation. The doctor may use one or more of the following lab tests.
Bowel function tests
If your child's constipation doesn't improve with nutrition changes, your child's doctor may use bowel function tests, including colorectal transit studies. These tests help a doctor see how well stool moves through your child's colon.
Imaging tests
In some cases, your child's doctor may use imaging tests of your child's abdomen to look for problems that may be causing his or her constipation. Imaging tests include
Read about medical tests that doctors may use to find the cause of constipation in older children.
Other tests
Your child's doctor may suggest a rectal biopsy. The rectal biopsy is the best test to diagnose or rule out Hirschsprung disease. A rectal biopsy is a procedure that involves taking small pieces of tissue from the rectum and examining them with a microscope. The doctor will look at the tissue for signs of medical problems.
May 2018
This content is provided as a service of the National Institute of Diabetes and Digestive and Kidney Diseases (NIDDK), part of the National Institutes of Health. The NIDDK translates and disseminates research findings through its clearinghouses and education programs to increase knowledge and understanding about health and disease among patients, health professionals, and the public. Content produced by the NIDDK is carefully reviewed by NIDDK scientists and other experts.