Diagnosis of Gallstones
How do doctors diagnose gallstones?
Doctors use your medical history, a physical exam, and lab and imaging tests to diagnose gallstones.
A health care professional will ask you about your symptoms. He or she will ask if you have a history of health conditions or health concerns that make you more likely to get gallstones. The health care professional also may ask if you have a family history of gallstones and what you typically eat. During a physical exam, the health care professional examines your body and checks for pain in your abdomen.
What tests do health care professionals use to diagnose gallstones?
Health care professionals may use lab or imaging tests to diagnose gallstones.
Lab tests
A health care professional may take a blood sample from you and send the sample to a lab to test. The blood test can show signs of infection or inflammation of the bile ducts, gallbladder, pancreas, or liver.
Imaging tests
Health care professionals use imaging tests to find gallstones. A technician performs these tests in your doctor's office, an outpatient center, or a hospital. A radiologist reads and reports on the images. You usually don't need anesthesia or a medicine to keep you calm for most of these tests. However, a doctor may give you anesthesia or a medicine to keep you calm for endoscopic retrograde cholangiopancreatography (ERCP).
Ultrasound. Ultrasound is the best imaging test for finding gallstones. Ultrasound uses a device called a transducer, which bounces safe, painless sound waves off your organs to create an image or picture of their structure. If you have gallstones, they will be seen in the image. Sometimes, health care professionals find silent gallstones when you don't have any symptoms.
Computed tomography (CT) scan. CT scans use a combination of x-rays and computer technology to create images of your pancreas, gallbladder, and bile ducts. CT scans can show gallstones, or complications such as infection and blockage of the gallbladder or bile ducts. However, CT scans also can miss gallstones that you may have.
Magnetic resonance imaging (MRI). MRI machines use radio waves and magnets to produce detailed images of your organs and soft tissues without x-rays. MRIs can show gallstones in the ducts of the biliary tract.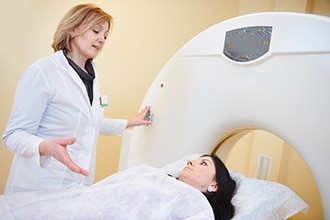 Cholescintigraphy. Cholescintigraphy—also called a hydroxyl iminodiacetic acid scan, HIDA scan, or hepatobiliary scan—uses a safe radioactive material to produce pictures of your biliary tract. You'll lie on a table while a health care professional injects a small amount of the radioactive material into a vein in your arm. The health care professional may also inject a substance that causes your gallbladder to squeeze. A special camera takes pictures of the radioactive material as it moves through your biliary tract. Doctors use cholescintigraphy to diagnose abnormal contractions of your gallbladder or a blockage in the bile ducts.
Endoscopic retrograde cholangiopancreatography (ERCP). ERCP combines upper gastroendoscopy and x-rays to treat problems of your bile and pancreatic ducts. ERCP helps the health care professional locate the affected bile duct and the gallstones. This test is more invasive—or involves more instruments inside your body—than other tests. Doctors use it selectively, usually to remove a gallstone that is stuck in the common bile duct.
Last Reviewed November 2017