Treatment for Gallstones
How do health care professionals treat gallstones?
If your gallstones are not causing symptoms, you probably don't need treatment. However, if you are having a gallbladder attack or other symptoms, contact your doctor. Although your symptoms may go away, they may appear again and you may need treatment. Your doctor may refer to you a gastroenterologist or surgeon for treatment.
The usual treatment for gallstones is surgery to remove the gallbladder. Doctors sometimes can use nonsurgical treatments to treat cholesterol stones, but pigment stones usually require surgery.
Surgery
Surgery to remove the gallbladder, called cholecystectomy, is one of the most common operations performed on adults in the United States. The gallbladder is not an essential organ, which means you can live normally without a gallbladder.
A health care professional will usually give you general anesthesia for surgery. Once the surgeon removes your gallbladder, bile flows out of your liver through the hepatic duct and common bile duct and directly into the duodenum, instead of being stored in the gallbladder.
Surgeons perform two types of cholecystectomy:
Laparoscopic cholecystectomy. Almost all surgeons perform cholecystectomies with laparoscopy. Surgeons perform many laparoscopic cholecystectomies on an outpatient basis, meaning you may be able to go home the same day. You will probably be able to return to normal physical activity in about a week.
Open cholecystectomy. A surgeon performs an open cholecystectomy when your gallbladder is severely inflamed, infected, or scarred from other operations. Your doctor may perform a cholecystectomy if problems occur during a laparoscopic cholecystectomy. After the surgery, you may need to stay in the hospital for up to a week. You will probably be able to return to normal physical activity after about a month.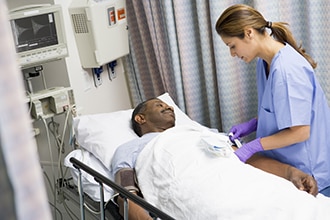 What happens after gallbladder removal?
A small number of people have softer and more frequent stools after gallbladder removal, because bile now flows into your duodenum more often. Changes in bowel habits are usually temporary; however, discuss them with your doctor.
All surgeries come with a possible risk of complications; however, gallbladder surgery complications are very rare. The most common complication is injury to the bile ducts, which can cause infection. You may need one or more additional operations to repair the bile ducts.
Nonsurgical treatments
Doctors use nonsurgical treatments for gallstones only in special situations, like if you have cholesterol stones and you have a serious medical condition that prevents surgery. Even with treatment, gallstones can return. Therefore, you may have to be regularly treated for gallstones for a very long time, or even for the rest of your life.
A doctor may use the following types of nonsurgical treatments to remove or break up cholesterol gallstones:
Endoscopic retrograde cholangiopancreatography (ERCP). Sometimes doctors use ERCP to remove a gallstone that is stuck in the common bile duct.
Oral dissolution therapy. Ursodiol (Actigall) and chenodiol (Chenix) are medicines that contain bile acids that can break up gallstones. These medicines work best to break up small cholesterol stones. You may need months or years of treatment to break up all stones.
Shock wave lithotripsy. A doctor can use shock wave lithotripsy to blast gallstones into small pieces. Doctors use this procedure only rarely, and sometimes along with ursodiol.
How can I help prevent gallstones?
You can help prevent gallstones by
adjusting your eating plan to include more foods high in fiber and healthy fats, fewer refined carbohydrates, and less sugar
losing weight safely if you are overweight or have obesity
maintaining a healthy weight through healthy eating and regular physical activity
Last Reviewed November 2017