Symptoms & Causes of Lactose Intolerance
What are the symptoms of lactose intolerance?
If you have lactose intolerance, you may have symptoms within a few hours after you have milk or milk products, or other foods that contain lactose. Your symptoms may include
Your symptoms may be mild or severe, depending on how much lactose you have.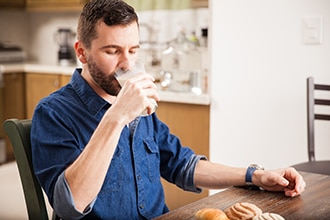 What causes lactose intolerance?
Lactose intolerance is caused by lactose malabsorption. If you have lactose malabsorption, your small intestine makes low levels of lactase—the enzyme that breaks down lactose—and can't digest all the lactose you eat or drink.
The undigested lactose passes into your colon. Bacteria in your colon break down the lactose and create fluid and gas. In some people, this extra fluid and gas causes lactose intolerance symptoms.
In some cases, your genes are the reason for lactose intolerance. Genes play a role in the following conditions, and these conditions can lead to low levels of lactase in your small intestine and lactose malabsorption:
Lactase nonpersistence. In people with lactase nonpersistence, the small intestine makes less lactase after infancy. Lactase levels get lower with age. Symptoms of lactose intolerance may not begin until later childhood, the teen years, or early adulthood. Lactase nonpersistence, also called primary lactase deficiency, is the most common cause of low lactase levels.
Congenital lactase deficiency. In this rare condition, the small intestine makes little or no lactase, starting at birth.
Not all causes of lactose intolerance are genetic. The following can also lead to lactose intolerance:
Injury to the small intestine. Infections, diseases, or other conditions that injure your small intestine, like Crohn's disease or celiac disease, may cause it to make less lactase. Treatments—such as medicines, surgery, or radiation therapy—for other conditions may also injure your small intestine. Lactose intolerance caused by injury to the small intestine is called secondary lactose intolerance. If the cause of the injury is treated, you may be able to tolerate lactose again.
Premature birth. In premature babies, or babies born too soon, the small intestine may not make enough lactase for a short time after birth. The small intestine usually makes more lactase as the baby gets older.
What is the difference between lactose intolerance and milk allergies?
Lactose intolerance and milk allergies are different conditions with different causes. Lactose intolerance is caused by problems digesting lactose, the natural sugar in milk. In contrast, milk allergies are caused by your immune system's response to one or more proteins in milk and milk products.
A milk allergy most often appears in the first year of life, while lactose intolerance typically appears later.3,4 Lactose intolerance can cause uncomfortable symptoms, while a serious allergic reaction to milk can be life threatening.
References
Last Reviewed February 2018