Symptoms & Causes of Peptic Ulcers (Stomach Ulcers)
In this section:
What are the symptoms of a peptic ulcer?
A dull or burning pain in your stomach is the most common symptom of a peptic ulcer. You may feel the pain anywhere between your belly button and breastbone. The pain most often
happens when your stomach is empty—such as between meals or during the night
stops briefly if you eat or if you take antacids
lasts for minutes to hours
comes and goes for several days, weeks, or months
Less common symptoms may include
bloating
burping
feeling sick to your stomach
poor appetite
vomiting
weight loss
Even if your symptoms are mild, you may have a peptic ulcer. You should see your doctor to talk about your symptoms. Without treatment, your peptic ulcer can get worse.
What causes a peptic ulcer?
Causes of peptic ulcers include
Sometimes peptic ulcers are caused by both NSAIDs and H. pylori.
How do NSAIDs cause a peptic ulcer?
To understand how NSAIDs cause peptic ulcer disease, it is important to understand how NSAIDs work. Nonsteroidal anti-inflammatory drugs reduce pain, fever, and inflammation, or swelling.
Everyone has two enzymes that produce chemicals in your body's cells that promote pain, inflammation, and fever. NSAIDs work by blocking or reducing the amount of these enzymes that your body makes. However, one of the enzymes also produces another type of chemical that protects the stomach lining from stomach acid and helps control bleeding. When NSAIDs block or reduce the amount of this enzyme in your body, they also increase your chance of developing a peptic ulcer.
How do H. pylori cause a peptic ulcer and peptic ulcer disease?
H. pylori are spiral-shaped bacteria that can cause peptic ulcer disease by damaging the mucous coating that protects the lining of the stomach and duodenum. Once H. pylori have damaged the mucous coating, powerful stomach acid can get through to the sensitive lining. Together, the stomach acid and H. pylori irritate the lining of the stomach or duodenum and cause a peptic ulcer.
How do tumors from ZES cause peptic ulcers?
Zollinger-Ellison syndrome is a rare disorder that happens when one or more tumors form in your pancreas and duodenum. The tumors release large amounts of gastrin, a hormone that causes your stomach to produce large amounts of acid. The extra acid causes peptic ulcers to form in your duodenum and in the upper intestine.
When should you call or see a doctor?
You should call or see your doctor right away if you
feel weak or faint
have difficulty breathing
have red blood in your vomit or vomit that looks like coffee grounds
have red blood in your stool or black stools
have sudden, sharp stomach pain that doesn't go away
These symptoms could be signs that a peptic ulcer has caused a more serious problem.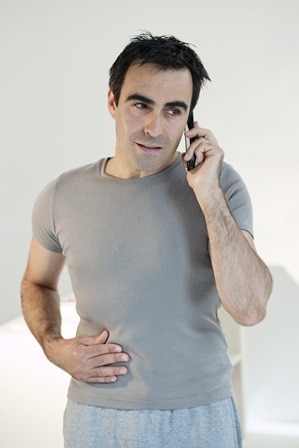 Last Reviewed November 2014