Eating, Diet, & Nutrition for Primary Sclerosing Cholangitis
What should I eat if I have PSC?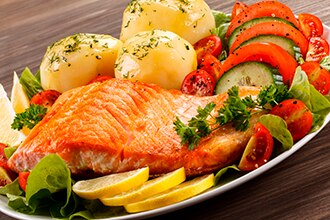 People with primary sclerosing cholangitis (PSC) should eat a healthy, well-balanced diet. Good nutrition is important in all stages of PSC—including cirrhosis—to help the liver work properly and manage complications.
Your doctor can recommend a healthy diet that provides enough calories and nutrients. Your doctor may recommend taking dietary supplements of calcium and vitamin D to help prevent osteoporosis. For low levels of fat-soluble vitamins A, D, E, or K, your doctor may recommend taking supplements of these vitamins. Follow your doctor's instructions on the type and amount of vitamins you should take.
What should I avoid eating if I have PSC?
You should avoid eating raw or undercooked shellfish, fish, meat, and unpasteurized milk. Bacteria or viruses from these foods may cause severe infections in people with liver disease.
Doctors may recommend that people with PSC stop drinking alcohol or, at least, limit their intake. People who have PSC and cirrhosis should completely stop drinking alcohol.
Last Reviewed February 2022