Symptoms & Causes of Primary Sclerosing Cholangitis
What are the symptoms of PSC?
The main symptoms of primary sclerosing cholangitis (PSC) are
feeling tired or weak
itchy skin
Other symptoms may include
losing weight without trying
poor appetite
fever
pain in the abdomen
As the disease gets worse, you may get symptoms of cirrhosis and liver failure, such as
bloating
bruising and bleeding easily
confusion, difficulty thinking, or memory loss
redness in the palms of your hands
swelling in your legs, ankles, or feet
yellowish eyes and skin, called jaundice
Because PSC gets worse slowly, you can have the disease for years before you have any symptoms. Many people have no symptoms when they are first diagnosed with PSC.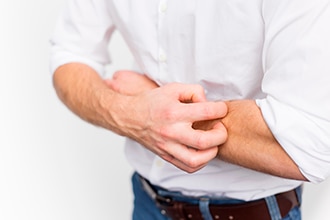 What causes PSC?
The cause of PSC is not known. However, one or more of the following may play a role in causing the disease:
Last Reviewed January 2018