Symptoms & Causes of Primary Sclerosing Cholangitis
What are the symptoms of PSC?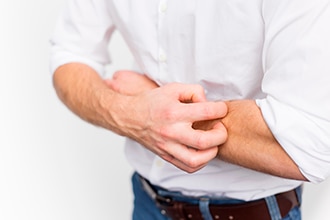 Symptoms of primary sclerosing cholangitis (PSC) may include
pain in the abdomen, or belly
itchy skin
yellowish color of the whites of the eyes and skin, called jaundice
feeling tired or weak
fever
PSC may lead to a bile duct infection. Symptoms of a bile duct infection include
chills
fever
new or worsening jaundice
pain in the upper right side of the abdomen
As the disease gets worse, you may develop cirrhosis. Symptoms of cirrhosis may include
Because PSC gets worse slowly, you can have the disease for years before you have any symptoms. Many people have no symptoms when they are first diagnosed with PSC.
What causes PSC?
Experts aren't sure what causes PSC. Studies suggest that several factors may play a role, including
Last Reviewed February 2022