About NIDDK
NIDDK research creates knowledge about and treatments for diseases that are among the most chronic, costly, and consequential for patients, their families, and the Nation.
The NIDDK Director
Griffin P. Rodgers, M.D., M.A.C.P.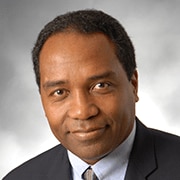 Advisory & Coordinating Committees
Budget & Legislative Information
Funding Trends & Support of Guiding Principles
Staff Directory
View, search, and sort by name, title, office or division, and program area to find out more about staff and contact information.
View Staff Directory
Offices & Divisions
Learn more about the offices and divisions within NIDDK, their research programs, funding opportunities, and reports.
View Offices & Divisions
Strategic Plans & Reports
Frequently Asked Questions
Visit Us
NIDDK has offices in Bethesda, MD and Phoenix, AZ.
Visit Us
NIH Almanac: Important Events in NIDDK History
See an overview of NIDDK programs, initiatives, leadership, and accomplishments since 1963.
View NIH Almanac