NIDDK Director's Update
Summer 2011
Health Information Updates
NKDEP's National Kidney Month campaign encourages African-Americans to learn about kidney health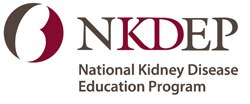 In observance of National Kidney Month in March, the National Kidney Disease Education Program (NKDEP)—an NIH initiative—led a national media, grassroots, and online campaign to encourage African-Americans to better understand kidney health. African-Americans are at highest risk to develop kidney failure among U.S. racial and ethnic groups.
National Kidney Month activities included:
Seven radio interviews, including two national placements, featuring Dr. Griffin P. Rodgers. He was interviewed on March 22, National Diabetes Alert Day, and emphasized the connection that diabetes plays in the risk for kidney disease. As well, online media including leading black online health outlets UrbanHousecall.com and JourneytoWellness.com ran articles related to National Kidney Month.
An interactive Q&A with BlackDoctor.org on Facebook. Participants from across the nation posted 24 questions about kidney health on Facebook during the week of March 7. NKDEP posted replies on World Kidney Day, March 10. Facebook and YouTube were also used to promote Kidney Month activities and education.
Materials distribution at several events, including family reunion planner events in Birmingham, Detroit, Dallas, and Atlanta, as part of NKDEP's Family Reunion Initiative, which encourages African-American families to discuss their health history particularly as it relates to kidney health.
Four faith organizations conducted Kidney Sundays events in North Carolina, Maryland, and Virginia. NKDEP's Kidney Sundays program provides educational materials to faith communities to discuss kidney health.
An NIH news release about World Kidney Day and National Kidney Month is available. To learn more about NKDEP, visit their Web site.
It's never too early to prevent diabetes: NDEP educates on the lasting impact of gestational diabetes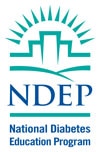 The National Diabetes Education Program (NDEP)—an initiative of NIH and the Centers for Disease Control and Prevention—recently teamed up with the National Healthy Mothers, Healthy Babies Coalition (HMHB) to disseminate diabetes prevention messages about the lasting impact of gestational diabetes on mothers and children through HMHB's "Interview with Experts" Q&A Series, as well as its Maternal and Child Health Webinar Series.
The "Interview with Experts" Q&A featured Dr. Judith Fradkin, director of NIDDK's Division of Diabetes, Endocrinology, and Metabolic Diseases. The webinar on lifelong risks of gestational diabetes featured NDEP Director Joanne Gallivan, M.S., R.D., and Dr. Robert Ratner, vice president for scientific affairs at Medstar Research Institute and a principal investigator for the Diabetes Prevention Program (DPP) and DPP Outcomes Study of the NIH.
Both venues provided an opportunity to reach health care providers, community groups, and individuals with information about the lifelong health risks for women with a history of gestational diabetes, the potential risks to the child of the pregnancy complicated by gestational diabetes, and the steps mothers can take to help lower these risks for both themselves and their children.