NIDDK Director's Update
Winter 2014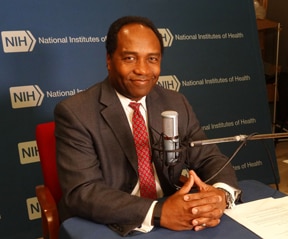 Director's Note
At NIDDK, we view the members of the public as our partners. We couldn't carry out NIDDK's important research without your support. And so, one of NIDDK's key values is to clearly communicate our research findings.
NIDDK's Healthy Moments radio show is one major way NIDDK reaches out to people about health advances stemming from scientific research. Last year, about 30 million listeners heard health tips that we know have the potential to benefit their lives, from how to avoid weight gain over the holidays to preventing type 2 diabetes. You can read about Healthy Moments later in this issue. Read more
Commendations & Commencements
Publication Information
The NIDDK Director's Update is published in Spring, Summer, Fall and Winter. To submit an item for the next edition or send suggestions, please contact Editors Heather Martin and Alyssa Voss at niddkmedia@niddk.nih.gov. Items must be submitted 6 weeks before the month of publication to be considered for the next issue.
Browse other issues in the Director's Update Archive.