NIDDK Director's Update
Winter 2014
News Around NIDDK
NIDDK radio show reaches ever-growing audience
By Krysten Carrera

Every week, more than a million radio listeners hear a familiar voice on a show called Healthy Moments, a weekly series hosted by NIDDK Director Dr. Griffin P. Rodgers. On the show, Rodgers offers easy-to-use tips on how to improve health and prevent or manage diseases.
"Part of NIDDK's mission is to communicate our research findings to the public," said Rodgers. "Healthy Moments is an example of how NIDDK translates its discoveries into science-based, action-oriented health advice that people can use to make positive changes."
Since Healthy Moments began in 2008, the number of radio listeners has grown to more than 30 million annually. Many of the stations airing Healthy Moments target an African American audience, and Healthy Moments focuses on topics tailored to that community but relevant to all.
Each episode runs about one minute. Recent topics have included the link between kidney disease and high blood pressure, the need for more African American organ donors, and lowering the risk of developing type 2 diabetes. Sometimes the show features a guest; for instance, Dr. Anthony Fauci, director of NIH's National Institute of Allergy and Infectious Diseases, recently discussed the link between HIV and viral hepatitis.
Rodgers, working with NIDDK's Office of Communications and Public Liaison, identifies topics and creates scripts based on NIH and NIDDK research findings. Episodes are recorded on the NIH campus in Bethesda, Maryland, and air on radio stations. Healthy Moments is also on Twitter @NIDDKgov, and several mobile device-friendly video episodes of Healthy Moments are available on the NIDDK YouTube channel.
"If you enjoy talk radio and are interested in health, we invite you to tune in," Rodgers said.
Healthy Moments airs in many regions across the nation and is also featured on "The Tom Joyner Morning Show" and the "Yolanda Adams Morning Show." The show will likely expand to additional cities in the near future. For information on where and when to catch the show or to listen to archived episodes, visit Healthy Moments on our website.
To submit a comment or idea for a future show, contact niddkhm@nih.gov.
Getting to know: Dr. Guillermo Arreaza-Rubín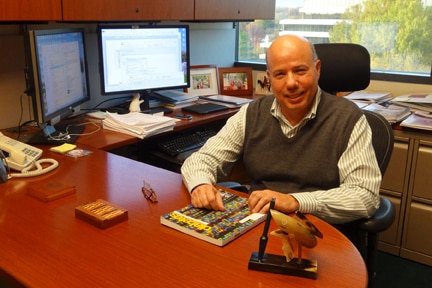 Guillermo Arreaza-Rubín, M.D., directs programs in the clinical immunology of diabetes, diabetes technology and Small Business Innovation Research/Small Business Technology Transfer Research within the NIDDK Division of Diabetes, Endocrinology, and Metabolic Diseases (DEM). Since coming to NIDDK, the endocrinologist has aligned the diabetes community toward rapid development of an artificial pancreas, a device to replace fingerstick tests and manual insulin injections for people with type 1 diabetes. Arreaza-Rubín recently won an NIH Director's Award for his leadership in the field. He spoke with Amy F. Reiter about his first lab and the future of an artificial pancreas.
Why did you want to become a doctor, and what made you choose to focus on diabetes?
From an early age I wanted to be a physician and was very much interested in biology and how organisms worked. At home I had a small room that I called my lab where I played with chemistry, biology games and surgical instruments from my uncle. After I graduated as an M.D. and completed my internal medicine training, I became very interested in the pathophysiology of autoimmune endocrine diseases and decided to specialize in endocrinology and diabetes.
What first interested you about the artificial or bionic pancreas?
Shortly after I arrived at NIH, I started working with academic and small business investigators in the field of new technologies for diabetes control and insulin/cell replacement therapies. The investigators were testing novel glucose sensors and their integration with what would eventually be a fully automated system of insulin administration. In 2005, we convened the first NIH/JDRF artificial pancreas workshop, and I began coordinating with other entities supporting this field, such as the JDRF and the FDA. At that point—with the encouragement of DEM Director Dr. Judy Fradkin—I began actively working on promoting research in this field.
How would you describe your contribution to research in this area?
With others at NIH, I've been working to identify critical areas needed to fill research gaps in the field and to create initiatives to promote and catalyze basic and applied research to advance the development of an artificial pancreas system. With other federal agencies and nonprofit groups, we have also facilitated collaboration between private research companies and academic centers to expedite progress—which has been very fruitful.
When do you hope that this device will reach the public, and why?
I expect that a commercially viable system may be available by 2021-2022, when we celebrate the 100th anniversary of the discovery of insulin and the first time that a patient was treated with it. By that time, most of the fundamental research and testing of prototypes will be completed and hopefully an optimized system will be available. Some investigators are even more optimistic and believe a system will be available earlier.
What would you say is your greatest career accomplishment thus far?
Since I was a medical student in Venezuela I have admired the work done by the NIH. Now that I am a part of the NIH, I feel fortunate to work with such an extraordinary group of bright scientists and scientific administrators to promote and support biomedical research that may improve the health of the people of this country and on a global scale.
2014 NIDDK employee appreciation awards
Several NIDDK staff received commendations for their work at the annual employee appreciation celebration in October.
Awardees are:
40 Year Length of Service
Rafael Daniel Camerini-Otero, MD, PhD
Alice K. Franks
Judith Podskalny, Ph.D.
NIDDK Director's Awards – Individual
James F. Hyde, Ph.D.
Lisa M. Spain, Ph.D.
NIDDK Director's Awards – Group
Bariatric Surgery Initiatives Group
Mary E. Evans, Ph.D.
Mary Horlick, M.D.
Christine M. Hunter, Ph.D., A.B.P.P.
Myrlene A. Staten, M.D.
Karen L. Teff, Ph.D.
Brown Adipose Tissue Research Team
Carol R. Haft, Ph.D.
Maren R. Laughlin, Ph.D.
Chronic Liver Disease Working Group
Edward Doo, M.D.
Jay H. Hoofnagle, M.D.
Averell H. Sherker, M.D., F.R.C.P.C.
Rebecca J. Torrance, R.N., M.S.
Elizabeth C. Wright, Ph.D.
Co-Leadership of the CSWG
Mary Horlick, M.D.
Barbara Linder, M.D., Ph.D.
Marva Moxey-Mims, M.D.
KUH Urology Team
Tamara G. Bavendam, M.D., M.S.
Emily Duggan
Deborah K. Hoshizaki, Ph.D.
Christian J. Ketchum, Ph.D.
Ziya Kirkali, M.D.
John W. Kusek, Ph.D.
Christopher Mullins, Ph.D.
Tracy L. Rankin, Ph.D.
Rebekah S. Rasooly, Ph.D.
NIDDK Communication Support Contract Team
Leslie L. Curtis, M.A.
Joanne M. Gallivan, M.S., R.D.
Eileen P. Newman, M.S., R.D.
Jody Nurik, R.N.
Dana Sheets, M.A.
Diane Tuncer
NIDDK Travel Team
Patricia Barton
Kim Black
Samantha Jarvis
Christina Knipp
Gwendolyn Proctor
Melanie Reagan
Program Review Interactions Workgroup
Michele L. Barnard, Ph.D.
Francisco O. Calvo, Ph.D.
John F. Connaughton, Ph.D.
Michael J. Grey, Ph.D.
Deborah K. Hoshizaki, Ph.D.
Christian J. Ketchum, Ph.D.
Karl F. Malik, Ph.D.
Saul Malozowski, M.D., Ph.D., M.B.A.
Averell H. Sherker, M.D., F.R.C.P.C.
Corinne M. Silva, Ph.D.
Kidney Research National Dialogue Team
Emily Duggan
Paul Eggers, Ph.D.
Michael F. Flessner, M.D., Ph.D.
Deborah K. Hoshizaki, Ph.D.
Christian J. Ketchum, Ph.D.
Paul L. Kimmel, M.D., M.A.C.P.
John W. Kusek, Ph.D.
David L. Miller, Ph.D.
Marva Moxey-Mims, M.D.
Christopher Mullins, Ph.D.
Andrew S. Narva, M.D.
Tracy L. Rankin, Ph.D.
Rebekah S. Rasooly, Ph.D.
Krystyna E. Rys-Sikora, Ph.D.
Robert A. Star, M.D.
Nancy Nossal Mentorship Award
Ann Dean, Ph.D.
Kristina I. Rother, M.D., M.H.Sc.
Jürgen Wess, Ph.D.
NIDDK Leading Diversity – Special Achievement Award
Jeffrey B. Kopp, M.D.
NIDDK "You Make a Difference Award" - Individual
Debi Anderson
Susan K. Buchanan
Jennifer J. Cho
Elaine K. Cochran, M.S.N., C.R.N.P.
Yinghong Cui
Gayla M. Elder-Leak
Katherine Grimmnitz
Terry L. Grove, C.P.P.S.
Xiaodu Guo, M.D., Ph.D.
Gerardo E. Hasse
Mary Horlick, M.D.
Christopher Koh, M.D., M.H.Sc.
Lauren L. Meskill
Nevitt Morris, R.N., B.S.N.
Agnes Rooke, J.D., M.S.
Thomas A. Tatham, Ph.D.
NIDDK "You Make a Difference Award" - Group
CTB IT System Failover Test Team
Roberta Albert
Steve Bradham
Maurio Carter
Errin W. Frahm
Robert J. Herbert
Warren Herder
Lee Matthews
Umashankar Pattabiraman, B.E.
Roza Podkovyrova
Amy L. Thompson
GMB Brown Bag Coordinators
Christina W. Coriz
Kieran Kelley, M.A.S.
Carolyn Kofa Sullivan
Thach (Todd) V. Le
Diana O'Donovan
Lesley C. Whipp
KUH Administrative Coordinators
Emily Duggan
Aliecia A. Shepherd
Carol Thompson
Linda M. Turner
Liver Diseases Branch Administrative Team
Amanda Rogers
Darlina J. Sosa
NIDDK IRP Review Committee Support
Lisa Gansheroff, Ph.D.
Nicole Y. Ray, M.B.A.
NIDDK Purchasing Team
Christie J. Halcomb
Elizabeth Scott
Bernadette Wright
Bonnie Zimmerman
NIDDK Website Staff Directory Team
Janice Balin
Andrea R. Brush, M.B.A.
Hilary C. Shutak, M.A.
Camila M. Torrella
NIH Bench to Bedside Extramural Grant Coordinators
Amanda Linehan
Diana T. Ly
PTMS Application Implementation Coordinators
Sherri Gollins, R.D.H., B.S.D.H.
Glynnis K. Vance, C.I.P.
Translational Research Awardees
Kai Ge, Ph.D.
Richard L. Proia, Ph.D.
Jürgen Wess, Ph.D.