Guillermo A. Arreaza-Rubín, M.D.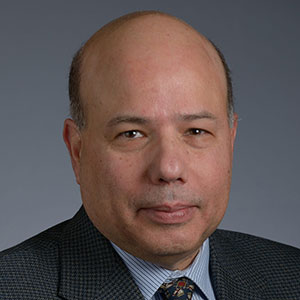 Diabetes and endocrine disease bioengineering and glucose sensing
Responsibilities & Activities
As director for clinical immunology of diabetes program and the technologies for the diagnosis and diabetes control program, I oversee a variety of research projects designed to improve diagnosis, treatment, and monitoring of this disease. My responsibilities include a portfolio that includes the Small Business Innovation Research/Small Business Technology Transfer Research (SBIR/STTR) program—which supports innovative research by small businesses that have the potential for commercialization—in areas related to immunology, diabetes, and other endocrine and metabolic diseases. These areas include drug discovery for diabetes and other endocrine diseases; new technologies for islet isolation, stem cell/regeneration, and transplantation; immune modulatory agents for the primary and secondary prevention of diabetes; inflammatory aspects of type 2 diabetes, and glucose control technologies. I oversee academic research on closed-loop systems/artificial pancreas development including the testing of novel glucose sensors and integrated pancreatic hormone replacement delivery technologies and a portfolio on cell replacement therapies. Also, oversee a new consortium focused on strategies to restore awareness of hypoglycemia in people with type 1 diabetes (IAH-C) including interventions with new technologies. In addition, I have been the program director for the Clinical Islet Transplantation (CIT) Consortium and the Clinical Islet Transplant Registry (CITR) and participate in the coordination of the human islet research network (HIRN) program as a program director for the consortium for modeling autoimmunity (CMAI) and the consortium on human islet biomimetics (CHIB). I represent the NIDDK on several trans-NIH and interagency working groups on metabolic monitoring, inflammatory processes, autoimmunity and medical devices development and performance surveillance.
Research Programs
Bioengineering, Biotechnology, & Imaging as applied to Diabetes, Metabolic, & Endocrine Diseases
Cutting-edge technologies and integrated approaches that treat and elucidate the underlying mechanisms of endocrine and metabolic diseases, including diabetes.
Clinical Research in Type 1 Diabetes
Determinants, etiology, progression, prevention, and treatment of type 1 diabetes in children and adults.
Diabetes, Endocrine, & Metabolic Disease Translational Research
Studies that translate scientific findings into practice to enhance human health of those with, or at risk for, metabolic disease.
Diabetes: Treatment, Prevention, & Complications

Endocrine Pancreas
Biology, development, and function of the endocrine pancreas and clinical studies on islet transplantation for type 1 diabetes treatment.
Pathophysiology of Diabetes & Metabolic Disease
Basic and clinical research that addresses the pathophysiology of metabolic diseases, including type 1 and type 2 diabetes.
Committees & Working Groups
Trans-NIH/FDA Medical Devices Research Interest Group, Member-NIDDK Representative
NIH/FDA Interagency Artificial Pancreas Working Group, NIDDK Representative NIH-Immunology Interest Group, Member
Mycrophysiological Systems Trans NIH-Working Group, Member-NIDDK Representative
Type 1 Diabetes Working Group, Member
Autoimmunity Working Group, Member
DEM and trans DK-Clinical Working Group, Member
Human Islet Research Working Group, Member
Steering Committee for the Glucose Monitoring Surveillance Program, Member
Select Experience
Scientific Director, Diabetogen Biosciences, Inc., London, Ontario, Canada, 2000-2005
Senior Research Associate, The Robarts Research Institute, Autoimmunity/ Diabetes Group, University of Western Ontario, 1998-2000
Postdoctoral Fellowship, The Robarts Research Institute, Autoimmunity/Diabetes Group, University of Western Ontario, 1994-1997
Research Fellowship, Endocrinology Research Laboratory, The Wellesley Hospital, Department of Medicine, University of Toronto, 1991-1994
Residency, Internal Medicine/Endocrinology, University Hospital, Central University of Venezuela, 1985-1991