NIDDK Director's Update
Winter 2016
Health Information Updates
New videos help people with diabetes better manage their health
The NIDDK has released new videos that offer support to people with diabetes, and steps they can take to manage their disease.
Informed by current scientific research, the video series features people living with diabetes talking about what they've leaned and experienced, and how they manage their disease. The video topics include:
As well, a new animated video short, "What is Diabetes?" complements the series. Using plain language, the video explains what diabetes is, the differences between type 1 and 2 diabetes, possible complications, and ways to manage the disease.
Watch more videos on NIDDK's YouTube channel.
Kidney disease materials resonate in Puerto Rico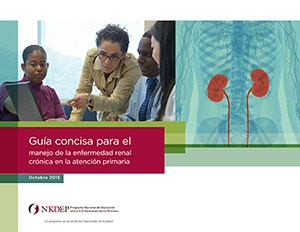 Health information materials from the NIDDK are gaining traction in the U.S. territory of Puerto Rico, where kidney-related conditions are increasingly a major public health issue. Medical Card System Inc., a health insurer covering many Puerto Ricans, is using the Spanish version (PDF, 790 KB) of NIDDK's "Making Sense of CKD, A Concise Guide for Managing Chronic Kidney Disease in the Primary Care Setting" (PDF, 3.7 MB) guide as the basis of a Continuing Medical Education activity promoted to the 2,500 providers in its system.
The company will evaluate the activity and provide the data to NIDDK's National Kidney Disease Education Program as a joint effort to improve materials.
Developed in 2015, the guide is one of multiple NIDDK resources tailored to Spanish-speaking communities. Health-oriented organizations make extensive use of the materials – including Riñones, Tesoros (Kidneys, Treasures) Education Program for Community Health Workers – in their programs to educate people at risk of kidney disease about the need for testing and steps they can take to protect their kidneys. Also in Puerto Rico, Medical Card System is using various NIDDK materials in the Center for Medicare and Medicaid Quality Improvement programs for people with stage 4 kidney disease.