NIDDK Director's Update
Spring 2017
Health Information Updates
One site fits all: NIDDK upgrades website to size to handheld devices
By Julia Jackson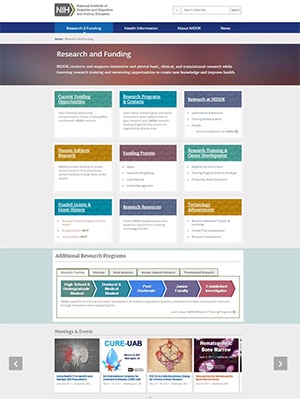 With more people getting online information on the go, NIDDK strives to improve the experience. Starting in late 2016, the institute began moving to a new mobile-responsive website to improve user experiences on a variety of devices. The updated website features more easily accessible information about research and funding and health information and is designed to result in improved performance for the pages, including better load time.
NIDDK's updated Research and Funding pages are launching on the new website in March 2017. Several pages use a new layout that groups topics inside category blocks which rearrange to a screen's size. The new Research Resources page, for example, highlights supported data sets, studies, and services to accelerate and lower the cost of new discoveries. Researchers can access a range of resources, including: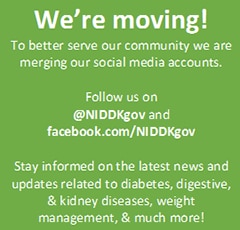 "Our analytics show that more than half of our nearly 40 million NIDDK web page views last year came from people using mobile phones or tablets," said Kathy Kranzfelder, director of the NIDDK Office of Communications and Public Liaison. "We want our pages to render well for everyone coming to NIDDK."
NIDDK also aims to maintain its high marks from website visitors. The site averages a customer satisfaction rating of 84 out of 100 on the American Customer Satisfaction Index survey, a score well above industry standards for government websites. The institute continues to adapt the website using a data-informed approach that incorporates feedback from the public.
"Data and feedback from the people who use our site are critical to identifying how we can keep adapting to the new ways people get information online," said Dana Sheets, NIDDK's digital team lead "We look forward to seeing how our diverse audiences use the new site. Our goal is to help people find the information they need in the way they want to get it."
The website's address remains the same.