NIDDK Director's Update
Spring 2017
News Around NIDDK
Network of Minority Health Research Investigators celebrates 15th anniversary
By January W. Payne
When Dr. Lincoln Edwards first joined the Network of Minority Health Research Investigators (NMRI) 10 years ago, he was a junior investigator eager to learn all he could.
"NMRI is one of the best things to ever happen to me. My career took off after I joined the network because I found a group of individuals who were invested in my success," said Edwards, now president of Northern Caribbean University in Jamaica. "I wouldn't have gotten my two NIH grants without the support and encouragement of the group."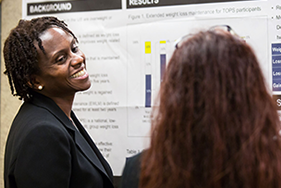 Edwards is one of more than 600 researchers who've participated in NMRI. This year marks NMRI's 15th anniversary, which will be celebrated at the program's annual meeting in April. Supported by NIDDK, the program connects senior investigators, such as Edwards, with junior members via a formal mentor-mentee program, informal networking opportunities, and at annual and regional meetings that help facilitate learning. Members also receive an annual newsletter. This year, they will get a special 15th anniversary edition of the newsletter, featuring members' stories of what NMRI has meant to them.
"The NMRI's success in achieving its mission is rooted in the dedication of senior members who mentor and serve as role models for junior investigators," said Dr. Lawrence Agodoa, director of the NIDDK Office of Minority Health Research Coordination, in one of the network's newsletters. "The network's senior members help junior members develop grant applications, navigate the tenure process, and learn to balance faculty commitments."
Dr. Emilyn Alejandro, a junior investigator, joined NMRI in 2013, just as she prepared to apply for her first NIH career development grant. At her first NMRI meeting, Alejandro learned about grant types that she didn't know of before joining the network. The meeting helped her decide for which grant she'd apply.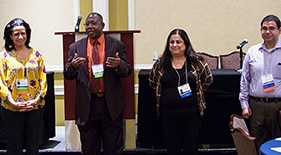 "Knowing the best grant mechanism to apply for and with the great support of my mentor, I was very fortunate to have gotten the grant the very first time I applied," said Alejandro, an assistant professor in the Integrative Biology and Physiology Department at the University of Minnesota Medical School. Her grant (DK103823) supports research into how a mother's diet during pregnancy can affect a baby's susceptibility to type 2 diabetes.
Edwards, for his part, is now on the other end of the NMRI spectrum—a senior investigator and NMRI mentor. He highly recommends that eligible junior investigators consider participating in the network.
"This will impact your career in a positive way—the way it did for myself and countless others," he said. "You'll be tapping into a network of supportive people, and they will review your grant applications before submission and give feedback. It's a win-win any way you look at it."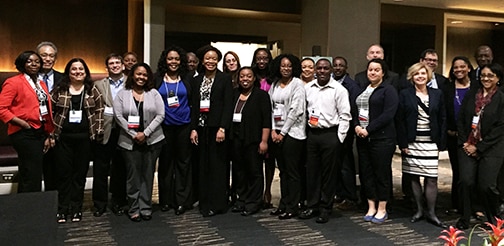 Getting to know: Dr. Susan Buchanan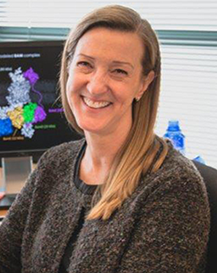 Susan Buchanan, Ph.D., is a senior investigator and chief of the intramural NIDDK Laboratory of Molecular Biology (LMB). She also leads LMB's Structural Biology of Membrane Proteins Section. Buchanan spoke with Krysten Carrera about her passion for medical research, pursuit of public health advances, and advocacy for women in science.
How do you balance managing the LMB and conducting your own research?
As lab chief, much of my time is spent addressing the needs of my lab's 10 research sections. NIDDK Scientific Director Dr. Michael Krause, who was lab chief before I assumed that role, gave me excellent training. Our outstanding administrators ensure that personnel, travel, purchasing and training requirements are dealt with efficiently—leaving me time to advise researchers on their individual projects, and even collect occasional x-ray diffraction data.
What are the long-term goals of research conducted in your section?
Proteins are essential to life in all organisms, from bacteria to people. We study the functions of bacterial proteins in the cell membrane by determining their 3-D structures. We hope that those structures provide new targets and pathways for developing antibiotics to address the major world health issue of multidrug resistance in bacterial infections.
What was your first success in the lab?
The first success that was remarkable to me happened when I went to Germany as a Ph.D. student to learn to crystallize proteins that sit in membranes. After incubating my first experiment for several days, I opened the incubator and realized I could see the crystals without a microscope. It was like magic.
Who have been your scientific role models?
My father, a scientist, helped me understand difficult scientific concepts as I learned them in school. I was also fortunate to receive training from Nobel Laureates Drs. Hartmut Michel, Johann Deisenhofer and John Walker during my graduate research and postdoctoral appointments. They all had creative, exciting approaches to conducting science.
Tell me about your work on behalf of women in science.
I became an NIDDK representative to the Women Scientist Advisors in 2012 and was chair from 2013-2015. The WSA consists of women investigators who recruit, promote and retain women scientists at all levels, with a focus on tenure-track and tenured investigators. While I was chair, we investigated salary differences for both men and women in the NIH Intramural Research Program and facilitated salary adjustments for many underpaid investigators. A current focus of the WSA is to identify and understand the reasons why many female postdoctoral fellows ultimately choose not to pursue scientific careers. What I've learned through working with the WSA is that enormous opportunities exist for women in science at all levels.
What advice do you have for people interested in pursuing a career in research?
A career in research can be exceptionally rewarding and is worth pursuing if you enjoy working in the lab, designing new projects and making discoveries. Talent is important, but so are determination and persistence. Train in two or more labs to broaden your skill set and shape long-term goals.
NIDDK annual report available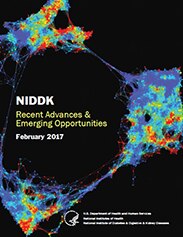 The NIDDK annual scientific report, NIDDK Recent Advances & Emerging Opportunities, is now available. This report highlights selected NIDDK-supported research advances published in fiscal year 2016 and features several notable activities from the year, including
NIDDK's research efforts toward the goals of precision medicine,
Institute involvement in the NIH Common Fund's Molecular Transducers of Physical Activity Consortium,
Large-scale efforts on the genetics of type 2 diabetes and inflammatory bowel disease,
Progress of the Human Islet Research Network, which is developing innovative strategies toward beta cell replacement in diabetes, and
The impact of the Chronic Renal Insufficiency Cohort study, one of the largest and longest ongoing studies of chronic kidney disease epidemiology in the United States.
The report also includes personal stories of patients, stories of discovery that trace research progress in specific areas over time, and scientific presentations made to the NIDDK's National Advisory Council. In addition, the report contains overviews of several institute-supported scientific workshops; describes prestigious scientific awards bestowed upon an NIDDK intramural scientist and NIDDK grantees.
You can access and download the report here.