NIDDK Director's Update
Winter 2018
News Around NIDDK
"Diabetes in America" provides preeminent source for scientific information on diabetes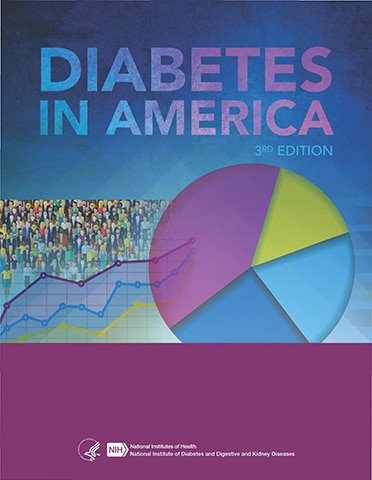 New NIDDK reference book sheds light on national burden of the disease
With contributions from leading diabetes experts from around the world, NIDDK has completed the third edition of a resource designed to be a preeminent source for crucial scientific information on diabetes and its complications: Diabetes in America 3rd Edition.
An assessment of epidemiologic, public health, clinical, and clinical trial data on diabetes and its complications in the United States, the resource covers the spectrum of diabetes, describing data and trends, complications of diabetes and related conditions, and prevention and medical care for diabetes, including outlining major diabetes research findings.
"Diabetes doubles the risk of many devastating conditions in the body, from hearing loss to heart disease to nonalcoholic fatty liver disease. With this third edition of Diabetes in America, we hope to shine a light on the many consequences of this costly and chronic disease and how research continues to improve the outlook for people with or at risk for diabetes or its complications," said NIDDK Director Griffin P. Rodgers, M.D.
"Diabetes in America" covers well-known complications of diabetes, such as heart, eye, kidney, and nerve diseases, and shows the connection between diabetes and other serious conditions, including cancer, dementia, bone fractures, and urinary incontinence.
Diabetes in America also reveals points of hope found through research, including
Type 2 diabetes can be prevented or delayed
People with type 1 diabetes are living longer, healthier lives
Rates of some complications are declining
"Diabetes in America' shows that though much progress has been made in understanding and managing diabetes, and in preventing type 2 diabetes, we are still on a long journey to good health for all," said Catherine Cowie, Ph.D., NIDDK director of diabetes epidemiology at NIDDK and "Diabetes in America" editor. "We hope this edition of Diabetes in America, the first in more than 20 years, will help educate people on diabetes and its many complications, so we can lessen this burden for everyone."
Learn about the key points of Diabetes in America 3rd Edition by reading the fact sheet (PDF, 2.2 MB) , or dive into the data by viewing the resource.
New exhibits at the Clinical Center pay tribute to NIDDK and NCI scientists
By Lisa Yuan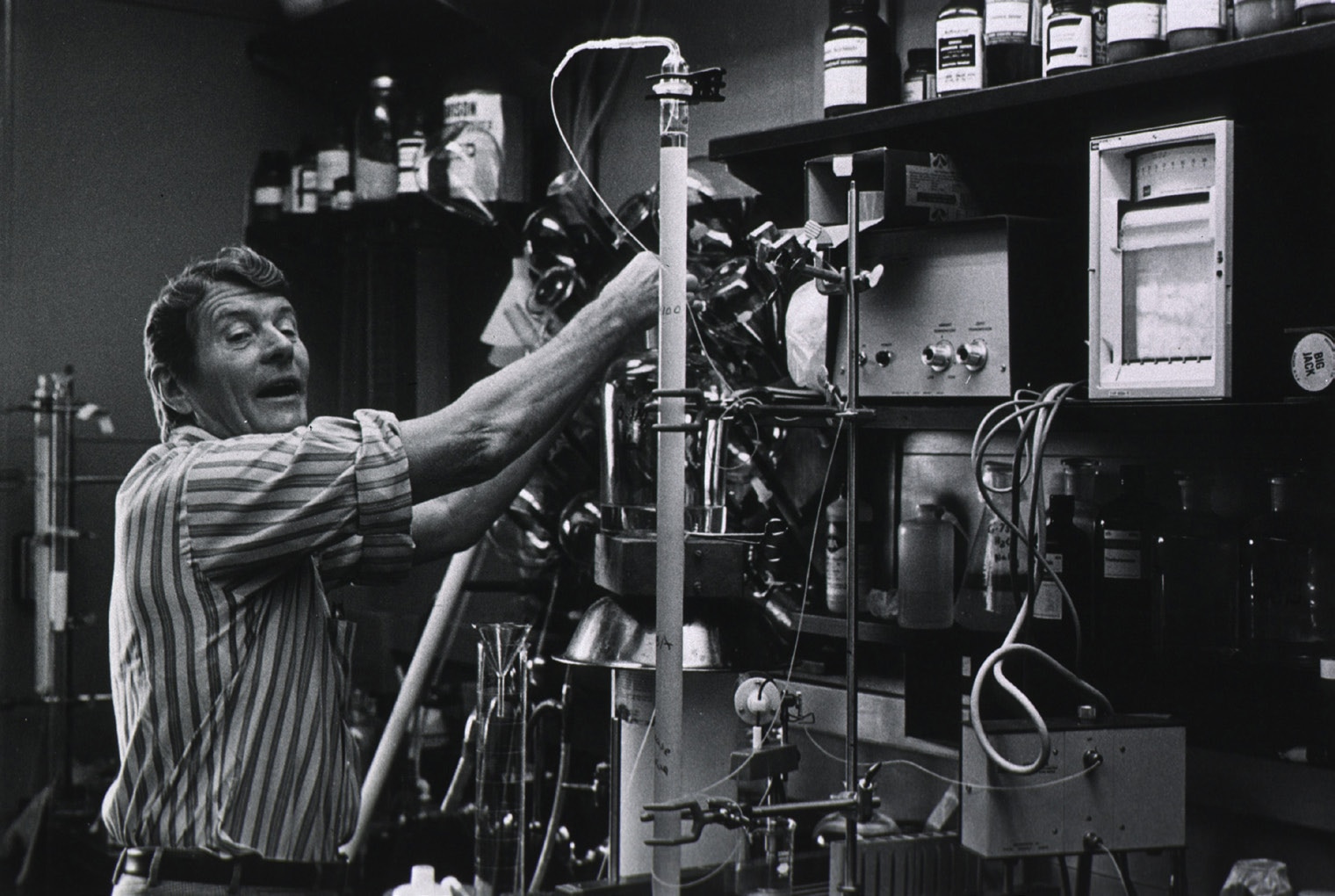 NIDDK Director Dr. Griffin P. Rodgers was a second-year resident at Washington University when he flew to the National Institutes of Health (NIH) in 1981 for an interview with Dr. Christian Anfinsen. "The rest," said Rodgers, "is history."
Anfinsen, who was chief of the Laboratory of Chemical Biology at NIDDK's precursor, the National Institute of Arthritis and Metabolic Diseases (NIAMD), spent most of the interview advising Rodgers on how to succeed as a physician in a biomedical research career. Years later, Rodgers would learn that Anfinsen was instrumental in developing "robust interactions between physicians and lab scientists," which Rodgers said, "helped to foster NIDDK's achievements."
Today, Anfinsen continues to inspire physicians, lab scientists and others who walk through one of the NIH Clinical Center's busiest hallways, where new exhibits showcase his achievements, along with those of the National Cancer Institute (NCI)'s Dr. Michael Potter. The twin exhibits, entitled "Christian Boehmer Anfinsen: Protein Folding and the Nobel Prize" and "Curiosity & Collaboration: The Work of Michael Potter," opened May 14. Both Rodgers and NIDDK's Dr. Alan Schechter spoke about Anfinsen's lasting impact on his colleagues and the NIH. Additionally, a symposium and reception marking Anfinsen's scientific life and achievements was held in October at NIH.
Anfinsen, who died in 1995, began his NIH career at what was then called the National Heart Institute before moving to NIAMD. He was known as a generous mentor who helped establish the Foundation for Advanced Education in the Sciences, or FAES, at NIH. He shared the 1972 Nobel Prize in Chemistry for his revolutionary work in protein chemistry. Dr. Potter, who died in 2013, was a renowned researcher whose 50-year career with the NCI was marked by groundbreaking advances in plasma cell cancer.
Positioned in the corridor leading to the Masur Auditorium, the exhibits were built by the Office of NIH History and Stetten Museum with funding from NIDDK, the National Heart, Lung, and Blood Institute, and NCI.
Getting to Know: Dr. Adriaan Bax
Dr. Adriaan Bax is chief of the biophysical nuclear magnetic resonance spectroscopy section in NIDDK's Laboratory of Chemical Physics. A pioneer in the field of nuclear magnetic resonance (NMR) spectroscopy, Bax received the 2018 Robert A. Welch Award in Chemistry, an honor given to only one other NIH scientist – Dr. Earl Stadtman in 1991. Bax spoke with Lisa Yuan about his career, which includes more than 35 years at NIDDK.
What drew you to a career in science, and NMR in particular?
Growing up on a farm in the Netherlands, I loved anything that was a puzzle or was challenging. In college, I loved quantum mathematics. For my Ph.D. work, I was lucky to join a group developing hardware for a new NMR spectrometer. I loved the opportunity to combine my background in theory with the new instrumentation to do experiments nobody else could do.
You've been at the NIH for many years. What is special about working here?
What makes NIH unique is its collaborative environment. I've had the opportunity to work with many great people across the campus, which has been key to our success. For example, Dennis Torchia of the National Institute of Dental and Craniofacial Research introduced me to the idea of cloning proteins, a process that allowed us to incorporate stable isotopes into them and study their structure and function with greater precision. At the time, in the mid 1980s, colleagues elsewhere thought it was important to focus on natural proteins. But Dennis assured me that 10 years down the road, everybody would switch to studying bacterial expression of their proteins. This led us to develop technology that took advantage of that approach at a very early stage.
What do you enjoy most about your work?
I love addressing challenges and doing experiments nobody else has been able to do. If it cannot be done easily somewhere else, then I'd like to take a stab at it. We have the freedom to choose our puzzles here. I like to pick the ones that are technologically very difficult, even when that means we don't know ahead of time whether we'll be able to succeed.
What are you most enthusiastic about for the future of research in your area?
I'm very excited about new home-built hardware that will allow us to learn unique new things about how proteins fold. We're the only ones in the world who have that technology right now, and we hope the work can be extended to give us new insights into the molecular basis of various degenerative diseases.
When I first started in 1977, I thought everything had already been developed, but that's never the case. I think we're still only scratching the surface.
We're also seeing rapid advances in cryo-electron microscopy, a technology to image macro molecules. It can look at very large complexes, while NMR excels at giving exquisite insights on a much smaller size scale. The integration of these technologies may be the biggest impact we're going to see in the next 10 or 20 years.
What advice would you give to people interested in a career in biophysics?
Rapid technological advances in a wide range of biophysical tools are creating fantastic new opportunities to address questions one wouldn't have dared to dream of just 10 years ago. Even 70 years after its initial discovery, NMR keeps evolving rapidly.
Twenty years from now, the world will be very different, and so will biophysics.