Daniel Gossett, Ph.D.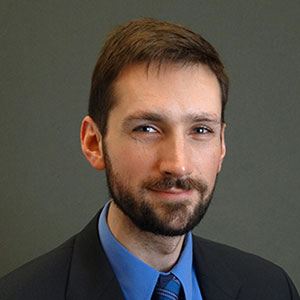 NIDDK Small Business Programs, Translational Research, and Technology Development
Responsibilities & Activities
As a Program Director in the Division of Kidney, Urologic, and Hematologic Diseases, my portfolio includes research conducted by small businesses (SBIR & STTR), biomedical imaging of the kidney, technology development efforts, and translational research in the areas of kidney, urologic, and hematologic diseases. I manage the conference grants (R13) program for the division.
I am a Project Scientist for the NIDDK (Re)Building a Kidney Consortium, which is working to optimize approaches for the isolation, expansion, and differentiation of appropriate kidney cell types and their integration into complex structures that replicate human kidney function.
I am a Project Scientist for the NIDDK Kidney Precision Medicine Project (KPMP), which aims to ethically obtain and evaluate human kidney biopsies from participants with Acute Kidney Injury (AKI) or Chronic Kidney Disease (CKD), create a kidney tissue atlas, define disease subgroups, and identify critical cells, pathways, and targets for novel therapies.
My other professional activities include participating in several NIDDK and NIH working groups (see below). I am also the NIDDK representative to the NCATS BrIDGs and TRND programs.
Committees & Working Groups
NIDDK Translational Sciences Working Group, Member
NIH Common Fund Stimulating Peripheral Activity to Relieve Conditions (SPARC) Working Group, Member
NIH Microphysiological Systems (MPS) Working Group, Member
NIH Common Fund Gabriella Miller Kids First Research Program Working Group, Member
NIH SBIR/STTR IC Working Group, Member
Select Experience
Vice President Research and Development, CytoVale Inc., 2013-2014
Fellowship, University of California, Los Angeles, 2012-2013
Ph.D., University of California, Los Angeles, 2012