Jenae & Katelyn: Making Extraordinary Contributions to Type 1 Diabetes Prevention Research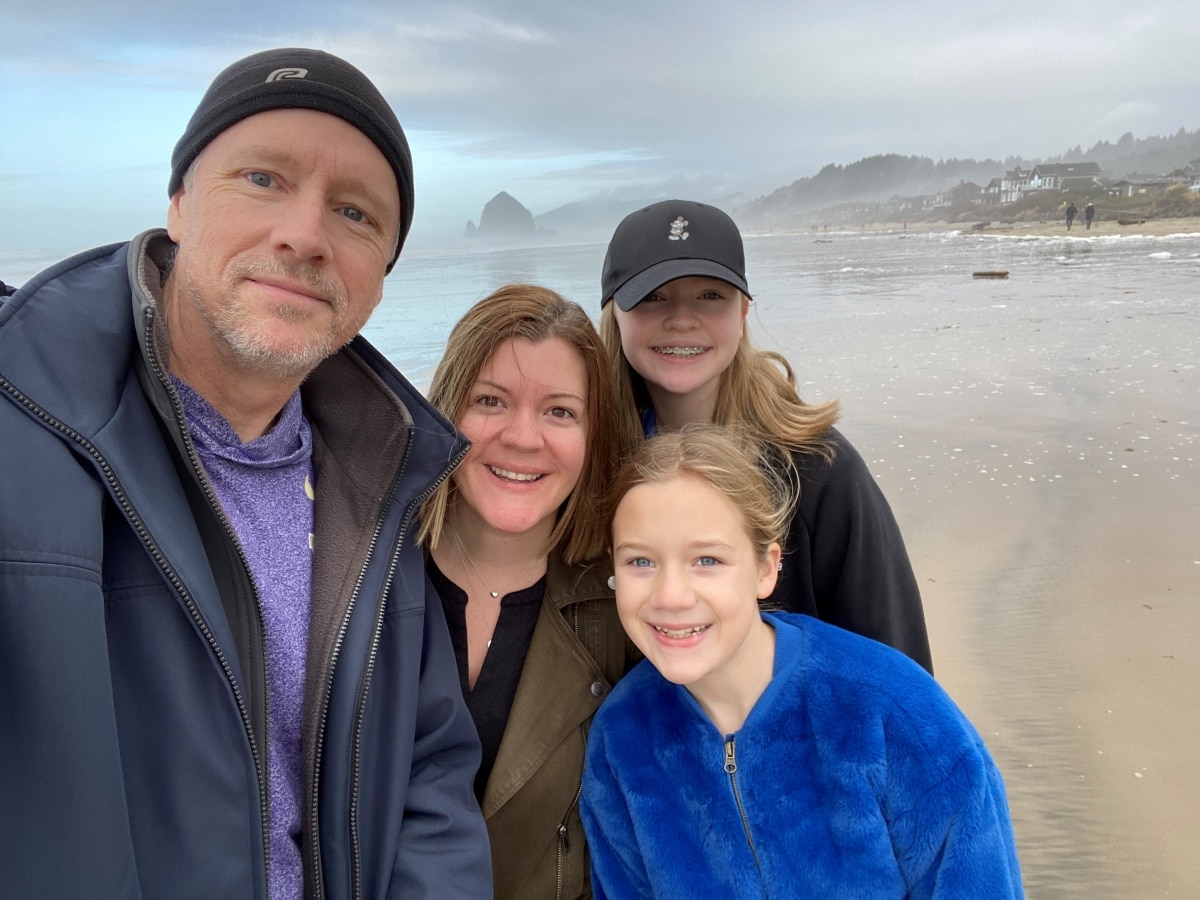 Katelyn (front right) pictured with her father Rod, mother Jenae, and sister Madison
Jenae and her husband, Rod, first heard of The Environmental Determinants of Diabetes in the Young (TEDDY) study when their second-born daughter, Katelyn, was only a few hours old. They were unfamiliar with type 1 diabetes when they agreed to have their newborn's blood tested in the hospital as part of TEDDY and found out that she had genes that increased her risk for developing the disease. TEDDY is examining environmental factors that trigger or protect against type 1 diabetes in genetically susceptible children—those with a family history and those without—so the TEDDY researchers invited the family to join the study. Katelyn was eligible to enroll as part of the "general population" group because she had high-risk genes but did not have a family history of type 1 diabetes.
The invitation to join TEDDY was a big ask: requesting that a family without a personal connection to type 1 diabetes enroll their newborn in a 15-year study that would require a lot of work but could help identify ways to prevent this disease. Because most people with type 1 diabetes do not have a family history of the disease, it was critical to include children like Katelyn in TEDDY. Even though it was a huge commitment, Jenae says, "It really didn't take us long to make the decision [to enroll]. We just felt like … we can be helpful, and if she ever gets diabetes, they're going to find it faster. We felt, actually, almost more safe about being involved." They did not know that their decision would have a profound impact on the health of Katelyn, now 12 years old, and on the family's lives.
Katelyn's Early Years in TEDDY
Regarding participating in a clinical study, Jenae's advice to others is: "Do not be afraid to take on things like this. The work is worth it…. It's empowering."
With Katelyn enrolled in TEDDY, the family started following the demanding protocol. "The first few years of her life, all I remember is poop," Jenae says with a laugh, referring to the fact that they had to collect monthly stool samples until Katelyn was 4 years old and then every 3 months until she was 10 years old as part of the study. They also visited the TEDDY clinic in Seattle, Washington, every 3 months until Katelyn was 4 years old and then every 6 months thereafter. Jenae shares that it was difficult watching Katelyn have her blood drawn at these visits, but they knew that the blood samples enabled the scientists to test if Katelyn had early markers (autoantibodies) of the autoimmune attack in type 1 diabetes.
Another challenging part of the protocol was when Katelyn started eating solid food and Jenae and Rod had to track everything that Katelyn ate and drank over a 3-day period before study visits. "The first 3 years weren't that bad because as a toddler and baby, you control all of that [food] environment…. It got a little bit trickier as she got older and was in school," Jenae explains, discussing how they had to adjust the food log if Katelyn did not eat all her packed school lunch.
Even during those busy early years, the family took everything in stride. "It really has not been a difficult thing," Jenae shares. "[TEDDY] has been brilliant this whole time. They make it very easy…. They are very friendly and engaging." Jenae also got personal satisfaction out of their hard work: "I felt scientific, like I was part of research. There was something fulfilling in that."
A Diagnosis of Celiac Disease
Things drastically changed for the family when Katelyn was 3 years old. In addition to screening for type 1 diabetes, TEDDY also screens children for celiac disease—an autoimmune disease that is triggered by eating foods containing gluten and that shares the same risk genes as type 1 diabetes. Although Katelyn tested negative at her 2-year-old screening, Jenae reports that, "She scored off the chart" for celiac disease autoantibodies at her 3-year-old screening. Their personal doctor then diagnosed Katelyn with celiac disease after a blood test and a biopsy of her small intestine—the organ that is damaged by gluten consumption in people with celiac disease.
Looking back, Jenae recognizes that Katelyn was having some symptoms of celiac disease at the time of her diagnosis, but the symptoms were indistinguishable from common toddler behaviors and thus did not raise a red flag. For example, like many young children, Katelyn would say she was hungry but then not eat. Jenae says that it was only because of TEDDY that Katelyn's celiac disease was promptly diagnosed. "Every day, I am unbelievably grateful for TEDDY … and that we knew [about the celiac disease] and we were immediately able to change course."
"We just felt like … we can be helpful, and if she ever gets diabetes, they're going to find it faster," says Jenae, talking about why she and her husband enrolled their daughter, Katelyn, in the TEDDY study.
However, changing course to implement a gluten-free diet was extremely difficult. "It was really life-altering," Jenae recalls, "I remember standing in my kitchen and crying. I didn't know what was going to poison her," referring to the small intestine damage that results when people with celiac disease eat gluten. A particular challenge came shortly after Katelyn was diagnosed and the family had to live in a hotel for 6 weeks after a kitchen fire in their home. Jenae and Rod quickly had to learn how to advocate for their daughter at restaurants to ensure that the food was gluten-free. Even with such challenges and the incredible amount of work that Jenae and her husband have had to do to navigate the complexities of celiac disease, she focuses on the positives: "That Katelyn was healthy and that TEDDY had caught [celiac disease] so early so that we would be able to keep her safe." Her advice to other parents of children with celiac disease is not to be afraid to advocate for your child and to ask for help, such as through support groups that Jenae says have been very helpful to her.
For Katelyn, the hardest part of having celiac disease is feeling left out—like when kids are eating food that she cannot eat. This was especially striking to Jenae after one of Katelyn's basketball games about 5 years ago—Katelyn was hiding her gluten-free snacks from her teammates. "My heart sank, and I thought: 'This is ridiculous. People should be able to have … amazing gluten-free food that everybody could eat.'" That was a major reason why, in 2016, Jenae decided to quit her job in banking and open a gluten-free bakery out of her home. Because she has worked so hard to make her gluten-free baked goods taste like gluten-containing foods, her bakery has been a huge success. She is thrilled to see people's joy when they have delicious birthday and wedding cakes that look and taste just like cakes they may have had before their celiac diagnosis. She loves that adults and children alike do not feel left out because of their celiac disease. Jenae adds that providing gluten-free wedding cakes brings her much happiness by greatly reducing her clients' stress on their wedding day and, importantly, improving the lives of people with celiac disease—the reason she started the bakery in the first place. Not only is Jenae bringing joy to her clients, she is also serving as a great entrepreneurial role model for Katelyn and her older sister, Madison.
TEDDY Today—and in the Future
Today, Katelyn remains an active TEDDY participant, with the family's contributions mostly involving study visits twice a year. Jenae happily reports: "She's still negative for [type 1 diabetes] antibodies—yay!" Katelyn says that her favorite part of TEDDY is getting prizes at study visits, while the "pokes" (blood draws) are the hardest part. For the pokes, TEDDY staff give her things like a lollipop to distract her from the needle stick pain. "They do such a fabulous job of making it a kid-friendly experience," says Jenae. Katelyn also loves the TEDDY staff, many of whom have been working with them from day 1. "It feels like we're part of a big community," Jenae states. When asked if she would enroll in TEDDY again, Jenae enthusiastically says: "Yes!" Her advice to others is: "Do not be afraid to take on things like this. The work is worth it…. It's empowering."
"Every day, I am unbelievably grateful for TEDDY," says Jenae, talking about how TEDDY facilitated her daughter's diagnosis of celiac disease.
Katelyn, who loves camping, video games, playing guitar, hanging out with friends, and cheering on her beloved Seattle sports teams, will age out of TEDDY at 15 years old and will no longer be monitored for type 1 diabetes autoantibodies. Jenae admits that she is a little worried about the coming transition, as the regular monitoring has been a great comfort to the family, but she also adds: "It is fascinating to see how much is being discovered, and to be a tiny little piece of sand in that feels great."
When asked how she would feel if TEDDY found ways to prevent type 1 diabetes and celiac disease because of her participation, Katelyn's response is, "Cool."
Very few people could say that they have been active participants in a research study since birth—what an incredible legacy for Katelyn, her proud parents, and the other TEDDY participants.