Sisters Together: Move More, Eat Better Program Guide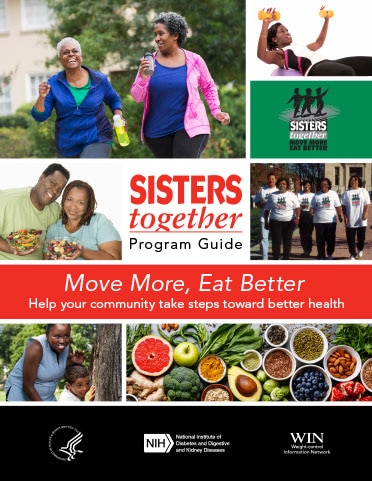 Sisters Together: Move More, Eat Better is a national health awareness program of the NIDDK that encourages black women ages 18 and older to reach and maintain a healthy weight by being more physically active and making healthier food choices.
Anyone who sees a need in his or her community and wants to help can start a Sisters Together program. This recently updated guide outlines six steps to help you start your program.
Get It Now
Sisters Together Program Guide
(PDF, 12.48 MB)
Six Steps to Help You Start Your Program
Get Started
Learn about your community's needs to shape your program.

Set Goals, Create a Budget
Create specific, realistic goals and deadlines to plan your program.

Identify Community Resources
Find out how resources and partners in your community can help.
Plan Activities
Decide on core activities and events to promote your message.

Spread the Word about Sisters Together
Use media outlets to promote your program and attract participants.

Measure Success, Keep Your Program Going
Track your program's progress and keep it running over the long haul.
Included in the guide are sample forms, letters, emails, and social media posts you can copy and modify to suit your specific needs. These resources were designed for black women ages 18 and older, and you can adapt them for other groups.
Overweight and obesity are serious health problems. More than 1 in 3 U.S. adults has obesity, and more than 1 in 2 U.S. black women has obesity.1 Excess weight increases the risk of health conditions such as diabetes, kidney disease, and heart disease. This guide and its tools and resources can help you promote the "move more, eat better" message and improve the health of your community. Watch a video testimonial featuring two women involved in a Sisters Together program who discuss how to start a program, the variety of program activities, and more.
Additional Sisters Together Health Information Resources
References