Síntomas y causas de la diabetes gestacional
¿Cuáles son los síntomas de la diabetes gestacional?
Por lo general, la diabetes gestacional no tiene síntomas. Si usted tiene síntomas, pueden ser leves, como tener más sed de lo normal o tener que orinar con más frecuencia.
¿Qué causa la diabetes gestacional?
La diabetes gestacional ocurre cuando el cuerpo no puede producir la insulina adicional que necesita durante el embarazo. La insulina, una hormona producida en el páncreas, ayuda al cuerpo a convertir la glucosa en energía y a controlar los niveles de glucosa en la sangre.
Durante el embarazo, el cuerpo produce hormonas especiales y pasa por otros cambios, como el aumento de peso. Debido a estos cambios, las células del cuerpo no usan bien la insulina, lo que se conoce como resistencia a la insulina (en inglés). Todas las mujeres embarazadas tienen cierta resistencia a la insulina al final del embarazo. La mayoría de las mujeres embarazadas pueden producir suficiente insulina para vencer la resistencia a la insulina, pero otras no. Estas mujeres desarrollan diabetes gestacional.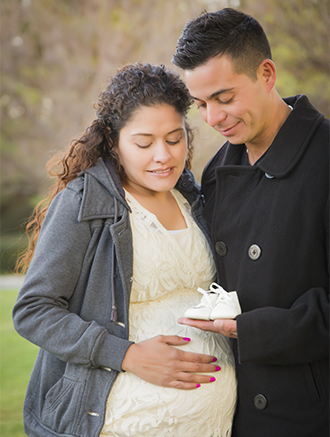 Tener exceso de peso u obesidad está relacionado con la diabetes gestacional. Es posible que las mujeres con sobrepeso u obesas ya tengan resistencia a la insulina cuando quedan embarazadas. Subir mucho de peso durante el embarazo también puede ser un factor.
Tener antecedentes familiares de diabetes aumenta la probabilidad de que una mujer tenga diabetes gestacional, lo que sugiere que los genes desempeñan un papel.
Mayo de 2017
This content is provided as a service of the National Institute of Diabetes and Digestive and Kidney Diseases (NIDDK), part of the National Institutes of Health. The NIDDK translates and disseminates research findings through its clearinghouses and education programs to increase knowledge and understanding about health and disease among patients, health professionals, and the public. Content produced by the NIDDK is carefully reviewed by NIDDK scientists and other experts.
El NIDDK desea agradecer a:
Boyd Metzger, M.D., Northwestern University