Help Your Patients Follow Their Kidney Health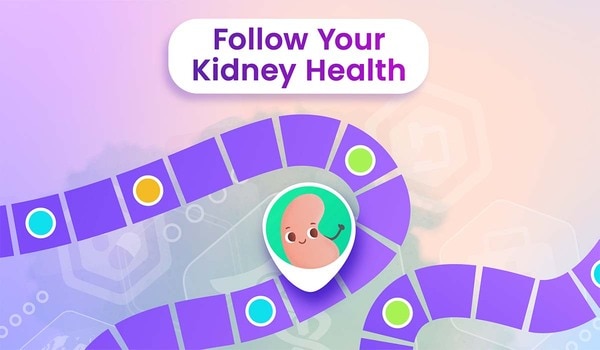 Do your patients know having diabetes increases their risk for kidney disease?
March is National Kidney Month. This year, join us in highlighting the importance of knowing the risk factors for kidney disease, getting tested, and following patients' kidney health.
Diabetes is the leading cause of kidney disease. According to the Centers for Disease Control and Prevention, about 1 out of 3 adults with diabetes also has kidney disease. Kidney disease is progressive and doesn't usually present symptoms until the disease is advanced. As many as 90% of adults with kidney disease don't know their kidneys are damaged, which could include some of your patients.
As a health care professional, you can raise awareness about kidney disease and help your patients follow their kidney health. Diagnosing kidney disease earlier, and tracking progression over time, may give your patient more opportunities to slow disease progression and have more healthy moments.
Teach your patients how to protect their kidneys
Test people over age 60 and those who have risk factors for kidney disease.
Create a personalized care plan that allows you to monitor both diabetes and kidney health.
Explain how managing blood pressure and blood glucose levels can help protect the kidneys.
Stress the importance of taking medicine as prescribed and limiting use of nonsteroidal anti-inflammatory drugs.
Consider ways you can encourage your patients to get at least 30 minutes of physical activity and at least 7 to 8 hours of sleep into their routine.
Provide resources for quitting smoking and be knowledgeable about community resources in general.
Refer to a nephrologist, registered dietitian, or mental health professional for specialized care.
Help us raise awareness of kidney disease by exploring our National Kidney Month toolkit, which includes sharable social media content, an educational video, and flyers in English and Spanish.
Below, we've also curated a few previous blog posts that provide tips and information about treating patients with kidney disease.
The Link Between Diabetes and Kidney Disease
Meda E. Pavkov, MD, PhD, discusses the link between diabetes and kidney disease, and the importance of early detection and management of kidney disease.
High Blood Pressure and Kidney Disease
Lawrence J. Appel, MD, MPH, explains how to help people with diabetes and high blood pressure manage their conditions and reduce their health risk.
Metformin and Chronic Kidney Disease (CKD)
Blake Cameron, MD, discusses his team's research on clinical outcomes of metformin use in people with chronic kidney disease.
Kidney Health in the Digital Age
Clarissa J. Diamantidis, MD, discusses the potential of health information technology (IT), like telehealth, to improve care for complex chronic diseases such as chronic kidney disease.
What topics would you like to see featured on the DDP blog? Let us know in the comment section below.