Branch Members
Our Staff
Jatin Raj Matta, DHSc, PA-C
PA, Associate Investigator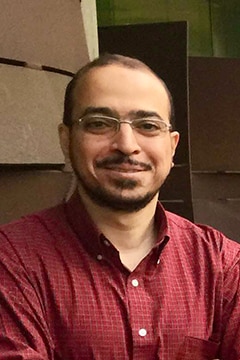 Scopus Author ID: 6507447260
ResearcherID: B-9289-2008
Ahmed Magdy Ghanem Abdelfadeel, Ph.D.
Biomedical Engineer, Research and Development
Jehad Edwan, Ph.D.
Microbiology Laboratory Research Support
Deneshree Padayachee
MRI Technologist
Our Fellows
Ahmed Hamimi, M.D., Ph.D., FRCR
Senior Research Fellow
Leilah Nicole Baumgarten
IRTA Post-Baccalaureate Research Fellow
Leilah grew up in Maryland and received her B.S. in Biology from the University of Maryland Baltimore County. During her summer breaks in college, she joined the NIH summer internship program as an intern in Dr. Gharib's lab. She studied how I.V. contrast affects the T1 weighted imaging of MRI performance in Hepatitis C patients. In addition, she studied how gender differences may impact the risk factors and plaque burden in patients with coronary artery disease. After graduating college, Leilah returned to Dr. Gharib's lab as a current IRTA in hopes of increasing her clinical research experience and knowledge.
During her free time, Leilah loves to spend time adventuring in nature, gardening, sailing, and spending time with family or friends.
Nour Shams
IRTA Post-Baccalaureate Research Fellow
Nour grew up in East Tennessee and received his B.S. in Biochemistry and Molecular Biology from the University of South Carolina-Columbia. In college he cemented his passion for medicine through ΦΔΕ and cancer research under Dr. Velazquez at the UofSC-SOM. After graduation in May 2022, Nour joined the NIH Postbaccalaureate IRTA program as a fellow in Dr. Gharib's lab. His current project is focused on the use of MRI for non-invasively detecting atherosclerosis as a marker of cardiovascular aging in youth-onset type-2 diabetes patients; Nour works both clinically with patients as well as the wet lab to validate clinical findings.
During his free time, Nour can be found on mountaintops, chasing waterfalls, and in the gym!
Our Alumni – Post-Bac IRTAs
Marissa Schoepp
Medical Student at UWSMPH
Hadjira Ishaq
Medical Student at Rutgers
Mia Wessel
Medical Student at University of Maryland
Jenna Feeley
Graduate Student
Group Photos