NIDDK Director's Update
Fall 2010
News Around NIDDK
Research Results: HEALTHY Study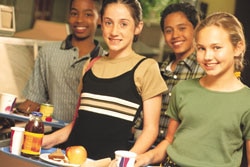 Researchers recently announced results from the NIDDK-led HEALTHY clinical trial, which examined whether a middle school-based intervention could lower risk factors for type 2 diabetes.
The study was conducted in schools with a high enrollment of minority children and youth from low-income families, as these populations have been particularly affected by the obesity epidemic. The intervention was found to lower the obesity rate in students at highest risk for type 2 diabetes—those who started out overweight or obese in sixth grade.
However, schools that implemented the program did not differ from comparison schools in the study's primary outcome. Surprisingly, the prevalence of overweight and obesity in students combined had declined by 4 percent in both the intervention and control schools by the end of the three-year study. One possible explanation is that comparison schools may have independently implemented healthful changes because of increased awareness about the problem of childhood obesity fostered by the study. The HEALTHY results help inform future school-based efforts to reduce overweight and obesity in children.
Click here for more information on the study, published in the June 27 issue of the New England Journal of Medicine.
NIDDK's 60th Anniversary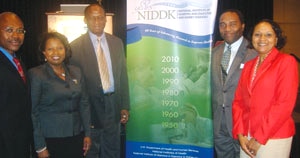 Events surrounding NIDDK's 60th anniversary will continue all year. Check out NIDDK's past and upcoming meetings, workshops, and symposiums with our calendar of events.
NIDDK on Capitol Hill
In June, Rep. Frank Pallone, Jr. (D-N.J.), a senior member of the House Energy and Commerce Committee and chair of the Subcommittee on Health, introduced House Resolution 1444, recognizing NIDDK's 60th anniversary. Later that month, a Congressional breakfast attended by Reps. Nita Lowey, Diana DeGette, Zack Space and Gene Green was held in honor of the anniversary.
Sponsored by advocacy and professional groups, the event honored four scientists who made major contributions toward advancing research under NIDDK's purview. Drs. Phillip Gorden, David Nathan, and Jeffrey Gordon received NIDDK Distinguished Scientist awards and Dr. Theo Heller received an NIDDK Early Career Investigator Award. Click to learn more.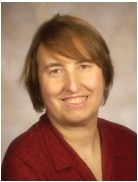 Also in June, Dr. Judith Fradkin, director of the Division of Diabetes, Endocrinology and Metabolic Diseases, testified on "A Way Out of the Diabetes Crisis in Indian Country and Beyond" before the Senate Committee on Indian Affairs. In July, Fradkin testified on "The Battle Against Diabetes: Progress Made; Challenges Unmet" before the House Energy and Commerce Subcommittee on Health.
In April 2010, Dr. Griffin P. Rodgers joined NIH Director Dr. Francis Collins in giving testimony on the President's FY-2011 budget request for NIH before the House Appropriations Sub-Committee on Labor, HHS, Education, and Related Agencies. Click to learn more.
In 2009, Rodgers testified on the progress in type 1 diabetes research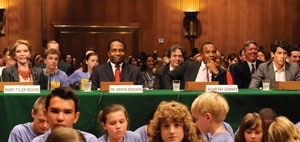 Before the Senate Committee on Homeland Security and Governmental Affairs Sens. Joe Lieberman and Susan Collins held the hearing, titled "Type 1 Diabetes Research: Real Progress and Real Hope for a Cure," in conjunction with the Juvenile Diabetes Research Foundation International biennial Children's Congress. Also testifying were actress Mary Tyler Moore, boxing legend Sugar Ray Leonard, and singer-songwriter Nick Jonas of the Jonas Brothers, who urged Congress to continue support of type 1 diabetes research. Rodgers highlighted scientific advances made possible by the Special Statutory Funding Program for Type 1 Diabetes Research, described here.


For testimony: Recent Advances and Future Opportunities in Type 1 Diabetes Research
For more written testimony, the President's FY-2011 budget request for NIDDK and related information.
Recovery Act Update

Since Feb. 17, 2009, when President Barack Obama signed the American Recovery and Reinvestment Act into law, NIDDK staff have been working to ensure that the Institute's share of Recovery Act funds is invested in high-quality, scientifically meritorious projects. As of Aug. 20, 2010, NIDDK has funded approximately 2,000 ARRA awards. All pending ARRA awards will be issued by the end of this fiscal year and will consume all of the $445 million that NIDDK has received. For more information, go to the NIDDK Recovery Act website.