NIDDK Director's Update
Winter 2013
Research Updates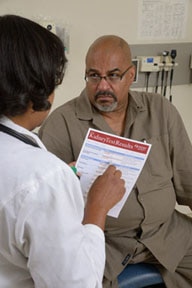 Gene hastens kidney disease progression in African-Americans: A gene variant common in African-Americans predicts that people with that gene who also have chronic kidney disease (CKD) are twice as likely to progress to kidney failure as African-Americans without the high-risk gene and white people with CKD. People with the high-risk gene, called APOL1, also tend to lose kidney function at twice the rate of those without the gene, according to the NIH-funded research. Investigators from the Chronic Renal Insufficiency Cohort (CRIC) Study and the African American Study of Kidney Disease and Hypertension (AASK) published joint results online Nov. 9 in the New England Journal of Medicine and in the Dec. 5 print issue.
Study shows adults had significant weight loss three years after bariatric surgery: A second study in teens showed few complications in first 30 days after surgery: NIDDK-funded researchers found that adults had significant weight loss three years after bariatric surgery, with the majority losing the most weight during the first year. A separate study in teens found few incidences of complications in the first 30 days after bariatric surgery. These studies are part of the Longitudinal Assessment of Bariatric Surgery (LABS) and Teen-LABS. Results appeared online Nov. 4 in the Journal of the American Medical Association (JAMA) and JAMA Pediatrics, respectively.
Large study to examine if vitamin D prevents diabetes: NIH-funded research tests much-touted vitamin in people with prediabetes: Researchers have begun the first definitive, large-scale clinical trial to investigate if a vitamin D supplement helps prevent or delay type 2 diabetes in adults who have prediabetes, who are at high risk for developing type 2. The study is taking place at about 20 U.S. study sites.
NIH grants expand search for role of microbes in health and disease in adults, infants: People are host to trillions of microbes living on their skin and in the gut, vagina, mouth, nose, lungs and penis. These microbes live as communities in and on the human body and are known as the human microbiome. For the most part, we peacefully co-exist with these microbes. But sometimes some of these microorganisms such as bacteria can trigger responses that may cause people to develop a disease. To better understand how and why alteration of the normal microbiome at various body sites promotes diseases, the NIH will fund three innovative research projects—including two managed by NIDDK—for the next three years.
Therapy may curb kidney deterioration in patients with rare disorder: A team including NIDDK researchers has overcome a major biological hurdle in an effort to find improved treatments for patients with a rare disease called methylmalonic acidemia. Using genetically engineered mice, the team identified a set of biomarkers of kidney damage—a hallmark of the disorder—and demonstrated that antioxidant therapy protected kidney function in the mice.
Endocannabinoids trigger inflammation that leads to diabetes: NIDDK researchers and other scientists from NIH and two other institutions have clarified in rodent and test-tube experiments the role that inflammation plays in type 2 diabetes. Also, they have revealed a possible molecular target for treating the disease. The researchers said that some natural messenger chemicals in the body are involved in an inflammatory process that can kill the beta cells—which produce, store, and release insulin—in the pancreas.