NIDDK Director's Update
Winter 2013
News Around NIDDK
NIDDK unveils its improved website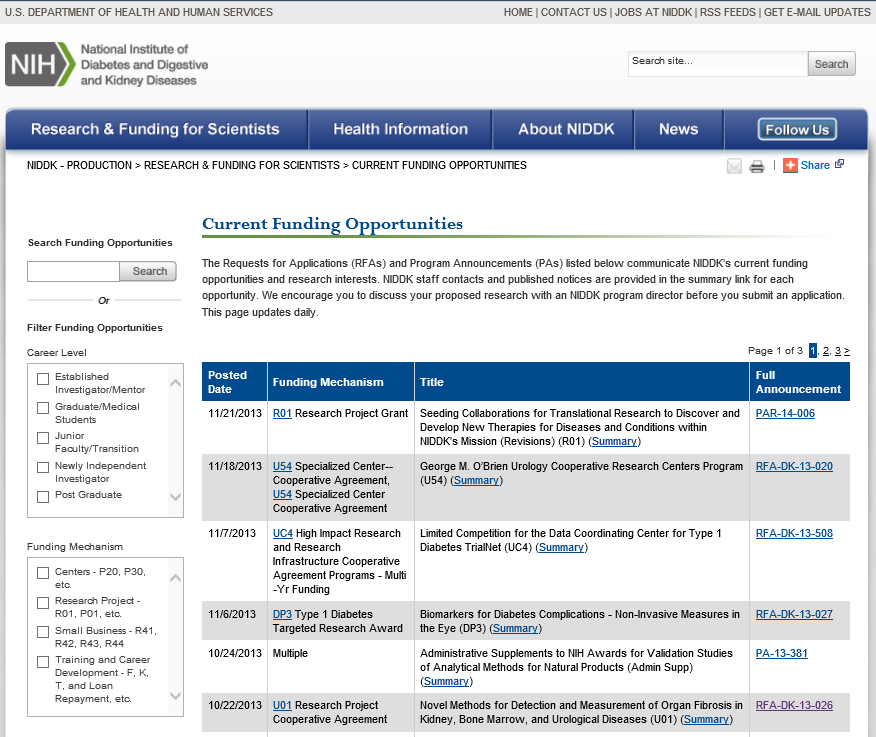 On Dec. 16, the NIDDK launched a new website that significantly improves upon its predecessor.
"NIDDK's health information has always been well received by more than 20 million online users annually," said NIDDK Deputy Director Gregory Germino, M.D., who helped spearhead the project. "Our goal with the revised website is to provide the same level of clear and current information for researchers.
"Our research community can more easily access current funding and research training opportunities," Germino said. "The site also highlights important NIDDK-supported basic, clinical and translational advances in the wide range of acute and chronic diseases and conditions in our mission."
Content for NIDDK's new website was updated during a trans-institute effort. NIDDK leadership and staff are committed to maintaining the new site so it remains a useful resource for current and potential grantees, fellows, collaborators, media and the public.
Longtime NIDDK grantee Rothman wins Nobel Prize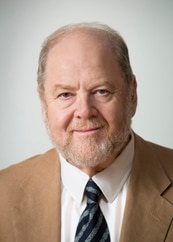 In October, NIDDK grantee Dr. James Rothman received the 2013 Nobel Prize in physiology or medicine, shared with fellow NIH grantees Drs. Randy W. Schekman and Thomas C. Südhof "for their discoveries of machinery regulating vesicle traffic, a major transport system in our cells," according to the Nobel organization.
The researchers' work revealed how cells use small sacs, called vesicles, to import and export materials to and from cells. This transport system is a fundamental process in how cells work.
Rothman is a professor at Yale University and 2002 Lasker awardee. He is also a former NIDDK Advisory Council member and two-time NIDDK MERIT awardee. He has received support from several NIH institutes, and much of the work that earned him the Nobel was supported by a longstanding NIDDK grant that began in 1980.
Early in his career, Rothman showed that events known to take place inside cells such as vesicle transport could actually be studied in vitro. He found that the details behind these complex trafficking events—such as the proteins involved, how they interacted and formed complexes, and how energy is used—could be dissected and reconstituted in the test tube.
Just hours after leaning of his Nobel Prize, Rothman told Nobel Media that receiving the award felt like "an out-of-body experience." Though he wasn't relishing the media onslaught, he said, "The opportunity to be a spokesman for the field and for medical science, I do welcome that."
The trafficking of molecules within a cell and between a cell and its external surroundings underlies extraordinarily diverse biological processes. These include insulin secretion, neurotransmitter release, the transport of proteins that bring glucose and other nutrients into a cell, and the transport of proteins that serve as channels for salt ions to flow into or out of cells. Defects in the transport of proteins to their proper locations are associated with diseases such as cystic fibrosis and diabetes.
"When you get to the sort of level of the nanoscale, you find that these objects start behaving as if they were mechanical," Rothman told Nobel Media. "I was trained as a physicist as a young man. And what so attracted me about molecular biology is the opportunity to find simplicity through that very simple concept."
Three other NIH grantees were also awarded Nobel prizes in 2013. Drs. Martin Karplus, Michael Leavitt and Arieh Warshel received the Nobel Prize in chemistry for their development of powerful multiscale computer models used to understand and predict chemical processes. Read more about their work in the NIH Record.
Congressional representatives meet with NIDDK staff, grantees
By Krysten Carrera and Amy F. Reiter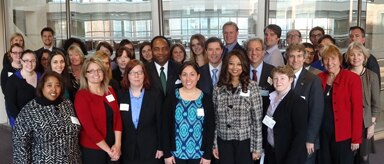 This fall, NIDDK briefed congressional visitors on type 1 diabetes research and the role of NIH in improving public health. At the request of U.S. Senator Joe Donnelly (D-IN), he and his staff visited campus on Sept. 23. And at the request of the Congressional Diabetes Caucus, more than 20 members of bipartisan congressional staffs came to NIH on Nov. 15.
All heard about results, current studies and future opportunities in type 1 diabetes research, including those made possible by the Special Statutory Funding Program for Type 1 Diabetes Research (SDP)—a $150 million annual appropriation that is spearheaded by NIDDK in collaboration with other NIH components and the CDC.
During the November visit, NIH Director Dr. Francis Collins highlighted the benefits of investment in NIH, the power and promise of the research community, and the effect of shrinking funding on that power and promise. "This is the thing that keeps me awake at night," he said. "We're on a roll, but unfortunately we can't be on a roll at the pace that science would allow."
Following Collins, NIDDK Director Dr. Griffin P. Rodgers provided an overview of diabetes and its complications. NIDDK Deputy Director Dr. Gregory Germino and Dr. Judith Fradkin, director of NIDDK's Division of Diabetes, Endocrinology, and Metabolic Diseases, provided details of NIDDK research on type 1 diabetes and diabetic kidney disease, including the many benefits of early intensive blood glucose control, as well as many advances made possible by the SDP.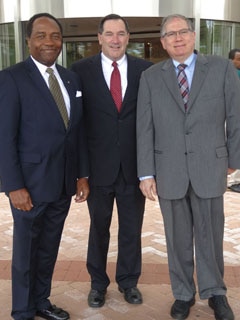 NIH grantees Drs. Stacey Anderson (University of Virginia), Neil Bressler (The Johns Hopkins University) and Alessandro Doria (Joslin Diabetes Center) discussed major advances and emerging opportunities in the fields of artificial pancreas development, diabetic eye disease and diabetic kidney disease, respectively. The staffers also heard from intramural researcher Dr. Kristina Rother, toured the labs of Drs. Kristin Tarbell and Sushil Rane, and heard a woman with type 1 diabetes for more than 30 years speak about the positive impact that progress in type 1 research has made on her life.
There have been a "tremendous number of discoveries and innovations that have resulted from the SDP," Rodgers said.
Speaking with Donnelly's group in September, NIH Principal Deputy Director Dr. Lawrence Tabak and Rodgers discussed the state of NIH research and the unique value that NIH brings to the public.
As well, Fradkin presented on NIDDK-supported research including The Environmental Determinants of Diabetes in the Young (TEDDY), an ambitious, long-term study aimed at discovering triggers of type 1 diabetes in children. Dr. Guillermo Arreaza-Rubin, director of NIDDK's Glucose Control Technologies Program, and NIDDK grantees Drs. Edward Damiano (Boston University) and Steven Russell (Massachusetts General Hospital) and a patient in one of their NIDDK-funded trials discussed advances in artificial pancreas technology. The senator also toured the Rane and Tarbell labs.
"Around the U.S. and all over the world, NIH is seen as a beacon of hope," said Donnelly. "Biomedical research is a great investment that helps all people reach their full potential. … I appreciate the opportunity to hear about the amazing work you are all doing, and I will continue to be a voice for NIH in Congress."
NIDDK researchers chronicle advances against sickle cell anemia, diabetes
By Eric Bock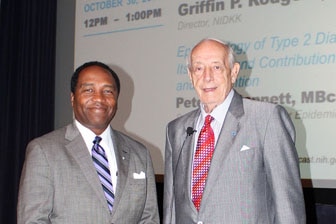 At the Oct. 30 Clinical Center Grand Rounds, NIH researchers reviewed progress made against two major causes of illness and death. NIDDK Scientist Emeritus Dr. Peter Bennett discussed his work over the past five decades identifying risk factors for type 2 diabetes in Arizona's Pima Indian community, and NIDDK Director Dr. Griffin Rodgers described advances against sickle cell anemia. Sickle cell anemia is a hereditary blood disorder that causes the production of C-shaped red blood cells. These "sickle" cells clog small blood vessels, resulting in oxygen deprivation, pain and organ damage.
Rodgers and his colleagues study the effects of hydroxyurea, the first FDA-approved therapy for sickle cell anemia, a therapy that Rodgers helped develop in the 1990s. By inhibiting the "sickling" process, the drug alleviates painful episodes associated with sickle cell anemia.
"Although hydroxyurea lessens many complications, it really isn't a cure for sickle cell disease," Rodgers said.
Results from a recent clinical trial at the NIH suggest that a cure for sickle cell anemia may be possible. In nine of 10 adults who had been severely affected by sickle cell anemia, a stem cell transplant reversed the disease. A cure would require replacing bone marrow of patients with sickle cell anemia with bone marrow stem cells from a healthy sibling. However, the treatment doesn't work for everyone. "Within this population, we estimate that only 25 or 30 percent of patients have eligible siblings," said Rodgers.
Rodgers said it is possible that advances in stem cell gene therapy will one day allow everyone with sickle cell anemia to benefit from the treatment.
Next, Bennett spoke about type 2 diabetes in the Pima Indians in Arizona. He was the chief of NIDDK's intramural Phoenix Epidemiology and Clinical Research Branch, which began conducting cooperative research efforts with the Pimas in 1963 after scientists discovered the high prevalence of obesity and type 2 diabetes in this population. For over 30 years, he administered glucose tolerance tests to almost every Pima Indian age 5 or older.
Test results showed the Arizona Pima Indians had the highest prevalence of type 2 diabetes of any other group in the world—including the genetically similar Mexican Pima Indians—leading Bennett to conclude that environmental factors play a role in the prevalence of type 2 diabetes. He was one of the first to find that low physical activity and obesity were risk factors for the disease. Later, he found insulin resistance was another risk factor. All of these findings applied far beyond the Pima population.
He also found that children whose parents had diabetes were likelier to develop diabetes earlier in life and that breastfeeding prevented the development of diabetes by almost 60 percent. Bennett's achievements in the field of diabetes research continue to be the foundation for the prevention, diagnosis and treatment of type 2 diabetes.
Summary published of pancreatitis, diabetes and pancreatic cancer workshop
By Leslie Curtis

Researchers met at the NIH in Bethesda, Maryland, on June 12-13 to explore the known and suspected mechanisms and connections between chronic pancreatitis, diabetes and pancreatic cancer during the "Pancreatitis-Diabetes-Pancreatic Cancer Workshop." In November, the journal Pancreas published a summary of the proceedings.
The workshop filled overflow rooms and drew hundreds of attendees, including gastroenterologists, cancer and diabetes researchers, epidemiologists, clinicians, scientists, industry, government and media. The attendees reviewed data and perspectives on questions related to the risk and development of pancreatic cancer.
The workshop, co-sponsored by NIDDK and the National Cancer Institute, held sessions on
An overview of pancreatic cancer
Chronic pancreatitis and diabetes as risk factors
Pancreatogenic, or type 3c, diabetes mellitus
Genome associations of chronic pancreatitis, diabetes, and pancreatic cancer
Groups vulnerable to pancreatic cancer and early detection methods
Effects of diabetes treatment on pancreatic cancer
"This workshop was remarkable as it included representation from academia, industry and the FDA, which allowed an unusually open discussion," said Dr. Dana K. Andersen, director of the clinical studies program within NIDDK's Division of Digestive Diseases and Nutrition, the workshop's lead sponsor. "It was also important to bring experts together from the fields of oncology, diabetes and gastroenterology to focus on new strategies for early detection and prevention of pancreatic cancer."
NIDDK staff contribute expertise to revision of Dietary Guidelines for Americans
By Dr. Margaret McDowell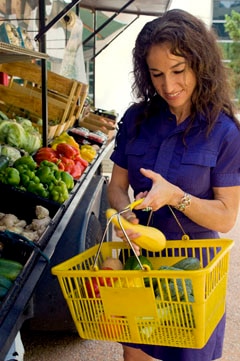 Starting this year, researchers and federal staff with diverse expertise, including many with ties to NIDDK, have embarked on an endeavor aimed at improving nutrition for all: Updating the Dietary Guidelines for Americans for 2015.
"The Guidelines provide practical, science-based advice to help Americans make food and physical activity choices that promote good health, a healthy weight and disease prevention for those ages 2 years and older," said Dr. Van S. Hubbard, director of the NIH Division of Nutrition Research Coordination (DNRC), housed within NIDDK.
The 2015 Dietary Guidelines Advisory Committee formed this year to review and update the previous Guidelines, along with assistance from staff from the U.S. Department of Health and Human Services (HHS) and the U.S. Department of Agriculture (USDA). Congress mandates the Guidelines be reviewed every five years. The secretaries of HHS and USDA will jointly release the new Dietary Guidelines in Fall 2015.
The committee is composed of 14 nationally recognized experts in nutrition, public health and medicine. Three members have received NIDDK funding (Drs. Alice Lichtenstein, Frank Hu and Anna Maria Siega-Riz). Several DNRC staff, including Hubbard, Dr. Pamela Starke-Reed, Rachel Fisher and Dr. Margaret McDowell, are contributing expertise to the project, as are other NIH staff. In addition, NIDDK Advisory Council ex-officio member Dr. David M. Klurfeld of the USDA is lending expertise.
The committee is holding public meetings aimed at hearing from citizens and experts who are invited to speak on focus areas such as current dietary intakes of food and nutrients, the food environment, and nutrient needs throughout the lifespan. Meetings are posted in the Federal Register (PDF, 1.24 MB) and a timeline is available.
Committee members will report findings—along with public and federal agency comments—to the HHS and USDA secretaries for consideration. The committee may also suggest future research.
The Dietary Guidelines for Americans are used by NIDDK and across the federal government to develop dietary guidance and nutrition education materials, curricula, websites and programs for children and adults. NIDDK initiatives such as the Weight-control Information Network and the National Diabetes Education Program help people put the Dietary Guidelines into practice.
Last Reviewed June 2014