Causes of Chronic Kidney Disease
Diabetes and high blood pressure are the most common causes of chronic kidney disease (CKD). Your health care provider will look at your health history and may do tests to find out why you have kidney disease. The cause of your kidney disease may affect the type of treatment you receive.
Diabetes
Too much glucose, also called sugar, in your blood damages your kidneys' filters. Over time, your kidneys can become so damaged that they no longer do a good job filtering wastes and extra fluid from your blood.
Often, the first sign of kidney disease from diabetes is protein in your urine. When the filters are damaged, a protein called albumin, which you need to stay healthy, passes out of your blood and into your urine. A healthy kidney doesn't let albumin pass from the blood into the urine.
Diabetic kidney disease is the medical term for kidney disease caused by diabetes.
High blood pressure
High blood pressure can damage blood vessels in the kidneys so they don't work as well. If the blood vessels in your kidneys are damaged, your kidneys may not work as well to remove wastes and extra fluid from your body. Extra fluid in the blood vessels may then raise blood pressure even more, creating a dangerous cycle.
More information is provided in the NIDDK health topic, High Blood Pressure and Kidney Disease.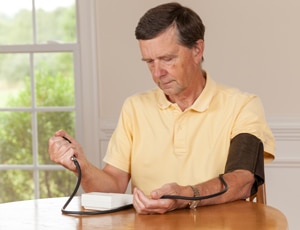 Other causes of kidney disease
Other causes of kidney disease include
October 2016
This content is provided as a service of the National Institute of Diabetes and Digestive and Kidney Diseases (NIDDK), part of the National Institutes of Health. The NIDDK translates and disseminates research findings through its clearinghouses and education programs to increase knowledge and understanding about health and disease among patients, health professionals, and the public. Content produced by the NIDDK is carefully reviewed by NIDDK scientists and other experts.