Lab Members
Our Staff
Acting Section Chief
Ashley earned her Ph.D. in Biomedical Science at the Ohio State University with Dr. Brian Kaspar studying glial-mediated motor neuron death in ALS. She trained as a post-doctoral fellow at the University of California Berkeley with Dr. Andrew Dillin where she used C. elegans as a model system to understand the role of glial cells in aging and organismal stress resistance. In November 2021, she started her own research program at the NIH with the aim to understand how glial cells regulate aging and disease.
Kar Men Mah, Ph.D.
Lab Manager and Research Scientist
Karmen received her PhD from The University of Iowa where she studied the role of cell adhesion molecules in the formation of proper dendritic branches. She then did her postdoc at the University of Miami working on a drug discovery project utilizing kinase inhibitors to promote axon growth and regeneration following spinal cord injury in rodents. She has since, joined the Frakes' lab to help manage the lab and continues to be a mouse wrangler extraordinaire.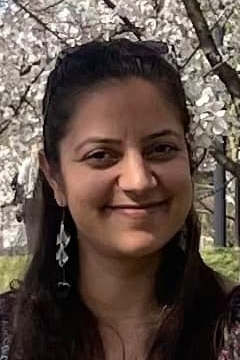 Vina Tikiyani, Ph.D.
Post-Doctoral Fellow
Vina is interested in neuropeptide signaling pathways involved in xbp-1 mediated glia-intestine and glia-neuron interactions during stress and ageing. She received her PhD from IISER Mohali, India with Dr. Kavita Babu. During her PhD she discovered that a claudin-like molecule, HIC-1 is required for the regulation of synaptic plasticity at the C. elegans neuromuscular junctions. Before joining Frakes' lab, Vina was a Postdoc fellow at Mark Hoon's group at NIDCR, NIH studying the somatosensory pathways in mice. In her free time, she enjoys spending time with her toddler, listening to music and dancing.