Lab Members
Our Staff
View Dr. Afzali's Scopus Profile
Ben Afzali studied medicine at the United Medical and Dental Schools of Guy's and St Thomas' hospitals, in the United Kingdom, from 1994-2000, qualifying as Valedictorian of his year. Following his primary medical degree, he undertook residency training in internal medicine on the Oxford medical rotation from 2001-2003, during which time he successfully completed the examination requirements for membership of the royal college of physicians. He then commenced fellowship training in renal medicine on the South Thames London rotation, most of which was spent at Guy's hospital, and was subsequently appointed as an honorary consultant nephrologist at Guy's. Ben's research career began during his primary medical studies, which intercalated a Bachelor of Science in Immunology, awarded with first class honors, focused on the role played by adhesion molecules in autoimmunity. He studied for a Ph.D. in immunoregulation with a focus on regulatory T cell (Treg) biology under the supervision of Professors Sir Robert Lechler and Giovanna Lombardi at King's College London. He was awarded the degree of Philosophical Doctorate in 2009 from the University of London and went on to be appointed as a clinical lecturer. He was the recipient of a Wellcome Trust intermediate Clinical Fellowship to investigate the transcriptional mechanisms by which regulatory T cells produce soluble factors and their impact for cell therapy. As part of this fellowship he was a guest researcher in the laboratory of Dr. John O'Shea at the National Institute of Arthritis and Musculoskeletal and Skin Diseases from 2014 where he examined key transcription factors involved in Treg biology, notably BACH2 and STAT5. He is currently an Earl Stadtman investigator in NIDDK and studies tissue immunoregulation, notably how environmental signals in tissues are integrated via networks of transcription factors to direct the basic mechanisms of autoimmunity, subsequent tissue injury and wound healing.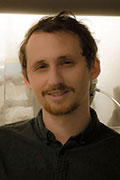 Daniel Chauss, Ph.D.
Staff Scientist
Daniel graduated from the University of North Florida with a B.S. in Biology in 2010 before beginning graduate work at Florida Atlantic University with Marc Kantorow. During his Ph.D., Daniel used modern molecular, cell biology, and bioinformatics tools to determine processes that drive developmental and protective mechanisms of eye tissue. This work culminated with the discovery that specialized eye tissue retains immunological features in the absence of classical immune cells to protect against environmental damage. Leveraging this work, Daniel started at NIH in the Laboratory of Nuclear Lymphocyte Biology in NIAMS where he trained in multi-dimensional transcriptomics, epi-regulation and CRISPR/Cas9 before beginning in the Immunoregulation Laboratory at NIDDK. Here, Daniel integrates state of the art sequencing, genome editing, and imaging to dissect fundamental processes driving various facets of immunity. His primary focus is in clarifying those mechanisms underlying inflammatory activation and shutdown. In 2021, Daniel was awarded a Office of Dietary Supplements Research Scholarship.

Dhaneshwar Kumar, Ph.D.
Post-Doctoral Fellow
Dhaneshwar graduated from the Dr. HariSingh Gour University, M.P., India, with a Master of Science in Applied Microbiology & Biotechnology in May 2012 and obtained a Ph.D. from the Indian Institute of Science Education and Research (IISER) Mohali, India, in May 2019. During his Ph.D. program he studied CD8+ T cell responses during herpes virus infections in mice and zebrafish. His main interest is to investigate the role of the non-coding transcriptome in regulating the fate and functions of T cells and environmental cues that shape those transcriptomes. His research is part of a key collaboration between the Kazemian laboratory at Purdue University and the Immunoregulation Section at KDB.
Didier Portilla, M.D.
Research Collaborator
Didier Portilla is Professor of Medicine in the Division of Nephrology at the University of Virginia and a research collaborator of the Immunoregulation section. His research interests include acute and chronic kidney injury and transcriptional control exerted by mediators of kidney injury on renal scarring.
The overall goal of his research is to understand the cellular and molecular mechanisms that contribute to proximal tubule cell death during Acute Kidney Injury (AKI) and progressive chronic kidney disease. His laboratory has elucidated the role that increased lipotoxicity plays in the pathogenesis of proximal tubule cell death and tubulo-interstitial fibrosis, using both in vivo and in vitro models of ischemia-reperfusion and unilateral ureteral obstruction. His studies support the notion that PPARalpha, a nuclear receptor transcription factor expressed in the proximal tubule and in interstitial pericytes/fibroblasts, serves as an important metabolic sensor for lipid homeostasis. When stimulated by either a ligand or by using transgenic mice, his research finds that PPARalpha mediates cytoprotection by reducing inflammation and renal fibrosis. Didier's work has been funded by an NIH RO1 and by VA Merit Award that examine the role and mechanisms by which PPARalpha signaling increases mitochondrial fatty acid oxidation, prevents renal fibrosis and perivascular cell transformation to myofibroblasts. He has served as Program Director of the NIDDK T32 Training program in the Pathophysiology of Renal Disease at the University of Arkansas in Little Rock. During that time (2009-2014), he has mentored several postdoctoral fellows in his laboratory, some of them promoted to junior faculty positions. Dr. Portilla currently serves as Co-Principal Investigator of the TL1 portion of the Kidney Urology Hematology Training Grant Program at the Division of Nephrology of the University of Virginia. His work is currently funded by an extramural NIH NIDDK RO1 grant that examines the role of intracellular complement activation in kidney cells during progressive kidney fibrosis.
Jorge Luis Trujillo Ochoa, Ph.D.
Post-Doctoral Fellow
Jorge Luis graduated from the Autonomous University of Zacatecas, Mexico, with a bachelor's in biopharmaceutical chemistry in 2012 and a Ph.D. in pharmacology from the University of Guadalajara, Mexico in 2017. During his Ph.D. program, he worked in a laboratory in which he evaluated immune responses to viral hepatitis. His research focus is to understand the molecular processes underlying effector T cell and regulatory T cell biology, especially in the immune checkpoints and transcription factors that control their function.
Jianping Ma, Ph.D.
Post-Doctoral Fellow
Jianping Ma received his Bachelor's degree from Shandong University and PhD from the University of Chinese Academy of Sciences. During his Ph.D. and postdoctoral studies, he worked on anti-viral immunology and development of novel immunotherapy against chronic virus infection. He joined our group in September 2020 and his current research is focused on the role of transcription factors in T cell function and immune regulation.
Maurice B. Fluitt, Ph.D.
Research Collaborator
Maurice is an Assistant Professor at the Howard University College of Medicine in the Division of Endocrinology and Metabolism and a research collaborator of the Immunoregulation section. He earned his Bachelor's of Science in Biology and Allied Health from Chowan University (2009) (Murfreesboro, NC) and his Ph.D. in Genetics and Human Genetics from Howard University (2016) as an AGEP Fellow. After completing his doctoral studies, he was awarded an NIH-TL1 post-doctoral fellowship through the Georgetown Howard Universities Center for Clinical and Translational Sciences (GHUCCTS) to investigate the role of microRNAs in diabetic nephropathy at Georgetown University Medical Center. He was later awarded a post-doctoral fellowship from the American Diabetes Association to continue his post-doctoral studies at Georgetown University to investigate the role of microRNAs in diabetic nephropathy. His current research aims to investigate the role of non-coding RNAs as early markers, mediators, and therapeutic interventions for type 2 diabetes mellitus and its cardio-renal complications. This work promises to provide the necessary insight into the molecular complexity of this disease.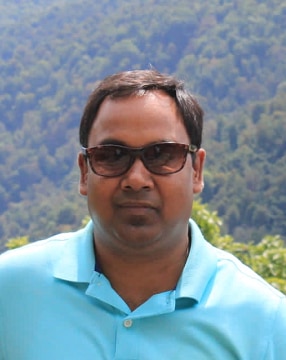 Md Taj, Ph.D.
Post-Doctoral Fellow
Taj completed his Master of Science in Toxicology from Jamia Hamdard, New Delhi, India, in April 2010. He earned his Ph.D. from the All India Institute of Medical Sciences (AIIMS), New Delhi, India, in January 2018. During his Ph.D. program, he identified a panel of salivary protein signatures (SPS) for non-invasive ovarian cancer detection using diverse proteomics approaches. Leveraging this work, Taj started at NIH in the Laboratory of Immunogenetics in NIAID where he worked on the role of architectural protein CTCF in nucleosome positioning and three-dimensional genome organization utilizing multi-dimensional genomic and epigenetic approaches. In 2022, Taj became a member of the Kazemian lab at Purdue University, and continued his research as part of a collaboration between the Kazemian lab and the Immunoregulation Section at KDB. He joined our team as a research fellow in February 2023. Currently, his research is centered on exploring the regulatory role of complement proteins in renal tubular epithelial cell biology during kidney injury.
Our Alumni
Tilo Freiwald, M.D., Ph.D.
Post-Doctoral Fellow
Tilo Freiwald obtained an M.D. and doctorate from the University Hospital Hamburg-Eppendorf. He is an internal medicine specialist and a nephrology fellow at the University Hospital of Frankfurt with a clinical focus on kidney transplantation. He is a co-founder and former chief technology officer of the leading medical knowledge platform AMBOSS, this computational background enables him now to assess complex big data research questions. His research career began during his primary medical studies, which intercalated a Doctorate of Medicine in Immunology, focused on the dynamics of T cell activation. Tilo's main interest is the role played by complement-triggered signals in kidney diseases and computational modelling of disease progression and resolution. Tilo received the German Research Foundation's (DFG) Research Fellowship and published on different aspects of the role of intracellular complement in disease while a post-doctoral fellow in the Immunoregulation Section. He obtained a group leader position at University Hospital Hamburg-Eppendorf, where he started in November 2022. His lab's website can be found at the Hamburg Center for Kidney Health (HCKH): Freiwald Group
Ilayda Sen, B.S.
Summer Intern Program Scholar
Ilayda Sen joined the Immunoregulation Section prior to going into her senior year at The Ohio State University, working towards obtaining a Bachelor of Science, specializing in Systems/Behavioral Neuroscience, with a minor in Spanish. In addition to her academics, Ilayda is invested in research, conducting research in 3 different labs investigating the following: Mindfulness in medicine (for both patients and healthcare professionals), music therapy's effect in patients with gastrointestinal (GI) disorders or undergoing GI procedures, and understanding the evolutionary changes in the HIPPO pathway among different organisms and how those changes translate to patient conditions. Ilayda's passion for research has been nurtured through her research experiences and lead her to join the Immunoregulation Section during the summer of 2022, as part of the SIP program.
Nardos Cheru
Post-Baccalaureate Fellow
Nardos graduated from the University of Virginia with a Bachelor of Science degree in Chemistry, with specialization in Biochemistry, in May 2018. Concurrently with her studies she worked as a research assistant in the Center for Immunity, Inflammation and Regenerative Medicine and interned on the summer medical and dental education program (SMDEP) of the university. She joined the Immunoregulation Section in 2018 and worked diligently until 2021, when she left to start a PhD at Yale. She is missed by all in the lab, who all wish her the best of luck for her future.
Huzaifah Qureshi, B.S.
Post-baccalaureate Fellow
Huzaifah graduated from Virginia Commonwealth University with a Bachelor of Science degree in May 2018 with experience in biomaterial research as an undergraduate. Huzaifah is inspired by the potential of translational immunological research for patient care. In his free time, you will find him hiking. Huzaifah joined the Immunoregulation Section for a one-year post-baccalaureate fellowship and left in 2019. He is currently studying for an M.D. at Virginia Commonwealth University. We are proud to have had this energetic, enthusiastic and personable man as part of our group.
Group Photos