About Our Research
The Haase group investigates the ongoing struggle between mobile genetic elements and their host genome by exploring how PIWI-interacting RNAs (piRNAs) are generated and utilized to specifically silence transposons. Due to the inherent capacity of transposons to mobilize, amplify and insert into new genomic locations, they have colonized around half of our genome. Their activity poses a threat to genome integrity and therefore needs to be controlled. In germ cells, piRNAs and their PIWI protein partners establish transposon silencing, thereby securing species survival. Although recent progress has uncovered the fundamental framework of piRNA-mediated transposon control, the molecular mechanisms that guarantee the pathway's specificity and effectiveness remain largely unknown. Our present research projects take an integrative approach, utilizing biochemistry, genetics, and genomics, to concentrate on three distinct aspects of piRNA biology:
Identify mechanisms that designate transcripts for processing into piRNAs.
Determine rules that govern robustness and adaptability of piRNA-mediated transposon control.
Establish a robust system to study human piRNA biology and its potential impact on genome stability in disease.
Research Images
Hierarchical length and sequence preferences establish a single major piRNA 3′-end' (Stoyko et al., iScience 2022)
Cellular abundance shapes function in piRNA-guided genome defense' (Genzor*, Konstantinidou*, Stoyko*, et al., Genome Research 2021)
Functional editing of endogenous genes through rapid selection of cell pools' (Meng*, Stoyko*, Marlin Andrews*, et al., NAR 2022; and Stoyko et al., Curr Protoc. 2022)
Aberrant expression of select piRNA-pathway genes does not reactivate piRNA silencing in cancer cells' (Genzor et al., PNAS 2019)
Decoding the 5' nucleotide bias of PIWI-interacting RNAs' (Stein*, Genzor*, Mitra* et al., Nat Commun. 2019)
An oversimplified depiction of the three major small RNA pathways in animals.' (Review, RNA Biology 2023)
PiRNA biogenesis in flies and mice.' (Review, RNA Biology 2023)
PiRNAs like to be with 'U': The 1U-bias is established by differential gating against all nucleotides but Uridine (U) (from: Stein*, Genzor*, Mitra*, Elchert* et al., Nat Commun. 2019)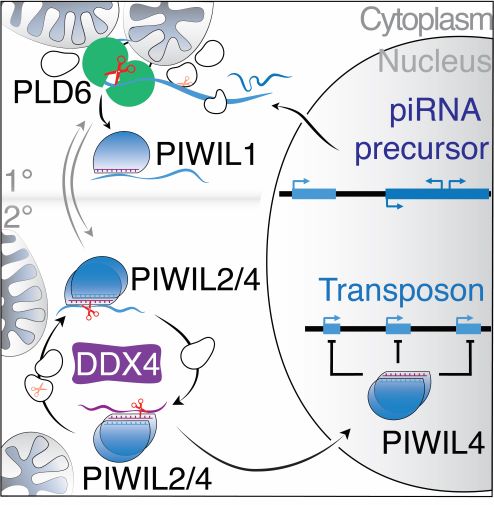 Mammalian piRNA pathways (from: Genzor et al., PNAS 2019).
The structural biochemistry of Zucchini implicates it as a nuclease in piRNA biogenesis (adapted from: Ipsaro*, Haase* et al., Nature 2012).