About Our Research
Research Goal
The goal of this program is to better understand the immunological factors that contribute to pathogenesis of inflammatory diseases such as viral hepatitis, to assess how immune responses and chronic inflammation are regulated and to devise strategies that modulate the progression of chronic liver disease and/or induce protective immune responses.
Current Research
My research program covers two areas:
1. We study innate and adaptive immune responses to viral infections, in particular infections of the liver, to better understand the pathogenesis of the disease and to develop vaccines and effective antiviral therapies.
2. We evaluate how hepatic and systemic immune responses are regulated by the gastrointestinal microbiome.
Immunopathogenesis of viral hepatitis
Three human hepatitis viruses (HBV, HCV and HDV) are the causative agents for almost all cases of chronic viral hepatitis.
Hepatitis B virus (HBV) is responsible for 240 million chronic infections worldwide, with a substantial proportion due to vertical transmission from mother to child. HBV is a small DNA virus that establishes a mini-chromosome within the hepatocyte nucleus as its transcriptional template and integrates randomly into the host genome. Therefore, HBV cannot be eliminated with currently available antiviral therapies and curative therapies are still needed.
Hepatitis D virus (HDV) is an enveloped, single-stranded, closed circular RNA virus that requires HBV to propagate. HBV/HDV co-infection rapidly progresses to cirrhosis in most patients, and there is no effective therapy to stop this process. Both the role of innate and adaptive immune responses and inflammation in disease progression are unknown. Likewise, it is not known whether any protective immune response exists naturally and/or whether it can be induced therapeutically.
Hepatitis C virus (HCV) is a positive-stranded RNA virus, responsible for about 70 million chronic infections worldwide. Highly effective therapies against HCV are now available, but a preventive vaccine is still needed due the high costs of such therapies and lacking access to patients in remote areas.
Host immune responses play a significant role in both viral control and disease pathogenesis in all three infections. In chronic HBV and HCV infection, the vast majority of virus-specific T cells are terminally differentiated and functionally impaired. Chronic HBV and HCV infection also share an altered, inflammation-driven, natural killer cell phenotype with increased cytotoxicity and decreased production of antiviral cytokines. In contrast, immune responses to HDV are largely uncharacterized. Detailed knowledge on immune responses is key to understanding disease progression in chronic viral hepatitis, to assessing immune-modulatory therapies for HBV and HDV infection, and to developing prophylactic vaccines against HCV and HDV. It also advances our understanding of basic mechanisms of immune regulation in conditions of chronic antigen persistence, which is relevant for other infections and cancer.
We take three approaches to study the immunopathogenesis of viral hepatitis:
We study immune responses of clinically well-characterized patients in different phases of chronic viral hepatitis before, during and after antiviral treatment. These translational studies are based on collaborations with Drs. Ghany, Heller, Koh, Liang and Rotman in the Liver Diseases Branch, who follow and treat patients with viral hepatitis in clinical research protocols.
We use suitable animal models to address basic immunological questions that arise from translational studies. As part of our research on the gut/liver axis, we use mice to evaluate the effect of the gut microbiome on systemic and hepatic immune responses.
We employ in vitro models of primary cell cultures and viral infection to study innate immune responses.
Regulation of hepatic and systemic immune responses by the gut microbiome
Today we know that the phenotype of all mammals - from rodents, to non-human primates to humans - is driven by the metagenome. The metagenome itself is the combination of the host genome and the microbial genome also known as the microbiome. In the natural world, the microbiomes of free-living mammalian organisms, including wild mice and humans, co-evolved with their respective hosts in a very similar way under evolutionary pressure in regards to inflammatory immune stimuli such as infectious pathogens, but also toxins and mutagens frequently encountered in the natural world. We currently take the following approaches to better understand the effects of the microbiome on host fitness and, in particular, on immune responses:
Based on the concept that natural microbiota co-evolved with their respective hosts under evolutionary pressure and confer host fitness-promoting traits we have established a mouse model that combines the tractable genetics of regular laboratory mice with the gastrointestinal microbiota of wild mice. These mice show increased disease resistance upon influenza virus challenge and gastrointestinal carcinogenesis when compared to standard laboratory mice. Such models may lead to the identification of mechanisms of host physiology and disease resistance in the natural world, improve preclinical efficacy and safety testing, and more accurately reflect diseases in humans.
In a translational human immunology study, we are evaluating changes in the gut microbiome and in inflammatory status during and after pregnancy. We plan to characterize changes in the composition of the gut microbiome and metabolome in HBV-infected women and uninfected controls who are prospectively followed during and after pregnancy and to correlate these with innate and adaptive immune responses and hepatitis disease flares. The aim of this research is to understand the causative mechanisms, predictive markers and risk factors for hepatitis B disease flares during pregnancy
Applying our Research
This research will help decrease the burden of liver disease—in particular, chronic viral hepatitis—and the long-term consequences of chronic inflammation of the liver such as cancer. In addition, the basic immunological mechanisms that are being studied may be relevant to other diseases; for example, what we learn from the immune responses against hepatitis viruses can inform research on other pathogens and tumors that are also targeted by the immune system. Our research on the gastrointestinal microbiome will help us better understand how immune responses and inflammation are regulated.
Need for Further Study
Detailed knowledge on immune responses is key to understanding disease progression in chronic viral hepatitis, to assessing immune-modulatory therapies for HBV and HDV infection, and to developing prophylactic vaccines against HCV and HDV. It also advances our understanding of basic mechanisms of immune regulation in conditions of chronic antigen persistence, which is relevant for other infections and cancer.
Research in Plain Language
My research focuses on the body's immune response to viruses that infect the liver and other organs. Using blood and liver biopsy samples from infected patients, my laboratory studies the response of the infected cells themselves and the innate and adaptive immune cells that are called to the site of infection. We also analyze the mechanisms that viruses use as a means to escape from immune responses, and the biological processes that result from chronic triggering of the immune response if the viruses persist. Finally, we study how the gut microbiome regulates immune responses and inflammation.
Research Images
Altered natural killer cell function in chronic viral hepatitis
Activated natural killer cells display a similar functional phenotype with increased cytotoxicity (increased TRAIL production, conserved cytotoxicity) and decreased cytokine production in chronic hepatitis B virus infection and in hepatitis C virus infection. This phenotype is induced by type I IFN in hepatitis C virus infection and by TGF-b and IL-10 in hepatitis B virus infection. It can be reversed by treatment-induced viral clearance and/or neutralization of the respective cytokines [for a review, see
Cell Mol Gastroenterol Hepatol. 2015;1:578-588
].
Conditions for T cell-mediated immune protection upon hepatitis C virus re-infection
A) Clearance of a primary HCV infection is associated with strong T cell responses. A secondary HCV infection results in lower HCV titers and more rapid viral clearance. An early memory T cell recall response is detectable in both liver and blood. (B) Depletion of CD4 T cells prior to secondary HCV infection results in weak recall responses, incomplete T-cell mediated control of viremia and emergence of MHC class I escape mutations. Chronic infection ensues. (C) T cell responses that are induced by repeated exposure to trace amounts of HCV, in the absence of quantifiable systemic viremia and seroconversion, do not confer immune protection upon HCV re-infection. The absence of immune protection is associated with an expansion of regulary CD4 T cells during subinfectious HCV exposure and subsequent HCV challenge (see Immunity 2014;40:13-24 and Nature Medicine, 2013:19:1638-1642)
Hepatitis C virus induces and evades innate immune responses in the liver
(A) Hepatitis C virus (HCV)-infected hepatocytes form clusters (indicated in green) in the infected liver. (B) In infected hepatoctyes, HCV is recognized by intracellular pattern recognition receptors, which would normally induce interferon beta and proinflammatory cytokines. However, the HCV protein NS3-4A cleaves both the adapter molecules MAVS and TRIF downstream of the intracellular pattern recognition receptors and thereby blocks the induction of cytokines in infected cells. (c) HCV persists despite increased expression of interferon-stimulated genes in the liver. IFN-b production is abrogated in the upper right hepatocytes due to intracellular expression of HCV NS3-4A. Nonparenchymal cells, e.g. Kupffer cells, plasmacytoid DCs and myeloid DCs contribute to the production of IFNs that induce interferon-stimulated genes in HCV-uninfected hepatocytes [see Immunity 2014;40:13-24].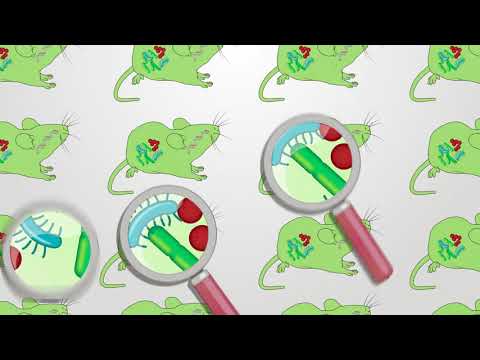 Wild mouse gut microbiota promotes host fitness and improves disease resistance
Transferring the gut microbes from wild mice to laboratory mice promotes fitness and significantly improves responses to an otherwise lethal flu virus infection and to colorectal cancer. By making lab mice more closely mirror real-world mice, the approach may improve the odds of success as research moves from mouse to man. The method could also help advance studies in metabolism, behavior, and endocrinology [from:
Cell, 171: 1015-1028, 2017
]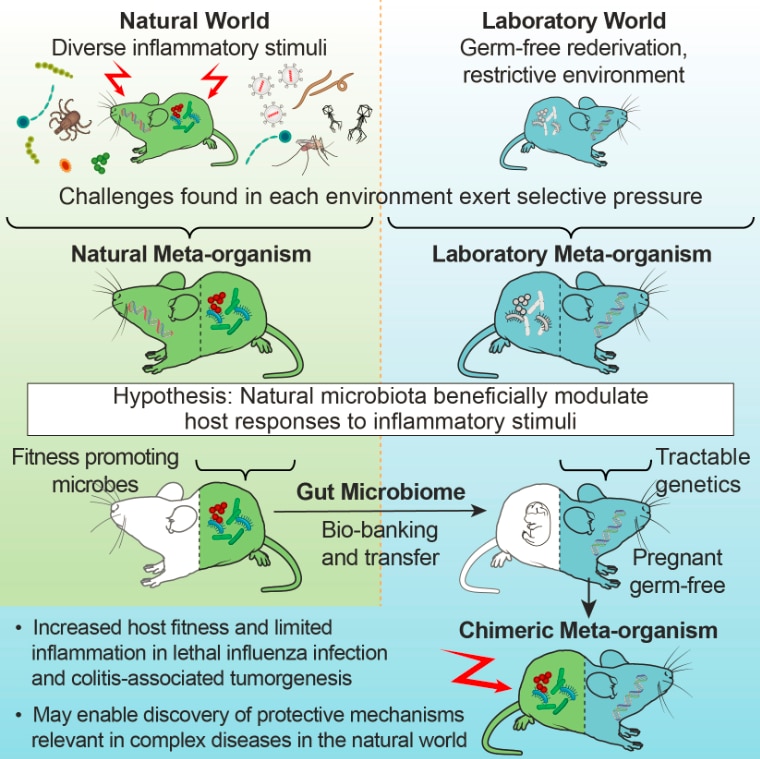 Gut microbes from wild mice protect lab mice
The image details the generation of a mouse model that combines the tractable genetics of standard laboratory mice and the fitness promoting traits of wild mouse gut microbiota. Characterization of the wild mouse microbiome opens a window of opportunity to understand how the gut microbiota affects aspects of host physiology that are important in the natural world outside the laboratory [from: Cell, 171: 1015-1028, 2017]