Lab Members
Our Staff
Zongyi Hu, M.D., Ph.D.
Staff Scientist
Dr. Zongyi Hu graduated from Hubei Medical College with MD in 1983 and Tongji Medical University with PhD in Pathology in 1989. He completed postdoctoral trainings in Laboratory of Experimental Carcinogenesis in National Cancer Institute on mechanisms of liver regeneration and hepatocarcinogenesis from 1991-1996, and subsequently in Liver Diseases Branch of NIDDK on mechanisms of viral hepatitis from 1996-1999. His current research involves screening and development of novel antiviral molecules against hepatitis C virus and Ebola virus, mechanism of drug resistance to HCV, as well as differentiation and maturation of induced pluripotent stem cells (iPSCs) into hepatocyte lineage.
Staff Scientist
Dr. Khan is a virologist with extensive experience in cell and molecular biology. His research experience encompasses numerous fields of virology with special emphasis on viral immunology, antiviral research, vaccines, and pathogenesis. He obtained his Ph.D. in 2011 from Jiwaji University, India, working on prophylactic and therapeutic measures against tropical arboviruses such as Dengue and Chikungunya. He then joined the department of medicine, UC, San Diego as a postdoctoral researcher, where he primarily focused on identifying novel mechanistic insights and therapeutic targets of HBV and HCV induced hepatitis. In 2016, he was promoted as Project Scientist and served as a co-investigator for an NIH-funded R01 grant. He has > 25 research articles to his credit and serves as an invited referee for several articles submitted to leading journals in the field of virology. His long term career goal is to develop novel therapeutic strategies for the treatment of chronic liver diseases and viral hepatitis.
Jason Piotrowski, M.S.
Technical Lab Manager
Mr. Jason Piotrowski graduated from Boston University in 1991 with a BA. In 2000, He graduated from John Hopkins University with an MS in biotechnology. He worked at the National Institute on Aging and the National Cancer Institute before joining the LDB-NIDDK as the lab manager for the Branch.
Zhensheng Zhang, M.D.
Biologist
Dr. Zhensheng Zhang graduated from Fudan University in 1982 with a BA and Henan Medical School in 1989 with a MD/PhD in Virology. Dr. Zhang competed postdoctoral training at MGH/Harvard Medical School in the fields of gene regulation of gastrin and molecular biology of hepatitis B virus (HBV). Dr. Zhang's current research involves the molecular mechanism of HBV infections.
Our Fellows
Joselyn Allen, Ph.D.
Post-Doctoral IRTA
Dr. Joselyn N. Allen graduated from the University of the Virgin Islands in 2010, where she earned her Bachelor of Science in General Biology. She obtained her Ph.D. degree in Immunology and Infectious Diseases in 2018 from the Pennsylvania State University. Her current research focuses on the role of the Mir122 - Map3k14 axis in the development and progression of non-alcoholic fatty liver disease, as well as the role of the bile acid - gut microbiome axis in age-dependent HBV clearance.
Xiaoming Cheng, Ph.D.
Post-Doctoral Visiting Fellow
Dr. Xiaoming Cheng received her Ph.D. in Medical Life Science and Technology from Technical University of Munich in Germany, 2015. Her doctoral study focused on interaction of HBV and HCV virus with liver non-parenchymal cells during the early phase of virus infection using ex vivo tissue perfusion model. She joined the Liver Diseases & Virology Section, LDB, NIDDK in 2015 and her research includes host immune response against virus infection, hepatitis virus coinfection and virus-host interaction.
Tadashi Inuzuka, Ph.D.
Post-Doctoral Visiting Fellow 
Dr. Inuzuka obtained his MD from Kyoto University in 2006. He then received a clinical training as an intern at Kyoto University Hospital and Osaka Red Cross Hospital. He worked as a Physician in Gastroenterology and Hepatology at Osaka Red Cross Hospital for 4 years. He received basic research training in molecular and cell biology and virology at Kyoto University, where he obtained his Ph.D. in 2016. After winning a Japan Society for the Promotion of Science scholarship, Dr. Inuzuka spent 2 years as a postdoc fellow at National Center for Global Health and Medicine in Japan working on investigation of the relationship between genetic changes and pathogenesis of hepatitis B virus. From 2018, he has worked with Dr. T. Jake Liang at the Liver Diseases Branch of NIDDK, NIH. Dr. Inuzuka's current research at NIH focuses on understanding host factors associated with hepatitis B virus infection.
Parker Irvin
Post- Baccalaureate IRTA
Parker Irvin graduated from the University of North Florida in August 2019 with a BS in Molecular & Cell Biology. His current research involves the identification and characterization of SARS CoV-2 antivirals and mapping novel epitopes on HCV envelope proteins.
Madeleine Leek, B.S.
Post- Baccalaureate IRTA
Madeleine Leek graduated from the University of Pittsburgh with a BS in Emergency Medicine. She worked as a paramedic in east Pittsburgh and in the liver research center at the McGowan Institute for Regenerative Medicine. Her current research in the Liver Disease Branch at NIDDK involves the role of the host microbiome and bile acids in age and strain related clearance of HBV.
Karim Mouzannar, Ph.D.
Post-Doctoral Visiting Fellow
Dr. Karim Mouzannar started his scientific journey at Université Saint-Joseph in Lebanon with a B.S. in Biochemistry. He then traveled to Paris and earned a M.S. in Molecular and Cellular Biology from Université Pierre et Marie Curie. Afterwards, he went to the infectiology research hub of Lyon and pursued a PhD. in Virology from Université Claude Bernard. His work identified the bile acid nuclear receptor, FXR alpha, as a proviral host factor for Hepatitis B Virus that is inhibited by ligands in vitro and in vivo. Subsequently, he traveled to the US and joined Dr. Jake Liang's team at the NIH to pursue his work on HBV therapeutic development.
Seung Bum Park, Ph.D.
Post-Doctoral IRTA
Dr. Seung Bum Park graduated from Yonsei University with a B.Sc in biotechnology in February 2005, University of California, Davis with a M.Sc in immunology in June 2006, and University of California, Merced with a Ph.D in immunology/virology in August 2015. His current research is to study differentiation of induced pluripotent stem cells/embryonic stem cells into hepatocytes.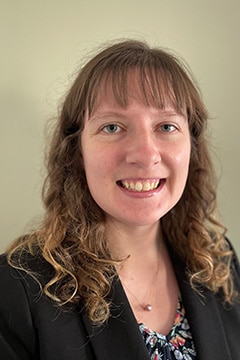 Susannah Stephenson, Ph.D.
Post-Doctoral IRTA
Dr. Stephenson received her Ph.D. in Microbiology and Immunology from Georgetown University in 2022. Her dissertation research focused on the replication strategy of Hepatitis Delta Virus (HDV), in which she successfully identified the replication start site for the circular HDV genome. She brought her HDV expertise to the Liver Diseases Virology Section, where she continues to work on solving the mysteries of HDV replication and its interaction with the host. Her current research involves creating systems for the high-throughput screening of host gene knockdowns/knockouts against replicating HDV to elucidate which host factors are important for HDV replication.
Regina Umarova, M.S.
Bioinformatics Analyst
Ms. Regina Umarova graduated from New Mexico Highlands University with a B.S. in biology in 2014, and University of Texas at El Paso with a M.S. in bioinformatics in 2018. She joined LDB-NIDDK in February 2019 as a Bioinformatics Analyst.
Min Zhang, Ph.D.
Visiting Research Fellow
Dr. Zhang's research focuses on the liver diseases in virology, immunology, cell biology, and therapeutics. She is conducting her current research in the Liver Disease Branch of NIDDK from 2016. Her research involves developing and exploring different genotypes HBV. She also learn to do some research on screening HBV drugs.