NIDDK Director's Update
Fall 2015
Research Updates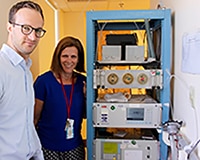 Ease of weight loss influenced by individual biology: For the first time in a lab, a team led by NIDDK researchers found evidence supporting the commonly held belief that people with certain physiologies lose less weight than others when limiting calories. While behavioral factors such as adherence to diet affect weight loss to an extent, the study suggests people should consider a larger picture that includes individual physiology, and that some people who are obese may have to work harder to lose weight due to metabolic differences. Results published in Diabetes.
Energy expenditure responses to fasting and overfeeding identify phenotypes associated with weight change: Because it is unknown if 24-hour energy expenditure responses to dietary extremes will identify phenotypes associated with weight regulation, the aim of this study was to determine whether such responses to fasting or overfeeding are related to future weight change. The researchers identified two independent propensities associated with weight gain: a predisposition for conserving energy during caloric and protein deprivation, and a substantial response to large amounts of carbohydrates. Results published in Diabetes.
Higher daily energy expenditure and respiratory quotient, rather than fat-free mass, independently determine greater ad libitum overeating: The body's fat-free mass, energy expenditure and respiratory quotient are known predictors of daily food intake. As fat-free mass largely determines energy expenditure, it is unclear whether body composition or the underlying metabolism drives food intake. The study found that energy expenditure and respiratory quotient, rather than fat-free mass, independently determine food intake. Results published in the Journal of Clinical Endocrinology and Metabolism.
Math model counts calories by tracking body weight: A team of NIDDK researchers has shown that a mathematical model of human metabolism provides accurate measurements of calorie intake changes by simply tracking the person's weight. The math model, published in 2011, was initially created to forecast body weight changes when people alter their diet and exercise habits, and was recently developed into the NIH Body Weight Planner online tool. The new application presents an alternative to self-report, which tends to greatly underestimate calories eaten, and expensive laboratory measurements. Results were published in the American Journal of Clinical Nutrition.
NIH study finds cutting dietary fat reduces body fat more than cutting carbs: In a recent NIDDK-led study, restricting dietary fat led to body fat loss at a rate 68 percent higher than cutting the same number of carbohydrate calories when adults with obesity ate strictly controlled diets. Carb restriction lowered production of the fat-regulating hormone insulin and increased fat burning as expected, whereas fat restriction had no observed changes in insulin production or fat burning. Results were published August 13 in Cell Metabolism.
NKDEP working group urges better electronic health record-keeping to improve chronic kidney disease outcomes: Improving electronic health records and standardizing their use could help improve care for people with chronic kidney disease, according to goals described by the National Kidney Disease Education Program's Health Information Technology Working Group in a paper published in the Clinical Journal of the American Society of Nephrology.
Oral prenylation inhibition with lonafarnib in chronic hepatitis D infection: a proof-of-concept randomised, double-blind, placebo-controlled phase 2A trial: Therapies for chronic hepatitis delta virus (HDV) infection are unsatisfactory. In a proof-of-concept study, the researchers aimed to assess the effect on HDV RNA levels, safety, and tolerability of the drug lonafarnib in patients with HDV. Treatment of chronic HDV with lonafarnib significantly reduced virus levels, which correlated with serum drug levels. Results published in Lancet Infectious Diseases.
Sweeteners detected in human breast milk: An NIDDK-led team of researchers has found that certain non-nutritive sweeteners (NNS) are present in human breast milk. The team collected breast milk samples from 20 lactating volunteers, irrespective of their habitual NNS intake. Saccharin, sucralose, and acesulfame-potassium were present in 65 percent of samples, and aspartame was not detected. Before this study, saccharin had been the only NNS reported to be found in human breast milk after maternal consumption. These new data show that multiple types of NNS can be passed to nursing infants. Results were published in the Journal of Toxicology and Environmental Health.