NIDDK Director's Update
Fall 2015
Director's Note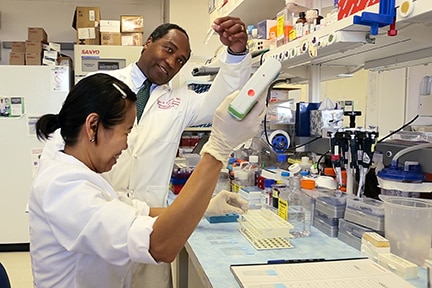 Within NIDDK, the people we serve are as diverse as the diseases we study. To ensure the work we do represents the greatest needs and opportunities in biomedical research, we seek out the wisdom of crowds. People come up with the best solutions when they're working together to solve problems. In this edition of the NIDDK Director's Update, you'll see just a few of the many examples of how NIDDK collaborates across communities and industries.
As you can read about in this issue, over the last few years, we've worked closely with the USDA to merge their popular online SuperTracker with our also-popular NIH Body Weight Planner. The SuperTracker provides a way for anyone to track their food and activity, and the Body Weight Planner—a tool developed by NIDDK intramural researchers—accurately predicts an individual's weight changes based on changes in food intake and activity. Originally a research tool, the Planner is now a resource for all adults to better maintain a healthy weight.
By working together, we've improved both those resources more efficiently and inexpensively than we could have alone. And people seem to recognize their value: In the week after the planner was launched on the USDA site, more than 100,000 people visited.
We've also been glad to see the formation of the Friends of NIDDK, a group composed of people who advocate for research on many of the disease groups in NIDDK's portfolio. The Friends' first meeting was held in June on Capitol Hill. Several members of Congress and Congressional staff attended as well.
Dr. Barbara Linder, a program director in our Division of Diabetes, Endocrinology and Metabolic Diseases, is a prime example of a collaborator. Working with investigators across the country, she helped oversee the Treatment Options for Type 2 Diabetes in Adolescents and Youth (TODAY) study, among the first major studies of youth with type 2 diabetes, a once-rare phenomenon that has been increasing with the obesity epidemic. It takes great sensitivity, talent and expertise to lead a study of this kind, and luckily—especially as the TODAY2 study is ongoing—Barbara has all of those in spades.
As we work with others, including patients, nonprofit organizations, industry, researchers and healthcare professionals, we strengthen our ability to seek and learn more about the diseases in our mission. Together, we move with greater speed and purpose toward a goal we all hold dear: To help people live healthier lives.
In good health,
Griffin P. Rodgers, M.D., M.A.C.P.
Director, National Institute of Diabetes and Digestive and Kidney Diseases