NIDDK Director's Update
Fall 2015
News Around NIDDK
NIH Body Weight Planner added to USDA SuperTracker tool
By Krysten Carrera
The USDA SuperTracker online tool has added the NIH Body Weight Planner to help people achieve and stay at a healthy weight. Based on the Dietary Guidelines for Americans, the SuperTracker empowers people to determine what and how much to eat and track foods, physical activities and weight. With science-based technology drawing on years of research, the Body Weight Planner enables SuperTracker's users to tailor their plans to reach a goal weight during a specific timeframe, and maintain that weight afterward. The Body Weight Planner generated more than 100,000 web visits in the first week it was added to USDA's tool.
The math model behind the Body Weight Planner, an online tool published in 2011, was created to accurately forecast how body weight changes when people alter their diet and exercise habits. This capability was validated using data from multiple controlled studies in people.
"We originally intended the Body Weight Planner as a research tool, but so many people wanted to use it for their own weight management that we knew we needed to adapt it with more information on how to achieve a healthy lifestyle," said NIDDK Senior Investigator Dr. Kevin Hall, who led creation of the Planner. "The Planner is a natural fit within the SuperTracker as it lets people accurately determine how many calories and how much exercise is needed to meet their personal weight-management goals."
The Planner's calculations reflect the discovery that the widely accepted paradigm that reducing 3,500 calories will shed one pound of weight does not account for slowing of metabolism as people change their diet and physical activities. More recently, the math model was further validated to provide accurate measurements of calorie intake changes by tracking people's weight.
"NIH's collaboration with USDA allows the public to quickly reap the benefits of the latest medical research results," said NIDDK Director Griffin P. Rodgers, M.D. "Sharing resources and expertise lets us get out important information as efficiently as possible, empowering people to take charge of their weight and their health."
Editor's Note: As of June 1, 2018, the USDA stopped supporting the SuperTracker, and it is no longer part of the NIH Body Weight Planner. The Body Weight Planner is now located on NIDDK's website.
Friends of NIDDK group forms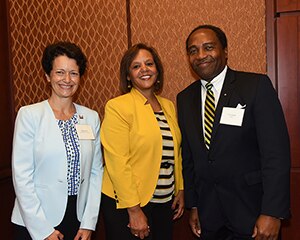 On June 23, the Friends of NIDDK held a reception on the Hill to honor NIDDK. Nearly 40 national advocacy and professional groups comprise the Friends. Senators Jeanne Shaheen (D-NH) and Richard Durbin (D-IL) and Rep. Robin Kelly (D-IL) spoke in appreciation and support of NIDDK's research efforts. NIDDK Director Dr. Griffin P. Rodgers also addressed the group. Here he stands with Rep. Kelly (center) and Shereen Arent, managing director of Legal Advocacy for the American Diabetes Association.
Getting to know – Dr. Barbara Linder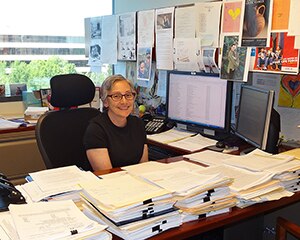 Barbara Linder, M.D., Ph.D., is the senior advisor for childhood diabetes research in the NIDDK Division of Diabetes, Endocrinology and Metabolic Diseases. She served as project scientist for the Treatment Options for Type 2 Diabetes in Adolescents and Youth and now serves in the same position for its follow-up research. In 2012, Linder was a finalist for the "Oscars of government," the 2012 Samuel J. Heyman Service to America Medals, for advancing research to better treat youth with type 2 diabetes. Among a portfolio of clinical research grants, she also helps oversee major research studies including the Diabetes Prevention Program Outcomes Study (DPPOS), the Glycemia Reduction Approaches in Diabetes Effectiveness (GRADE) study, the Hyperglycemia and Adverse Pregnancy Outcomes (HAPO) study and SEARCH for Diabetes in Youth, the last funded in collaboration with CDC. Linder recently spoke with Amy F. Reiter about her career and accomplishments.
What interested you in biomedical research, and in diabetes research specifically?
Like so many people, I was turned on to a subject area—for me, biology—by a wonderful teacher in high school. I wanted to work with people, so I went to medical school, where I became interested in pediatric endocrinology. As a scientist, I was intrigued by the study of hormones. As a physician, I loved working with children and their families, especially the opportunity to watch children grow up and thrive. Pediatric endocrinology—including diabetes—was rewarding because we could usually take away a child's symptoms caused by disease, though lifelong therapy might be needed.
What brought you to the NIH?
My husband, who is also a physician-scientist, lost his grant support at the medical school where we both worked, so we both started looking for new jobs! He went into the pharmaceutical sector and I came to the NIH. Coming here was very attractive to me, because it allowed me to think more broadly about endocrine diseases and diabetes than I could by doing my own research.
The TODAY study to improve treatment for youth with type 2 diabetes had a huge impact on the field. When did you first sense that more children and young adults were getting type 2 diabetes?
When I trained in endocrinology, we never saw children with type 2 diabetes. Children had type 1 diabetes and were all started on insulin. In fact, we used to call what is now type 1 diabetes "juvenile-onset diabetes" and what is now type 2 diabetes "adult-onset diabetes." In the mid-1990s, we started seeing children who were obese and had developed diabetes, and had immediate family members who had type 2 diabetes. After stabilizing their blood sugars on insulin, many of these children started having low blood sugars all the time despite eating a lot. They were often able to come off insulin completely and be treated with oral medications. Pediatric endocrinologists started sharing anecdotes, and the community began to realize that, along with the rise of obesity, kids were developing type 2 diabetes.
What is the achievement you've made at NIH you're most proud of thus far?
I am proud of the TODAY study and the program we have created to stimulate and support research in type 2 diabetes that occurs in youth. Beyond sounding the alarm about the public health and individual impact of this disorder, I believe that TODAY and other studies have helped the biomedical community understand that kids are not just little adults. For most diseases, we do need to specifically conduct research and study drugs in children.
What is a major research goal you hope to help achieve?
We are beginning to understand that type 2 diabetes is not really one disease. We still need to learn more about the disease process and the factors that influence response to therapy, so we can determine the best treatment for each person and prevent development of the disease. Despite all the drugs available, once diabetes has developed, it's often difficult to sustain good glucose control and prevent complications.
Special funding for type 1 diabetes research extended through fiscal year 2017
By Dr. Rebecca Cerio and Dr. Richard Farishian
On April 16, 2015, funding for the Special Statutory Funding Program for Type 1 Diabetes Research (Special Diabetes Program) was renewed for fiscal years 2016 and 2017 at a level of $150 million per year as part of the Medicare Access and CHIP Reauthorization Act of 2015 (H.R. 2). The funding had been set to expire at the end of this fiscal year.
The Special Diabetes Program is a special appropriation that the NIDDK administers on behalf of the Secretary of the Department of Health and Human Services and in collaboration with multiple NIH institutes and centers and the Centers for Disease Control and Prevention.
This funding augments regularly appropriated funds that the NIH receives for diabetes research and is specific to research on type 1 diabetes and its complications. It has enabled the creation of innovative large-scale research programs that would otherwise not be possible. For example, the Human Islet Research Network—whose mission is to understand how insulin-producing beta cells are lost in type 1 diabetes and to find new strategies to protect and replace these cells in people—is supported by the Program and will be expanded with the renewed funding.
Additionally, the Program has made major investments toward the development of artificial pancreas technologies. These technologies could help people with type 1 diabetes achieve near normal blood glucose control and could alleviate significant patient burden by linking a continuous glucose monitor to an insulin pump with a computer that calculates and instructs delivery of an appropriate amount of insulin. With the new funding, the Program plans to support clinical trials to further expand testing of artificial pancreas technologies toward FDA approval of these devices.
NIDDK has produced several evaluation reports on the Special Diabetes Program that can be accessed here. These reports describe all of the research the program has supported since its inception in 1998, as well as the program's scientific achievements. The NIDDK periodically convenes meetings of external scientific and lay experts to provide input on new and emerging research opportunities that could be supported by new funds. The most recent meeting was held in April 2015.
NIDDK director delivers commencement speech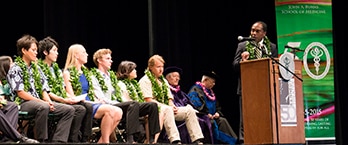 At left, NIDDK Director Dr. Griffin P. Rodgers delivers the commencement address to the graduating class of the J.A. Burns School of Medicine at the University of Hawai'i. He encouraged the graduates to "never lose sight of what it was about the health sciences—and what it is in your life—that inspires, stimulates and excites you."
NIH develops Strategic Plan with public input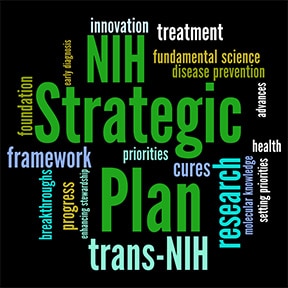 In response to a request from the Congress, NIH is developing a five-year NIH-wide Strategic Plan to advance its mission to support research in pursuit of fundamental knowledge about the nature and behavior of living systems, and the application of that knowledge to extend healthy life and reduce illness and disability. Senior leadership and staff from all 27 institutes, centers, and offices are contributing to the proposed direction and content of the strategic plan, with input from the Advisory Committee to the Director, NIH. More information about the plan, including its framework, is here.
Through a request for information due in August, NIH sought input from the extramural community and the general public regarding the plan's framework. The NIH-wide Strategic Plan is due to Congress in late 2015.
Senate forms NIH Caucus
In May, the U.S. Senate formed the bipartisan Senate NIH Caucus to educate senators about the importance of NIH. "We will also see a bipartisan strategy to restore the purchasing power that NIH has lost and provide steady, predictable growth for biomedical research in the future," wrote Senator Richard Durbin (D-IL) and Senator Lindsey Graham (R-SC), the Caucus co-chairs, in a letter to fellow senators. More than 20 senators have joined the Caucus since its formation.
NIH advances Rigor and Reproducibility Initiative
In 2013, the NIH introduced an initiative to improving research reproducibility and transparency. Since then, much has progressed. In 2014 NIH Director Dr. Francis S. Collins and NIH Principal Deputy Director Dr. Lawrence Tabak published a commentary in Nature describing how the NIH planned to address the issue and engage with the scientific community. More recently, the NIH launched a new web portal describing NIH efforts currently underway.
NIH will continue to involve the biomedical research community to advance reproducibility and transparency. To learn more and participate in the process, visit the new Rigor and Reproducibility web portal.