Family Reunion Kidney Health Guide
You don't need to be an expert to be a kidney champion for your family. There are simple things you can do to get involved.
Put Your Family's Health First
A reunion is a great time to catch up with family. Why not also use this time to share health information? Show your family you care about their health by talking with them about the connection between diabetes, high blood pressure, and kidney disease.​​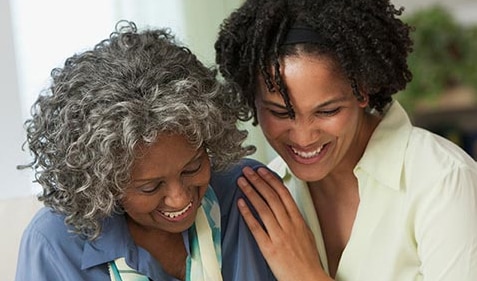 Wanda Phillips
Mother, wife, family reunion planner, and kidney donor.
"We wanted our family to take away from the NIDDK materials that they each hold their own destiny for healthy living and not to take their health for granted."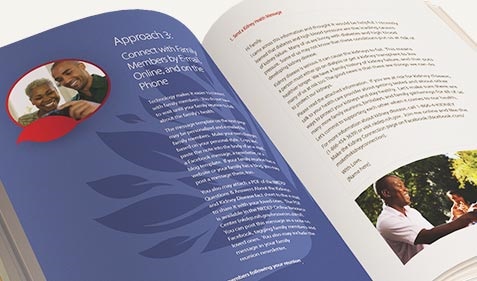 Family Reunion Kidney Health Guide
Family reunion planners – or anyone planning or attending a reunion or family gathering – can use this guide to help make kidney health a family affair.
Download a Free Copy (PDF, 1.56 MB)
Discuss Kidney Health with Your Family and Faith Community
This video will teach you why it is important to talk about kidney health with your family and faith community.
You Can Start By
Developing a Facebook page for your upcoming reunion or family event.


Post important dates and other details about the event, including kidney health information, in one place.

Learning more about kidney health.

Creating a family health chart.


Use a family tree or a tool like

My Family Health Portrait

from the Surgeon General to show loved ones how they inherit health conditions from other family members.
Simple Ways To Make a Big Difference
Share NIDDK's Health Information News with your family and friends
Show your concern for your family's health with a personalized note.
Hi Family,
I came across this information and thought it would be helpful. I recently learned that diabetes and high blood pressure are the leading causes of kidney failure. Many of us are living with diabetes and high blood pressure. Some of us may not know that these conditions put us at risk of developing kidney disease.
Kidney disease is serious. It can cause the kidneys to fail. This means a person must either go on dialysis or get a kidney transplant to live healthier longer. We have a family history of kidney failure, and that puts many of us at risk too. The good news is that there are things we can do to protect our kidneys.
Please read the attached information. If you are at risk for kidney disease, talk with your health care provider about getting tested and about other ways to protect your kidneys and stay healthy. Let's make sure there are many more family reunions, birthdays, and family gatherings for all of us.
Let's commit to supporting each other when it comes to our health. For more information about kidney disease, visit the Kidney Disease health topics page from the National Institute of Diabetes and Digestive and Kidney Diseases (NIDDK), and join me online by liking the NIDDK's Facebook page, or by following NIDDK on X.
With Love,
[Name here]
Use our healthy eating tips to talk to your family about kidney disease at meal time.
The steps we take to keep our kidneys healthy help the rest of our bodies too.
Let's help each other commit to a healthier lifestyle and follow these eating right tips.
Cut back on salt. Aim for less than 2,300 milligrams of sodium each day.
Use spices, herbs, and sodium-free seasonings in place of salt.
Choose foods that are healthy for your heart: fresh fruits, fresh or frozen vegetables, whole grains, and low-fat dairy foods.
Bake, roast, stew, grill, broil, or stir-fry foods instead of frying.
Sign up for our e-newsletter to receive health news and tips on diabetes, digestive diseases, and kidney disease, as well as urologic, blood, endocrine, and metabolic diseases.
Additional Information