Diabetes Alert Day
American Diabetes Association Diabetes Alert Day® is on March 24, 2020! Observed annually on the fourth Tuesday in March, Diabetes Alert Day is a one-day "wake-up call" that focuses on the seriousness of diabetes and the importance of understanding your risk. We encourage you to find out if you – or someone you love – is at risk for type 2 diabetes by taking this quick and simple Diabetes Risk Test.
Did You Know?
Diabetes affects about 30.3 million Americans or about 9.4 percent of the U.S. population.
Nearly 1 in 4 adults living with diabetes, or 7.2 million Americans, are unaware that they have the disease.
Another 84 million Americans have prediabetes, a condition in which blood glucose levels are higher than normal, but not high enough to be diagnosed as diabetes.
Nine out of 10 adults with prediabetes don't know they have it.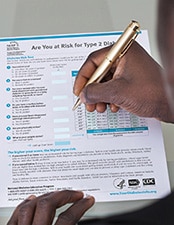 Understand Your Risk
The sooner you know you're at risk, the sooner you can take steps to prevent or manage diabetes. If you have a family history of diabetes, you have a greater chance of developing type 2 diabetes. You are also more likely to develop type 2 diabetes if you are over age 45, are overweight, or are not physically active.
Take Control of Your Health
If you are at risk for type 2 diabetes, it's important to take action in order to stay healthy.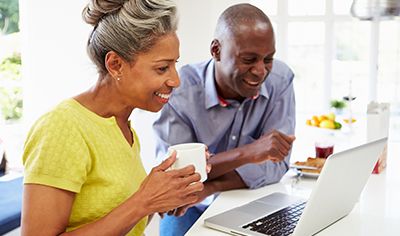 Get the Facts
Knowing more about diabetes means knowing how you can improve and maintain your health.
Spread the Word!
Help your loved ones learn their risk by sharing the Diabetes Risk Test with friends and family.
Nearly 1 in 4 adults living with diabetes, or 7.2 million Americans, are unaware that they have the disease. Could you have diabetes and not know it? Take the @American Diabetes Association Diabetes Risk Test to learn more. #DiabetesAlertDay www.niddk.nih.gov/health-information/diabetes/overview/risk-factors-type-2-diabetes/diabetes-risk-test

Nearly 1 in 4 adults living with #diabetes, or 7.2 million Americans, are unaware that they have the disease. Could you have diabetes and not know it? Take the @AmDiabetesAssn Diabetes Risk Test to learn more. #DiabetesAlertDay www.niddk.nih.gov/health-information/diabetes/overview/risk-factors-type-2-diabetes/diabetes-risk-test