Kidney Sundays: A Toolkit
You don't need to be an expert to be a kidney champion for your faith community. There are simple things you can do to get involved.
Inspire Conversation
People turn to their places of worship to get accurate, useful information about issues that make a difference in their community. Be the one to raise awareness about the risks for kidney disease and the importance of getting tested. Plan a Kidney Sundays event today.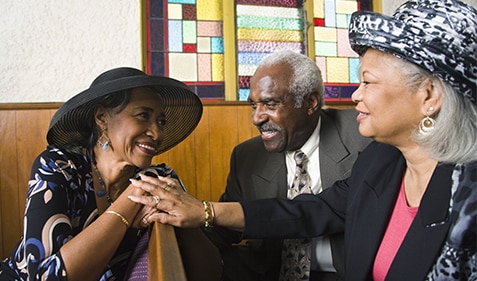 Vivian Berryhill
President of New Philadelphia Baptist Church
"Kidney Sundays is a great way to help churches get the conversations started about diabetes, obesity, high blood pressure, and eating habits, and how each relates to kidney health."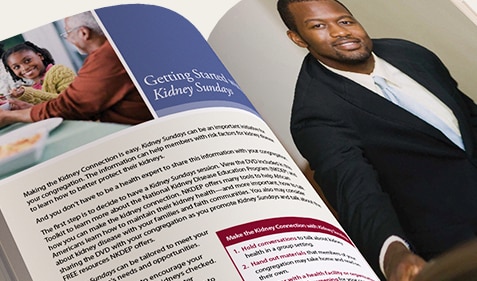 Kidney Sunday​s: A Toolkit
Health ministry leaders – or anyone interested in bringing health programming to their congregation – can use this toolkit to help make the kidney connection.
Download a Free Copy (PDF, 7.94 MB)
Download Companion Slides (PPTX, 29.62 MB)
How to Host a Kidney Sundays Event
Turner Memorial AME Church shows how to plan a successful Kidney Sundays event.
Become a Kidney Champion!
Use our toolkit to:
Hold conversations with your congregation about kidney health using our talking points.
Share materials that highlight useful kidney facts and tips.
Partner with a health facility or organization to host a health screening, or review our list of potential partners for your upcoming event.
Download the Kidney Sundays: A Toolkit (PDF, 7.94 MB)
Simple Ways to Get Involved Right Now
Show your concern for your faith community's health with a personalized note. See sample email:
Hi faith family! Your health is important. If you have diabetes or high blood pressure, don't forget to talk with your doctor about kidney disease testing. For more information on kidney disease and its risk factors, visit niddk.nih.gov/kidney-disease/chronic-kidney-disease-ckd.
Additional Information
Last Reviewed March 2020