Alimentación, dieta y nutrición para el síndrome de intestino irritable
¿Cómo puede mi dieta ayudar a tratar los síntomas del síndrome del intestino irritable?
El doctor le puede recomendar cambios en su dieta para ayudar a tratar los síntomas del SII. Le podría sugerir que
coma más fibra
evite el gluten
siga una dieta especial llamada dieta baja en FODMAP
Diferentes tipos de cambios pueden ayudar a diferentes personas con el SII. Es posible que deba cambiar lo que come durante varias semanas para ver si sus síntomas mejoran. El doctor también puede recomendarle que hable con un dietista.
Coma más fibra
La fibra puede mejorar el estreñimiento causado por el SII porque ablanda las heces y facilita la evacuación. Las Pautas alimentarias para estadounidenses de 2015-2020 (PDF, 852 KB) recomiendan que los adultos consuman entre 22 y 34 gramos de fibra por día.3
Hay dos tipos de fibra
fibra soluble, que se encuentra en los frijoles, frutas y productos de avena
fibra insoluble, que se encuentra en los productos integrales y en las verduras
Las investigaciones sugieren que la fibra soluble es mejor para aliviar los síntomas del SII.
Agregue alimentos con fibra poco a poco a su dieta para ayudar a acostumbrar al cuerpo a la fibra. Demasiada fibra a la vez puede causar gases, lo que puede desencadenar los síntomas del SII. Agregar fibra a su dieta lentamente, de 2 a 3 gramos por día, puede ayudar a prevenir los gases y la hinchazón.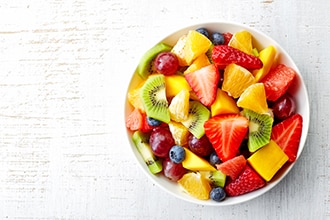 Evite el gluten
Es posible que el doctor le recomiende evitar los alimentos que contienen gluten, una proteína que se encuentra en el trigo, la cebada y el centeno, para ver si los síntomas del SII mejoran. Entre los alimentos que contienen gluten se incluyen la mayoría de los cereales, granos y pastas, y muchos alimentos procesados. Algunas personas con el SII tienen más síntomas después de comer gluten, aunque no tengan la enfermedad celíaca.
Siga una dieta baja en FODMAP
El doctor puede recomendarle que pruebe una dieta especial, llamada dieta baja en FODMAP, para reducir o evitar ciertos alimentos que contienen carbohidratos que son difíciles de digerir. Estos carbohidratos se llaman FODMAP, por sus siglas en inglés.
Los ejemplos de alimentos que contienen FODMAP incluyen
frutas como manzanas, albaricoques, moras, cerezas, mango, nectarinas, peras, ciruelas y sandía (patilla) o jugo que contenga alguna de estas frutas
fruta enlatada en jugo de fruta natural, o grandes cantidades de jugo de fruta o fruta seca
verduras como alcachofas, espárragos, frijoles, repollo (col), coliflor, ajo y sales de ajo, lentejas, hongos (champiñones), cebollas, y guisantes (alverjas) mollares o tirabeques ("snow peas" o "snap peas")
productos lácteos como leche, productos derivados de la leche, quesos blandos, yogur, natilla y helados
productos de trigo y centeno
miel y alimentos con jarabe de maíz alto en fructosa
productos, incluyendo dulces y chicles, con edulcorantes que terminan en "-ol", como sorbitol, manitol, xilitol y maltitol
El doctor le puede sugerir que pruebe la dieta baja en FODMAP durante algunas semanas para ver si le ayuda con sus síntomas. Si sus síntomas mejoran, es posible que le recomiende agregar poco a poco a su dieta alimentos que contienen FODMAP. Tal vez pueda comer algunos alimentos con FODMAP sin que se presenten síntomas del SII.
Bibliografía
Noviembre de 2017
This content is provided as a service of the National Institute of Diabetes and Digestive and Kidney Diseases (NIDDK), part of the National Institutes of Health. The NIDDK translates and disseminates research findings through its clearinghouses and education programs to increase knowledge and understanding about health and disease among patients, health professionals, and the public. Content produced by the NIDDK is carefully reviewed by NIDDK scientists and other experts.