Tratamiento para el síndrome de intestino irritable
¿Cómo se trata el síndrome del intestino irritable?
Los doctores pueden tratar el SII recomendando algunos cambios en la alimentación y el estilo de vida, medicinas, probióticos y terapias de salud mental. El doctor le puede ayudar a encontrar el plan de tratamiento adecuado pero tal vez tenga que probar algunos tratamientos para ver cuál funciona mejor para usted.
Cambios en la alimentación y en el estilo de vida
Hacer cambios en la alimentación puede ayudar a tratar sus síntomas. El doctor le puede recomendar que intente hacer alguno de los siguientes cambios
comer más fibra
evitar el gluten
seguir un plan de alimentación especial llamado dieta baja en FODMAP
Lea más sobre alimentación, dieta y nutrición para el SII.
Las investigaciones sugieren que otros cambios en el estilo de vida pueden ayudar con los síntomas del SII, como por ejemplo
aumentar la actividad física
reducir en lo posible las situaciones estresantes
dormir lo suficiente
Medicinas
El doctor le puede recomendar medicinas para aliviar los síntomas del SII.
Para tratar el SII con diarrea, el doctor le puede recomendar
Para tratar el SII con estreñimiento, el doctor le puede recomendar
suplementos de fibra, si el aumento de fibra en la dieta no ha ayudado
laxantes
Otras medicinas pueden ayudar a tratar el dolor abdominal, incluyendo
los antiespasmódicos
los antidepresivos, como dosis bajas de antidepresivos tricíclicos e inhibidores selectivos de la recaptación de serotonina
las cápsulas de aceite de menta recubiertas
Siga las indicaciones del doctor cuando use medicinas para tratar el SII. Consulte con el doctor sobre los posibles efectos secundarios y qué hacer si se presentan.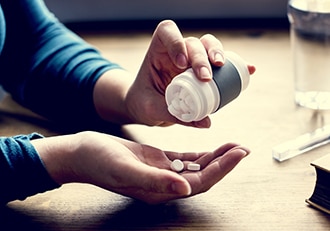 Probióticos
El doctor también le puede recomendar probióticos. Los probióticos son microorganismos vivos, por lo general bacterias, similares a los microorganismos que normalmente tiene en el tracto digestivo. Los investigadores todavía están estudiando el uso de probióticos para tratar el SII.
Para estar seguro, consulte con el doctor antes de usar probióticos o cualquier otra medicina o tratamientos complementarios o alternativos. Si el doctor le recomienda los probióticos, pregúntele sobre la cantidad que debe tomar y durante cuánto tiempo.
Terapias de salud mental
El doctor puede recomendarle terapias de salud mental para ayudar a mejorar sus síntomas del SII. Las terapias que se utilizan para tratar el SII incluyen
terapia cognitivo-conductual (en inglés), que se enfoca en ayudarle a cambiar los patrones de pensamiento y comportamiento para mejorar los síntomas del SII
hipnoterapia dirigida al intestino, en la que un terapeuta utiliza la hipnosis, un estado similar al trance en el que está relajado o concentrado, para ayudar a mejorar los síntomas del SII
entrenamiento de relajación, que le puede ayudar a relajar los músculos o a reducir el estrés
Noviembre de 2017
This content is provided as a service of the National Institute of Diabetes and Digestive and Kidney Diseases (NIDDK), part of the National Institutes of Health. The NIDDK translates and disseminates research findings through its clearinghouses and education programs to increase knowledge and understanding about health and disease among patients, health professionals, and the public. Content produced by the NIDDK is carefully reviewed by NIDDK scientists and other experts.