About Our Research
The Section on Pediatric Diabetes, Obesity, and Metabolism conducts metabolic clinical trials to understand the complex association of biological, social, and environmental factors in the pathogenesis of pediatric diabetes, obesity, and metabolism. Type 2 diabetes is a leading cause of death and disability worldwide, especially in underrepresented minority groups. The transgenerational cycle of diabetes and the epidemic of childhood obesity are among the most important factors for type 2 diabetes development and contribute to a disproportionate burden of disease in youth and young adults. Moreover, current therapies for type 2 diabetes in youth are limited and response to metformin, the first-line agent in youth, is highly variable and insufficient in up to 50% of youth within 2 years of diagnosis. Current projects investigate factors associated with metformin treatment failure while evaluating innovative strategies and therapies to minimize disease burden in youth and young adults. Our long-term goals are to reduce diabetes-related health disparities across the lifespan by improving primary prevention of cardiometabolic disease. Specific interests include developing population-specific risk stratification paradigms and novel pharmacologic and pharmacogenetic targets in youth and young adults.
Research Images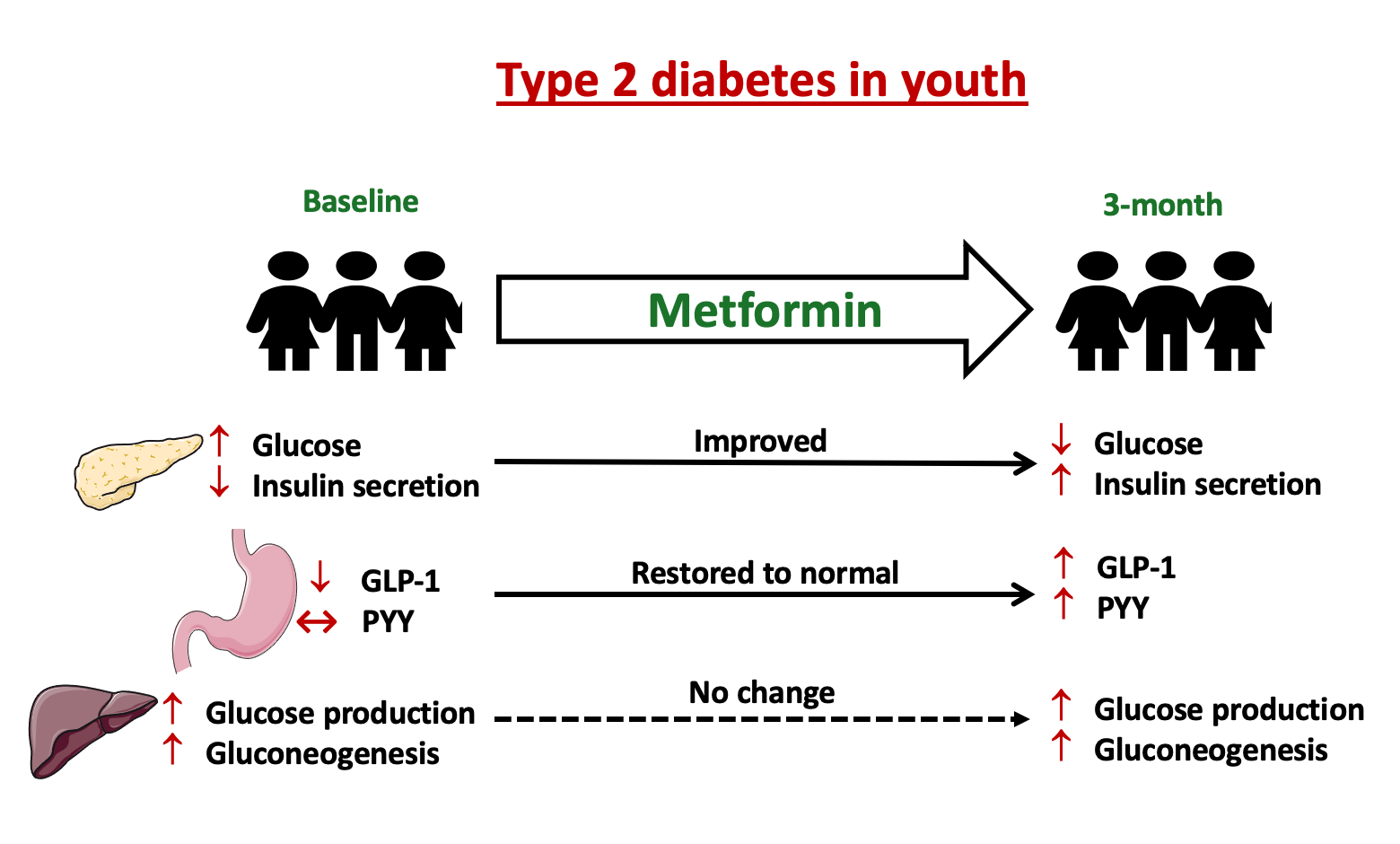 Metformin improves blood glucose by increasing incretins independent of changes in gluconeogenesis in youth with type 2 diabetes
Metformin's primary mechanism(s) of action are controversial and may be related to decreasing gluconeogenesis and/or increasing incretins via gut-mediated mechanisms. In our cohort, metformin lowered postprandial glucose and increased insulin secretion and incretin concentrations (GLP-1 and PYY) in the absence of changes in glucose production and gluconeogenesis, supporting an enteroinsular mechanistic pathway.
Triglyceride Paradox is related to Lipoprotein Size, Visceral Adiopsity and Stearoyl-CoA Desaturase Activity in Black Versus White Women
Pre- and postmenopausal black compared with white women had lower fasting and posprandial large, medium, and small triglyceride rich lipoprotein concentrations despite a trend for greater rates of insulin resitance. Differences in stearoyl-CoA desaturase-1 levels between the racialized groups may contribute to this triglyceride paradox.
Increased gluconeogesis in youth with newly diagnosed type 2 diabetes
Basal rate of glycogenolysis, gluconeogenesis, and glycerol turnover in adolesecents with type 2 diabetes and obese youth. While glyccogenolysis was similar between obese youth and those with type 2 diabetes, increased gluconeogenesis was higher in youth with type 2 diabetes, revealing gluconeogesis as the major contributor of glucose production in youth with type 2 diabetes.
Gluconeogenesis and risk for fasting hyperglycemia in Black and White women
Gluconeogenesis was lower in Black women compared to White women when assessing glucose turnover (Glucose Ra), gluconeogenesis (GNG), glycogenolysis (GLY), and glycogenolysis (GLY).