NIDDK Director's Update
Fall 2022
News Around NIDDK
Community engagement centered in new NIDDK initiatives
NIDDK launches Strategic Plan into action
By Matt Oldham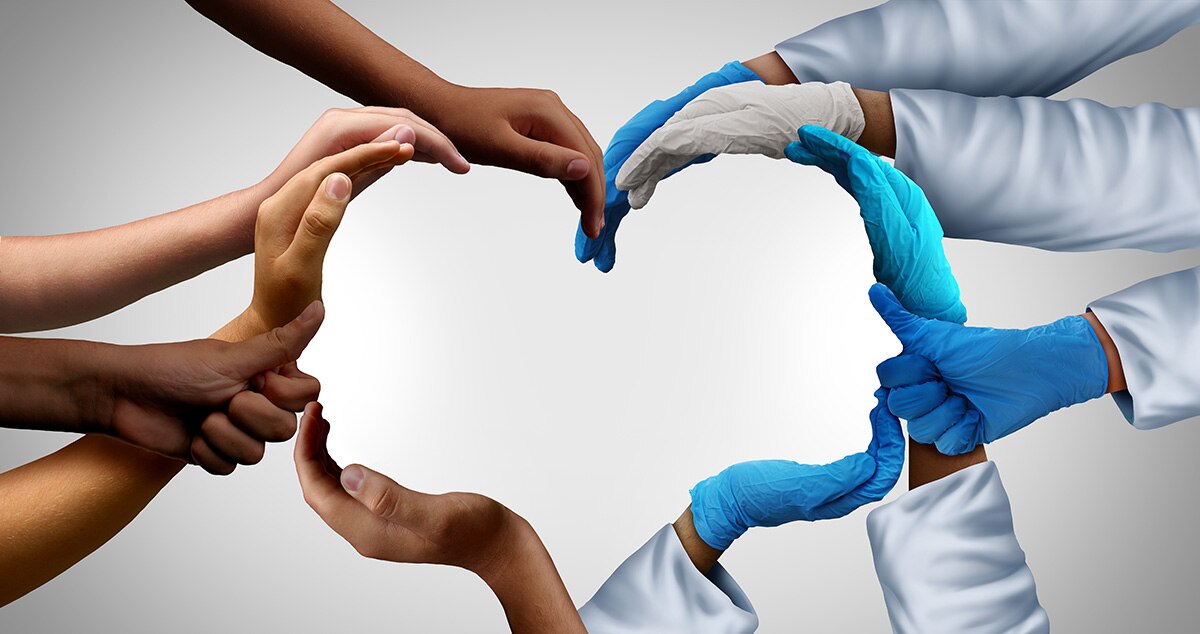 At the heart of NIDDK's research mission is improving the lives of the people it serves. And who better to inform that research than the people who are affected by the diseases and conditions NIDDK is committed to improving?
Across the Institute, new research initiatives include a seat at the decision-making table for members of communities affected by the diseases in NIDDK's mission – such as obesity, kidney disease, and diabetes. Incorporating their perspectives throughout the research process, especially early on, can improve health outcomes and reduce disparities. These new initiatives represent a key component of NIDDK's Strategic Plan for Research – empowering multidisciplinary research communities, engaging diverse groups, and pursuing pathways to health for all.
"When it comes to identifying research priorities and activities to improve health equity, those who know best are the experts from the community," said Dr. Shavon Artis Dickerson, an NIDDK program director for the Division of Diabetes, Endocrinology, and Metabolic Diseases overseeing one of two new initiatives to develop national Stakeholder Engagement Innovation Centers for advancing equity in diabetes research. The two research programs, one for type 1 diabetes and the other for type 2 diabetes, are among the first of NIH's initiatives to focus primarily on community-engaged research resources.
The proposed innovation centers are designed to accelerate and broaden engagement across sectors in diverse communities with disproportionate rates of diabetes. The centers will create a multidisciplinary research network that includes people with lived experience with diabetes and experts in community engagement methods. Communities, people with diabetes, and others with interest and expertise in addressing health disparities will be fully embedded in the entire spectrum of research activities – from design to completion. The funding announcements are open, with applications due in late October and mid November. Activities will commence next year.
A similar approach is underway to address structural racism and reduce health disparities among people living with kidney disease. Dr. Raquel Greer, NIDDK program director for this new initiative from the Division of Kidney, Urologic, and Hematologic Diseases, expects the program will lead to fruitful, long-term relationships between researchers and community partners.
"So often, a request for applications comes out first and then researchers ask the community to take part toward the end of the process when the research question, intervention, and outcomes have already been defined," said Greer. "This program is looking to foster community-engaged research where researchers work together with patient and community partners in all aspects of the research process."
The program will provide funding to establish a coordinating center and six intervention sites to collaboratively develop and test meaningful interventions that aim to dismantle or mitigate the effects of structural racism to reduce kidney health disparities. Applications are due by November 17, 2022, and research should begin next year.
NIDDK is also leading a trans-NIH initiative to evaluate public policies and programs from local to national levels that are designed to influence obesity-related behaviors and weight outcomes, with the goal of preventing or reducing obesity in low-resourced and other communities. The program will encourage innovative collaboration between researchers and public and private partners, including community-based organizations, local governments, and school districts.
"Most of the programs we expect to explore have a large influence on people who live in under-resourced communities, who are at a high risk for obesity," said Dr. Mary Evans, NIDDK program director for the Division of Digestive Diseases and Nutrition leading this initiative. "We hope to gain evidence to help us better understand what public policies and programs are most effective, and why."
NIDDK is currently accepting applications for this initiative, with a goal for NIDDK to make awards within four months of submissions – faster than the typical NIH timeline.
"Progress moves at the speed of trust," said NIDDK Director Dr. Griffin Rodgers. "Community engagement needs to be appropriate, relevant, and equitable. These new opportunities are excellent examples of NIDDK efforts to improve health outcomes through active and sustainable community engagement."
Learn more about NIDDK's current funding opportunities online. To learn more about how NIDDK plans to further research goals watch the livestream conversation with Dr. Rodgers and colleagues available for on-demand viewing.
Getting to Know: Dr. Constance (Connie) Noguchi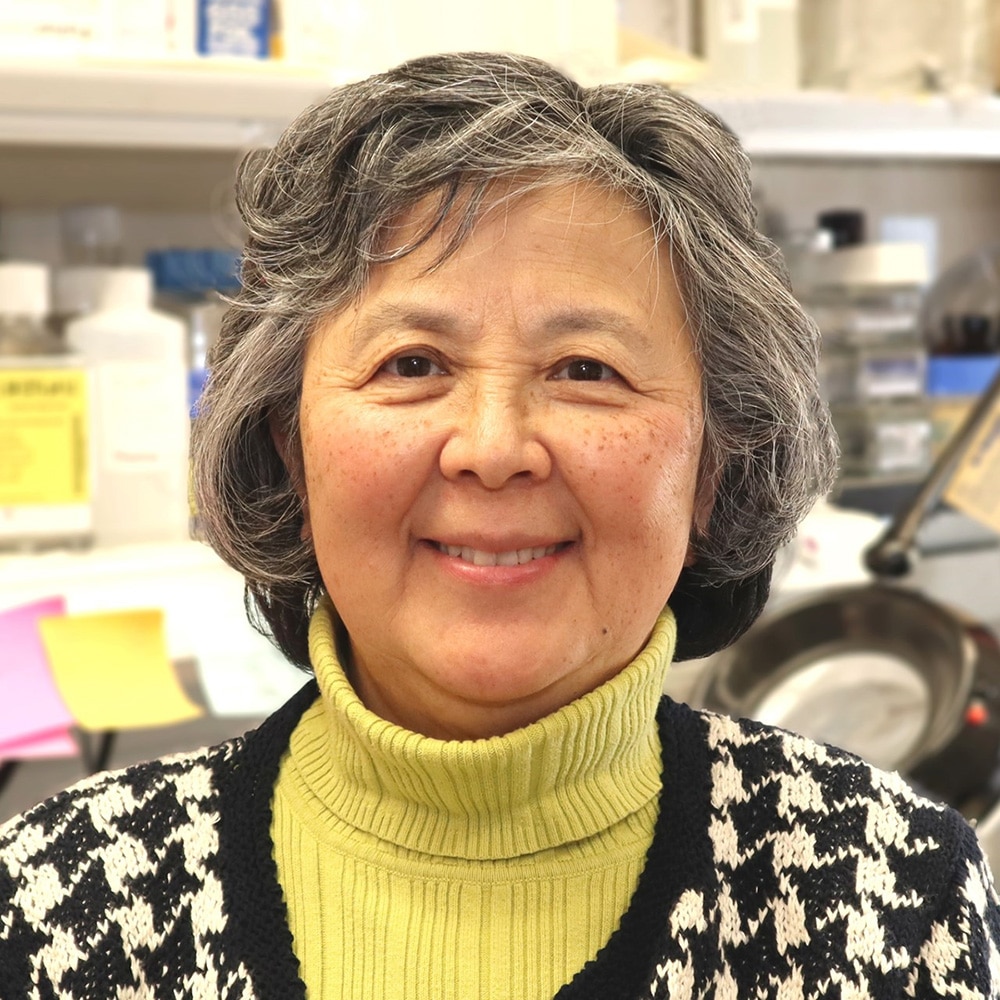 Dr. Connie Noguchi leads the Molecular Cell Biology Section in NIDDK's Molecular Medicine Branch. She talked with Katie Clark about her research, experience working with NIDDK Director Dr. Griffin Rodgers in the 80s and 90s, advice for early career researchers, and more.
You specialize in learning about the hormone erythropoietin. What led you to this field and to the NIH?
As an undergraduate, I majored in biology and interned for a summer researching cell biology in a physics lab before switching to math and physics. My interest in biology always remained, and upon receiving my Ph.D. in 1975, I had the opportunity to use it to conduct biomedical research at the NIH.
I began my training under NIDDK's Dr. Alan Schechter and Dr. Christian B. Anfinsen, who had received the Nobel Prize just a few years earlier for his work in protein chemistry. We worked together studying sickle cell anemia, which led me to researching strategies that target the formation of red blood cells.
After we discovered that in mice, erythropoietin, which is the hormone that regulates red blood cell production, stimulated survival and growth of stem and progenitor cells in tissue such as brain and skeletal muscle, I began to specialize in the functions of erythropoietin.
What are your hopes for the future of your work?
We are working to gain full knowledge of the functions of erythropoietin, which will help us determine how this hormone can be used as a potential treatment for conditions such as cardiovascular or brain injury. I hope our research increases awareness of the effects of erythropoietin treatment and the need for careful dosage selection.
What is the most rewarding part of your job?
The question, "why?" drives my enthusiasm and excitement for biomedical research – the more we know, the more we want to know. The answer to this simple question is like solving a complex puzzle involving a myriad of overlapping challenges and collaborations. I think of it like a young child asking "why?" receiving a confident answer, only to follow up with the same question, each subsequent answer providing additional information. Explaining unexpected results can be the most rewarding challenge.
You worked with NIDDK Director, Dr. Griffin Rodgers, when he first came to NIH. Can you tell me more about that experience?
When Dr. Griffin Rodgers joined our group as a young clinical fellow in 1984, he brought a clinical and translational component to our sickle cell disease research. He was an enthusiastic, generous lab partner, and his enthusiasm for science never wavered, even on the occasions when we had to work through the night analyzing patient samples of red blood cells. Griff's studies on erythropoietin when using hydroxyurea as treatment for sickle cell anemia provided the motivation for my studies of erythropoietin activity on stem and progenitor cells.
What advice do you have for people beginning their research career?
Biomedical research is a social endeavor. Develop and maintain a broad scientific community for interaction, discussion, and potential collaboration, including identifying mentors that can provide perspective and advice as your research career progresses, and remain open-minded.
What do you like to do in your off time?
I enjoy paper crafts, quilting, and martial arts for physical exercise. I used to take advantage of free Saturday morning Tai Chi Chuan practice at the Bethesda YMCA. Now, I am a weekend warrior and train in traditional Japanese weapons with the NIH Recreation & Wellness Kenjutsu club.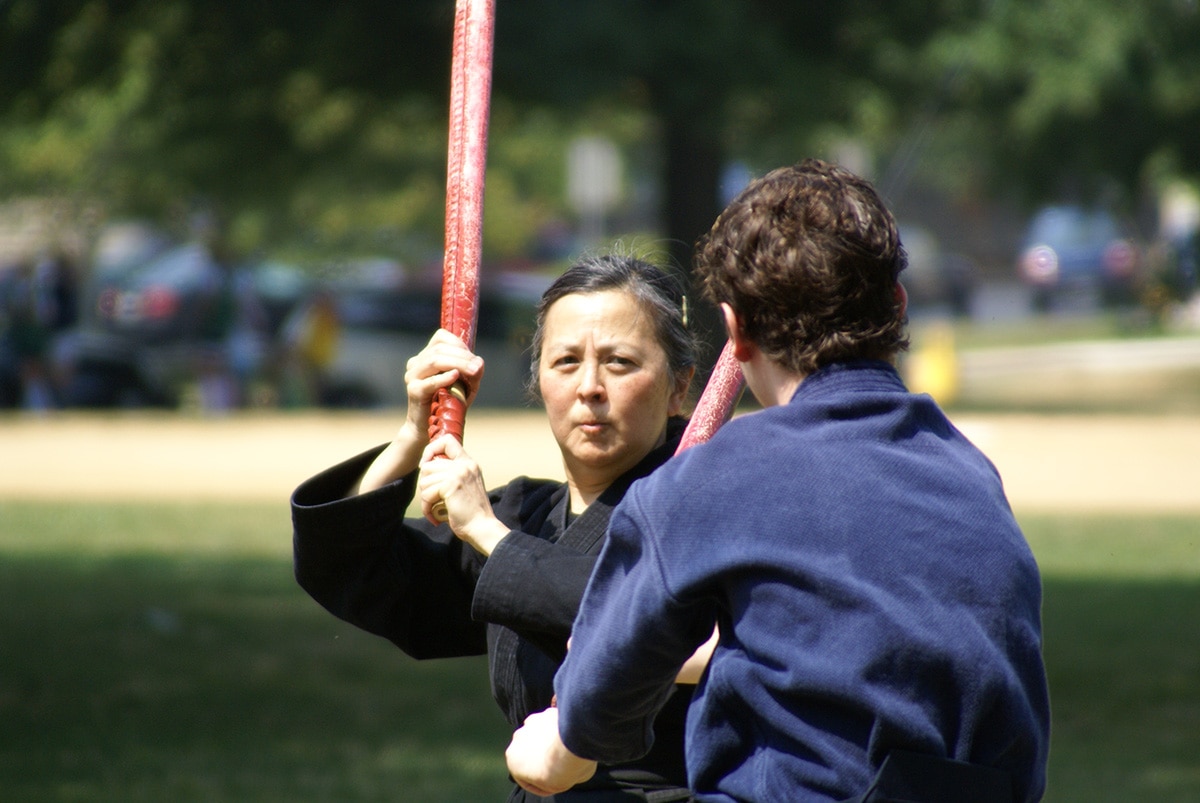 With new program, NIDDK gains mileage in the race against racism
By Lisa Yuan

The racial injustices brought into the spotlight in recent years have left many people yearning for positive change yet feeling ill-equipped to make a real difference. For staff members at NIDDK, a novel program called Race Ahead may be the answer. The first of its kind at NIH, the program provides participants with tools and a professional network for advancing equity, diversity, inclusion, and accessibility at NIDDK and beyond.
"We believe Race Ahead will be a game changer, because colleagues learn how to take personal responsibility to shift NIDDK's culture with respect to racial and ethnic equity. These tools ultimately benefit our workforce and research mission," said Dr. Pamela Thornton, NIDDK's senior advisor for workforce diversity and health equity.
Thornton, along with NIDDK's Deputy Director Dr. Gregory Germino and Executive Officer Camille Hoover, are leading the Institute's IDEA-C initiative – which stands for the pillars of Inclusion, Diversity, Equity, Accessibility, and Civility.
Race Ahead launched in spring of 2022 with a cohort of 28 people representing a diverse cross-section of NIDDK staff and leaders, including Thornton, Germino and Hoover. During five days of interactive workshops, participants expanded their awareness of structural racism, its impact on the workplace, and their own narratives about race and equity issues. They also learned strategies to develop action plans for promoting cultural change at work and in their personal circles of influence. The tools introduced in the program are applicable to advancing any of the IDEA-C pillars.
"Participating in Race Ahead enabled me to see and approach cultural conversations through a completely different lens," said Dr. Michael Krashes, a section chief in NIDDK's Diabetes, Obesity, and Endocrinology Branch. "It gave me the perspective, strategies, and confidence to actually make a change and forge ahead to promote inclusivity."
Throughout the program participants were able to share their perspectives and apply the skills they were learning. In role playing exercises, they practiced managing meaningful conversations about dismantling racism, particularly with people who may be resistant to change. The cohort was also broken into four-person "Action Learning Teams," whose members meet monthly to share any progress and provide each other with feedback and support.
"The Race Ahead training provided a safe place to discuss difficult topics and share strategies to facilitate being a catalyst for invoking positive change around race issues. In addition, I have met many new people within NIDDK, expanding my network of people who have a similar goal of advancing Race Ahead's objectives," said program participant Tiffany Kittrell, NIDDK chief of acquisitions.
For Krashes, advancing the program's goals has included implementing ways to support new researchers from backgrounds historically underrepresented in the biomedical workforce.
"I have already applied what I gained from Race Ahead and created underrepresented minority fellowships for an external neuroscience conference that I co-organized. We awarded over $10,000 for travel and registration scholarships," he said.
Several participants, including Thornton and Kittrell, have also initiated a book club for Race Ahead participants, which they hope will spur further learning and dynamic conversations across NIDDK. Their first book selection addresses the multigenerational impact of slavery on African American communities and strategies for healing.
"Numerous activities have begun as a result of Race Ahead participants' shared knowledge, interests, and initiative that build on our collective commitment to NIDDK's mission as well as our continuous self-growth and awareness," said Thornton.
The entire cohort continues to meet regularly as a coalition to help sustain that momentum and growth. NIDDK has also invested in a tracker to capture members' progress and accomplishments, which will help leadership evaluate the effectiveness of Race Ahead.
"Institutes across the NIH are exploring how to evaluate changing the culture and moving from aspiration to operation effectively and measurably," said Hoover.
All NIH Institutes and Centers are developing a Racial and Ethnic Equity Plan (REEP) under the NIH UNITE initiative to end structural racism. Race Ahead is one component of NIDDK's REEP, managed by IDEA-C's leadership teams. Building on the energy and positive feedback from the first cohort, a second Race Ahead cohort is scheduled for NIDDK staff members in October.
"We're seeing a tremendous desire and commitment across NIDDK staff to create and nurture a civil, diverse, inclusive, and equitable workplace," said Hoover. "But change cannot be dictated to our workforce – we need to create change together. Race Ahead is critical to helping us achieve this goal."
NIDDK laboratory retires after almost 70 years of advancing biomedical research across NIH
By Katie Clark
Where do researchers obtain the biological compounds, such as modified bacteria and yeast cells, that they need for their research? NIH scientists have had to look no farther than NIDDK's Biotechnology Core, which has played a large role in creating biological compounds and providing them to labs across NIH. After nearly 70 years, the lab's doors have closed with the retirement of Dr. Joseph Shiloach, who has led the core since 1979.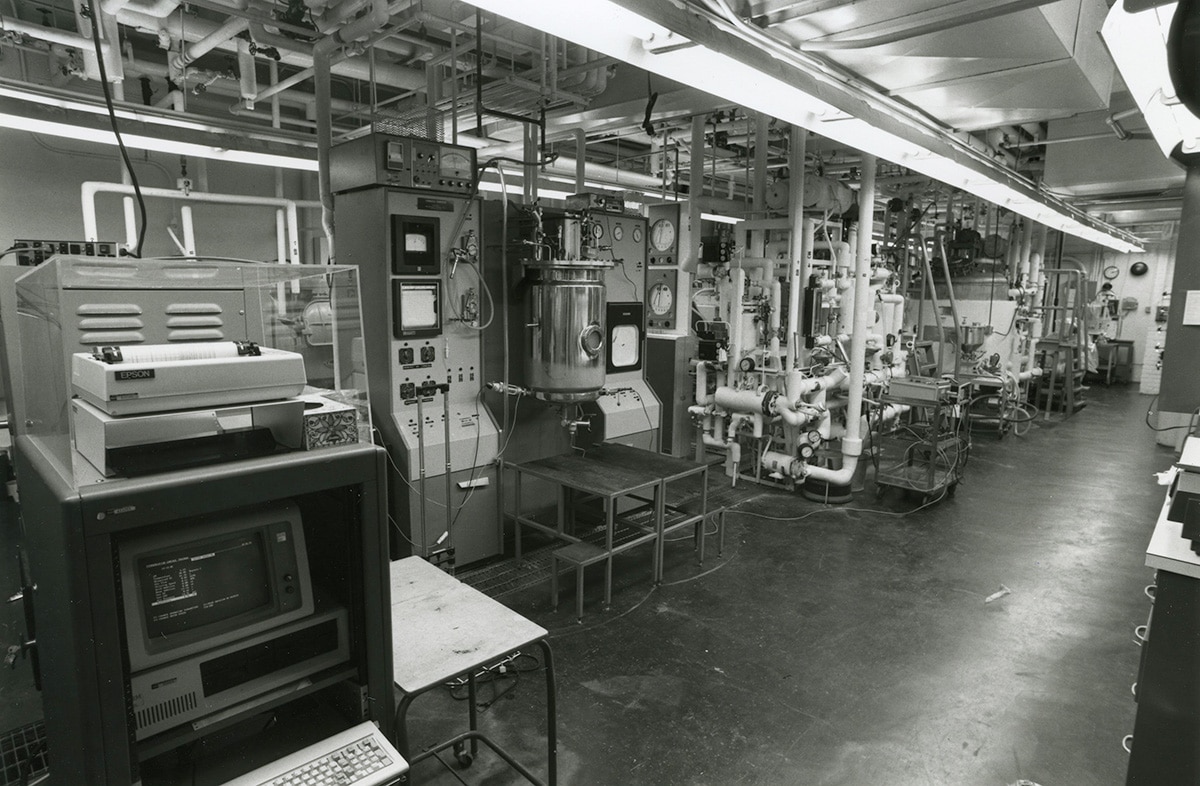 "My work in the Biotechnology Core has been a fascinating journey," said Shiloach, who has been at NIH for 43 years. "I have had the opportunity to investigate and implement remarkable advancements in both the applied and basic sciences, including producing compounds for several clinical research programs."
The work of the core has contributed to countless studies and biomedical findings at the NIH over the last seven decades. Under Shiloach's guidance, the core built a reputation for specializing in production and recovery of biological compounds from different sources, producing between 50 and 100 compounds every year using bacteria, yeast, mammalian cells and animal tissues.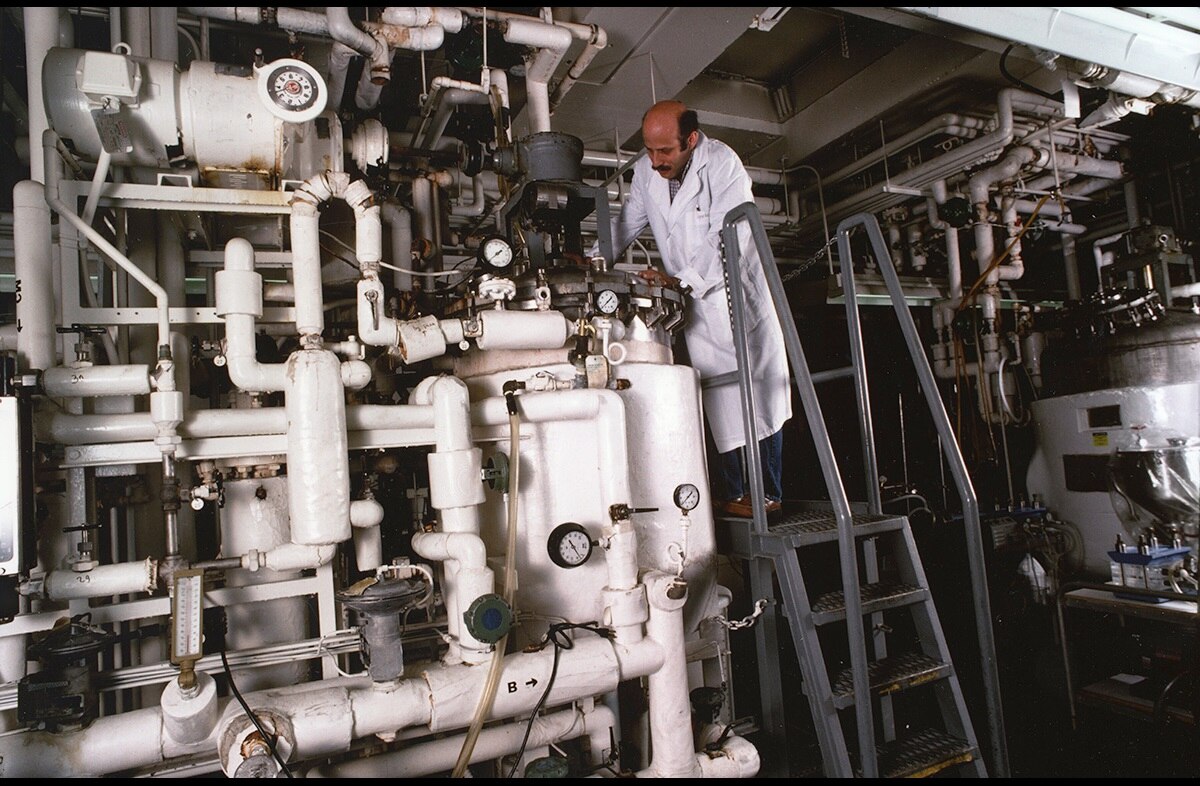 "The Biotechnology Core has a strong historical impact in providing NIDDK and others at NIH with valuable material for research, including vaccine development, drug development, and structural biology," says NIDDK Scientific Director Dr. Michael Krause.
After getting its start in NIH's National Heart, Lung, and Blood Institute in 1954 before transferring to NIDDK in 1962, the core evolved from its role of conducting pharmacological studies to producing natural proteins and other large molecules from a variety of natural sources and microorganisms.
The core contributed to NIH's work on vaccines for meningococci, pertussis, shigellosis, and malaria. It also successfully produced peptidoglycan, a substance that forms on cell walls of many bacteria, that is now used in research on the pathogenesis of bacterial infection. During the last several years, the laboratory solved a variety of production challenges, and produced, recovered, and isolated different biomolecules in large volumes, such as antibodies and polysaccharides.
"The Biotechnology Core leaves a legacy of innovation and collaboration that has proved crucial in advancing many scientific studies across the NIH," said NIDDK Director Dr. Griffin P. Rodgers. "We are lucky to have benefited from this resource for so many decades."
NIDDK visits STEP-UP locations in Pacific Islands
This past May, NIDDK's Dr. Griffin Rodgers, Dr. Lawrence Agodoa, and Dr. Robert Rivers traveled to the Pacific Islands to attend the opening of a new biomedical research laboratory, created to help high school students in the region explore science as a career. Supported through NIDDK's Short-Term Research Experience Program to Unlock Potential (STEP-UP) program, the lab is an example of the Institute's commitment to bring opportunity and resources to historically under-resourced populations to unlock the potential of the next generation of scientists. Read more about the STEP-UP program and its impact on students in the NIH Director's Blog.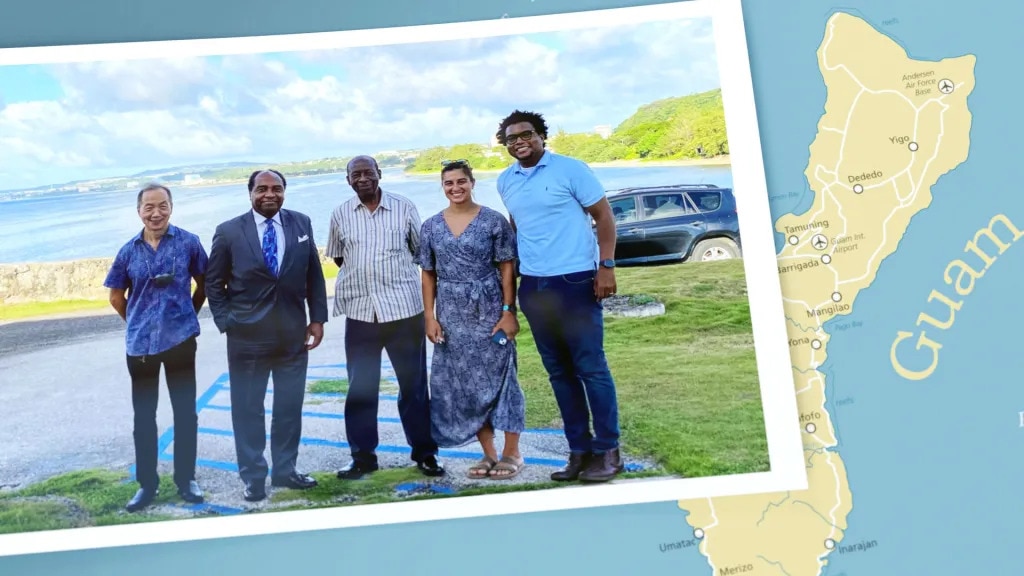 Fellow Spotlight: Xiaofei Bai, PhD
Name: Xiaofei Bai
Hometown: Hohhot, Inner Mongolia, China
Current position: Postdoctoral Fellow, Genetics of Early Development, Laboratory of Biochemistry & Genetics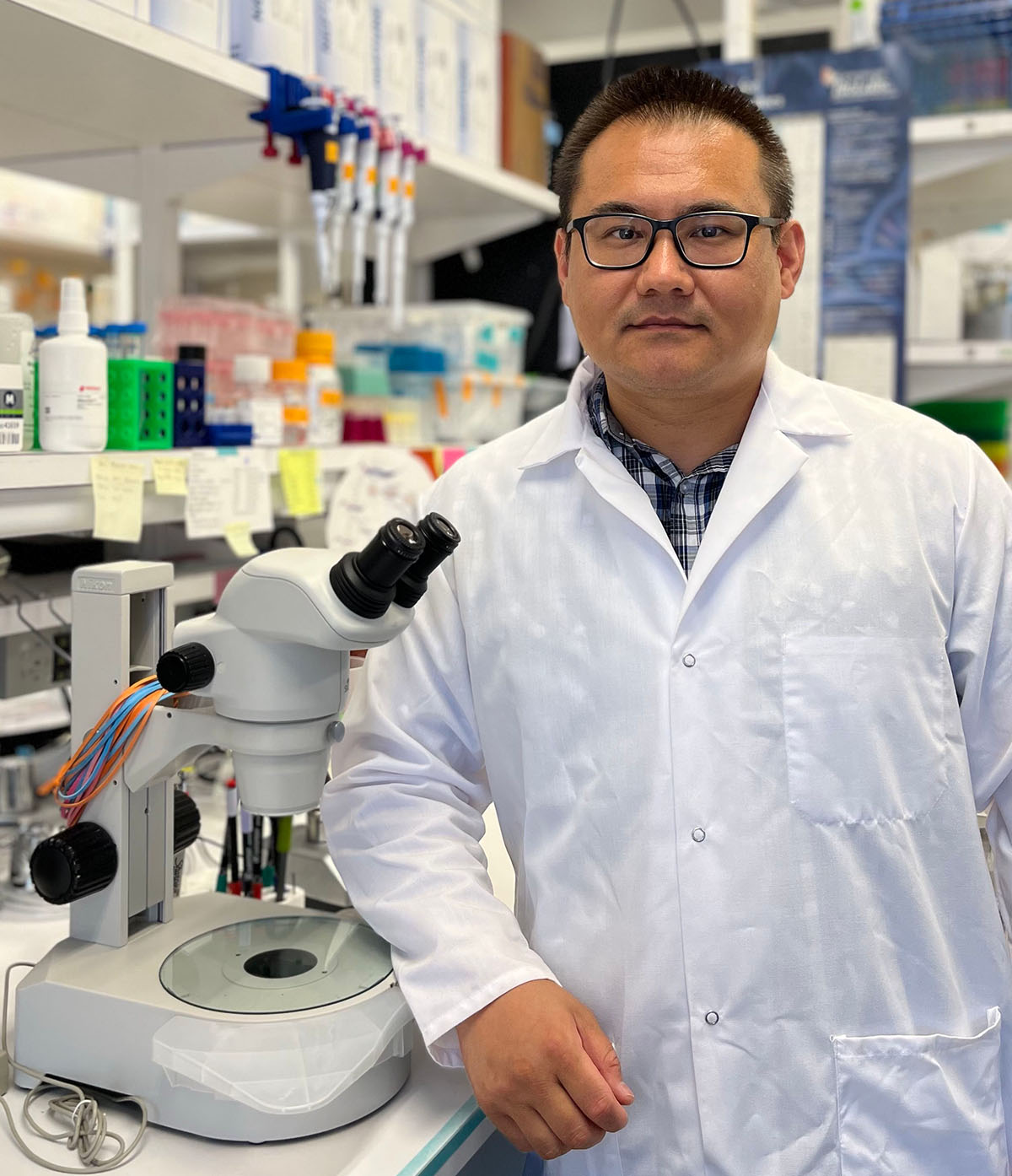 What inspired you to pursue a research career?
I am a first-generation college graduate from a minority community in northwest China that has historically been stereotyped as conservative and having lower education and income levels. However, my family and community always encouraged me to pursue an academic career and inspired me to represent our community in a way that could change these biased opinions about us.
Unfortunately, many infants in our community have congenital birth defects or disabilities, likely due to marriages between blood relatives. Because most of the patients with disabilities have severe musculoskeletal and neuronal disorders and do not get effective treatment, I became motivated to study the genes associated with these diseases and discover potential therapies.
What public health problem do you ultimately hope to solve with your research?
The focus of my research is to investigate the disease-related genes critical to healthy neuromuscular function. I'm also interested in using the worm species, Caenorhabditis elegans, to study neurodegenerative diseases, muscular dystrophy and metabolism-associated disorders. The well-conserved muscular and neural structures and function of this worm make it a good model for exploring the mechanisms of genes associated with different diseases.
Ultimately, I hope to discover previously unknown genetic interactors that could lead to novel therapies for neurodegenerative diseases and help accelerate future research using Caenorhabditis elegans as a system to model human diseases.
NIDDK pioneer for health equity efforts retires
By Lisa Yuan
Bait-and-switch stories rarely have happy endings, but at least one notable exception comes to mind—involving Dr. Lawrence Agodoa and everyone he has encountered during his NIH career.
At his retirement reception in June, Agodoa, director of NIDDK's Office of Minority Health Research Coordination (OMHRC), let the story be told. When he joined NIH, Agodoa looked forward to overseeing a lab at NIDDK – only to find that he would actually be overseeing activities related to the external (extramural) research supported by NIDDK. Seeing the loads of grant proposals carted into his office for review, Agodoa soon realized the true nature of his new job. When a colleague at the reception noted starting at NIDDK around the same time, Agodoa quipped, "At least you knew the job you were coming here for!"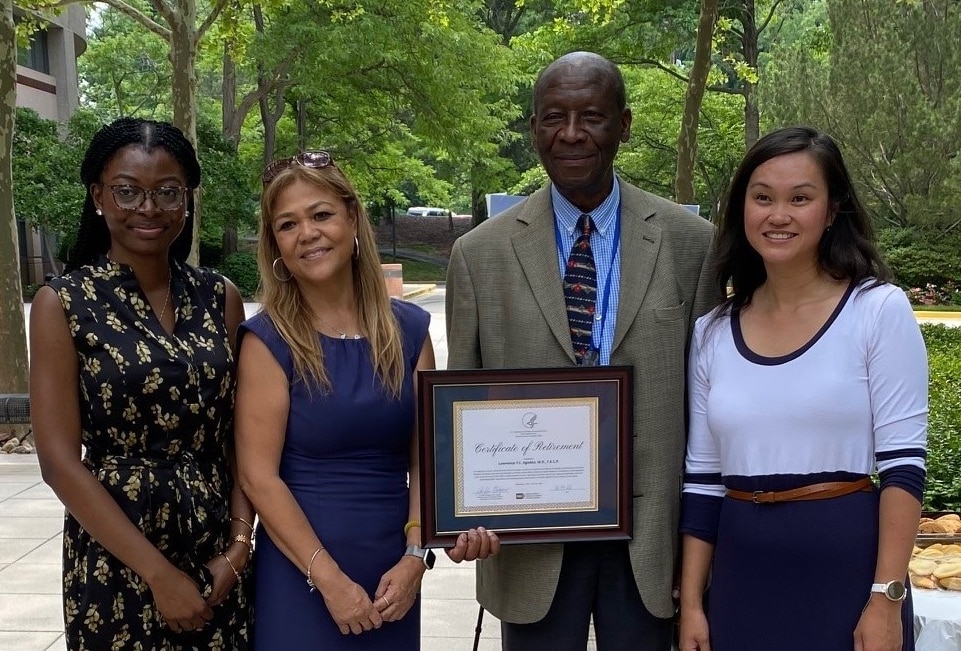 Good-natured to his last day of work, Agodoa said, "NIDDK has enabled me to carry out my ideal professional pursuits and I have not had a need to work anywhere else since my arrival at NIH."
In his 35 years at NIH, ultimately as OMHRC director since 2000, Agodoa spearheaded many of NIDDK's signature programs to advance health equity and scientific workforce diversity. He also led the development and implementation of NIDDK's first Strategic Plan on Minority Health Disparities and made valued public health contributions through kidney disease research and clinical practice. In all his roles, he remained tirelessly dedicated to achieving NIDDK's mission of improving health for all people.
Joining NIH in 1987 as a program director in NIDDK's Kidney, Urologic, and Hematology division, Agodoa focused his work on reducing racial and ethnic disparities in end-stage renal disease. He led several important clinical trials, including the African American Study of Kidney Disease and Hypertension (AASK), which showed for the first time that in African Americans, ACE inhibitors could slow the progression of kidney disease caused by high blood pressure.
Among the initiatives Agodoa pioneered as OMHRC director are NIDDK's Diversity Summer Research Training Program and Short-Term Research Experience to Unlock Potential (STEP-UP), which provide training to high school and college students from under-resourced communities; and the Network of Minority Health Research Investigators, which provides support and mentorship to researchers throughout their careers.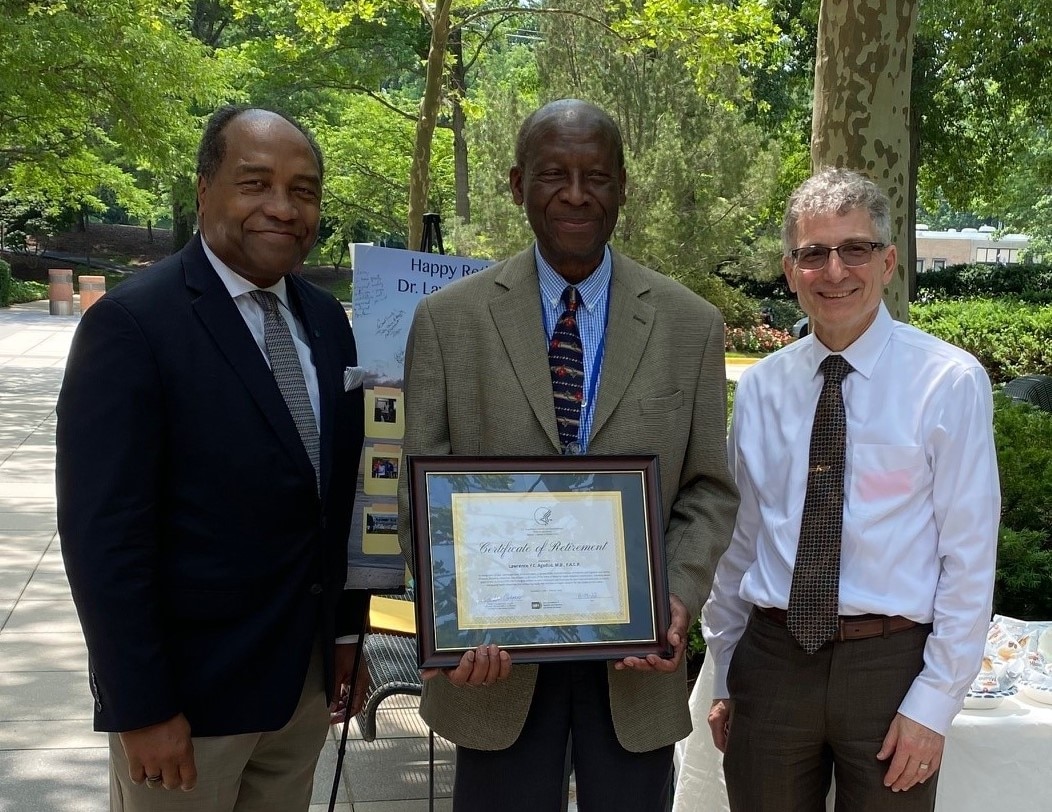 He also oversaw the Minority Organ and Tissue Donation Program, which he helped initiate in 2001 to reduce barriers to organ and tissue donation among diverse populations. He has published over 300 papers and served as a physician at Walter Reed Army Medical Center, professor at the Uniformed Services University of the Health Sciences, and consultant for the Food and Drug Administration.
In retirement, Agodoa has returned to Seattle, Washington, where he completed his medical residency and postgraduate training in internal medicine, nephrology, renal pathology, and rheumatology.
"Larry is a highly respected and valued leader, and his transition is a great loss to NIDDK," said NIDDK Director Dr. Griffin P. Rodgers. "His insights and outstanding contributions have advanced NIDDK's mission and made a significant impact on public health. We wish him the very best in this exciting new chapter."