NIDDK Director's Update
Fall 2020
News Around NIDDK
NIDDK brings scientific expertise to the fight against COVID-19
By Lisa Yuan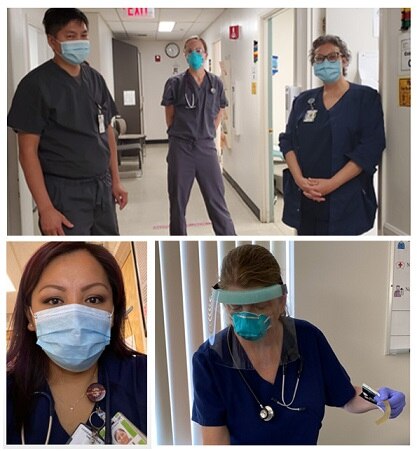 NIDDK's efforts to tackle COVID-19 heated up this summer, with diverse efforts to conduct and support research, provide clinical care, and share valuable knowledge.
Many NIDDK intramural researchers, for example, continued to broaden understanding of the virus and how it causes infection and affects health. Some of their recently published studies include:
Scientists in the Laboratory of Molecular Biology also joined forces with an antibody discovery company to study the structures of antibodies that have the potential to treat or prevent COVID-19. And earlier research from the Laboratory of Chemical Physics, which showed how wearing masks could help slow transmission of the virus, was featured in the September 4 issue of the NIH Record.
Meanwhile, in Arizona, staff at NIDDK's Phoenix Epidemiology and Clinical Research Branch continued to serve on the frontlines of the COVID-19 response. The branch's clinical research nursing staff, medical director and supervisory nurse practitioner continued to provide direct clinical care, including for COVID-19 patients, in support of the Phoenix Indian Medical Center's surge plan.
NIDDK is also helping to fund the National COVID Cohort Collaborative, or N3C, an initiative spearheaded in part by Dr. Robert Star, director of NIDDK's Division of Kidney, Urologic, and Hematologic Diseases. Led by NIH's National Center for Advancing Translational Sciences, the N3C platform will provide a centralized, national resource to store clinical data on COVID-19, which scientists can use to study the short and longer term impact of the virus, and identify potential subgroups of patients who respond differently.
Institute leaders and scientists also shared helpful information related to COVID-19, including strategies for managing health among people who are disproportionately affected by the disease. For example, NIDDK Director Dr. Griffin P. Rodgers joined the "Get Up! Mornings with Erica Campbell" radio show to discuss COVID-19 and the Black community.
Dr. William Cefalu, director of the Division of Diabetes, Endocrinology and Metabolic Diseases, gave a keynote address at the Virtual International COVID-19 and Diabetes Summit, at which intramural investigator Dr. Kong Chen also moderated a session. As well, Dr. Holly Nicastro of NIDDK's Office of Nutrition Research participated in NIH's #CopingWithCOVID19 livestream event to share tips on eating healthy at home during the pandemic.
Finally, NIDDK is supporting COVID-19-related research via grant funding. These efforts include a new funding opportunity for mechanistic studies on the interaction of SARS-CoV-2 and diseases within NIDDK's portfolio. NIDDK is also participating in NIH's Rapid Acceleration of Diagnostics-Underserved Populations (RADx-UP) initiative to expedite research addressing the disproportionate burden of COVID-19 on underserved and/or vulnerable populations.
For the latest on information on NIDDK's response to COVID-19 and links to grant information and publications, visit the NIDDK COVID-19 Research Response page. To subscribe to NIH's updates on COVID-19, visit covid19.nih.gov.
For more information on COVID-19, visit the Centers for Disease Control and Prevention (CDC) coronavirus webpage
NIDDK celebrates 70 years of improving public health
By Lisa Yuan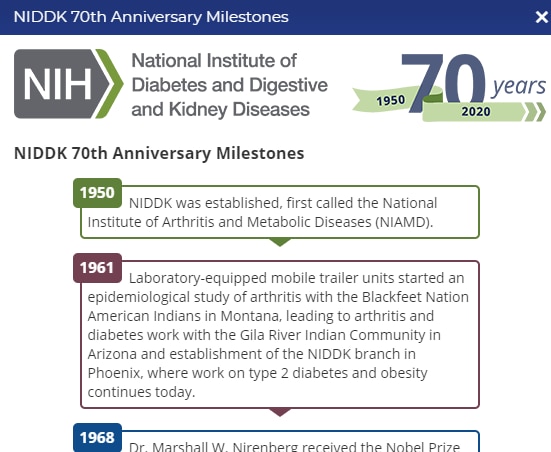 For 70 years, the National Institute of Diabetes and Digestive and Kidney Diseases (NIDDK) has been charged with tackling some of the country's most serious health problems. And for 70 years, NIDDK staff and grantees have risen to the challenge, bringing talent and dedication to improve prevention, treatment, and management of the conditions in NIDDK's broad mission.
"The diseases we study cut across the full spectrum of medicine," said NIDDK Director Dr. Griffin P. Rodgers. "Since its inception in 1950, NIDDK has conducted and supported innovative research that has helped save lives, enhance quality of life, and pave the way for future discoveries – discoveries that will continue to improve our nation's health."
For example, research advances in diabetes have led to easier and more precise ways for monitoring blood glucose (blood sugar), a critical – but often burdensome – component of disease management. In 1999, NIDDK-supported research led to the first FDA-approved continuous glucose monitor (CGM), enabling people to track glucose levels in real-time without the need for finger pricks.
Today, scientists have taken the CGM a step further with the development of artificial pancreas systems that integrate automated blood glucose management and insulin delivery using an insulin pump. These artificial pancreas devices, the result of incremental discoveries made from years of NIDDK-supported research, could revolutionize both treatment options and health outcomes for people with type 1 diabetes. Hybrid closed loop systems are now commercially available for individuals with diabetes.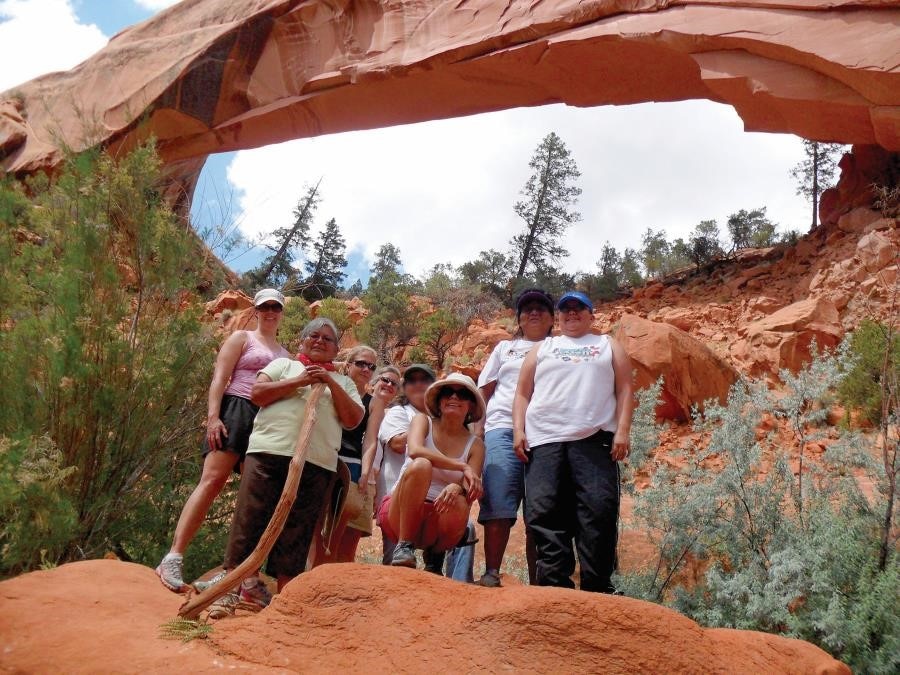 NIDDK's multi-site study, the Diabetes Prevention Program (DPP), also has directly led to type 2 diabetes prevention on a nationwide scale. The study's results in 2002 showed that moderate weight loss through dietary changes and physical activity, or the drug metformin, can prevent or delay type 2 diabetes in those at high risk for the disease.
Along with grantees, major DPP contributions came from scientists at NIDDK's Phoenix Epidemiology and Clinical Research Branch in Arizona, who worked with American Indians to ensure they were among the study's diverse participant pool. In fact, nearly half of the study participants were from racial and ethnic minority groups, because these groups are at higher risk for type 2 diabetes than the non-Hispanic white population.
"The DPP and its ongoing follow-up in the DPP Outcomes Study have given us an incredible wealth of information by following a diverse group of people early in the course of development of type 2 diabetes," said Dr. Judith Fradkin, former director of NIDDK's Division of Diabetes, Endocrinology and Metabolic Diseases, who retired in 2018 after nearly 40 years at NIDDK.
Rodgers concurred. "Many minority and underrepresented groups are disproportionately affected by diabetes and other conditions in NIDDK's mission," he said. "As the DPP showed, studies must reflect that diversity for results to be truly applicable, and we remain committed to being inclusive in our research efforts."
Reflecting this commitment, NIDDK's work in kidney disease has long aimed to better understand the disproportionate burden of kidney disease among Black Americans and how to improve health outcomes.
In 2008, research from NIDDK scientists and grantees led to the groundbreaking discovery that variants in a gene, called APOL1, are associated with a higher risk of kidney disease and that these variants are found almost exclusively in people of African descent. Today, the NIDDK-supported APOLLO study, or APOL1 Long-term Kidney Transplantation Outcomes Network, is exploring how these gene variants affect kidney transplantation, with the goal of improving transplant outcomes in both kidney donors and recipients. The study enlisted an advisory committee of Black Americans with kidney disease to ensure that the people most affected by the findings have a key role in the research process.
The APOLLO study exemplifies a core tenet of NIDDK's philosophy: putting the people it serves at the center of its research.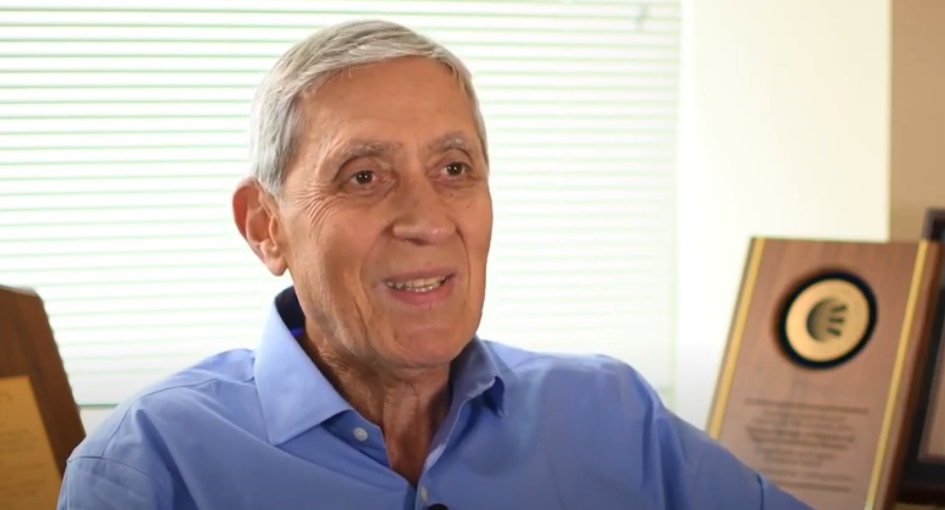 "The key is to realize that it's not about you, it's about everybody else that you're serving. If you keep that in mind, you can be successful," said Dr. Allen Spiegel, NIDDK director from 1999 to 2006, in a 2019 oral history.
Some of NIDDK's most notable successes have been in liver research, including the Nobel-winning discovery of the hepatitis B virus by an NIDDK scientist and the first successful human liver transplantation, performed by an NIDDK grantee. Research advances led to a vaccine for hepatitis B, available since 1982, which has greatly reduced the disease's prevalence.
Scientists at NIDDK also tested the first effective therapy for chronic hepatitis C in the 1980s, and more recently, NIDDK-funded research has helped identify several direct-acting viral drugs being used to treat – and cure – hepatitis C. NIDDK scientists are now working to develop a hepatitis C vaccine, which, if successful, could help dramatically reduce the virus' spread.
These and countless other achievements across the institute reflect the dedication of scientists – both intramural and extramural – and of NIDDK staff, all who share the vision of improving public health.
"At NIDDK, one of the enormous resources is the quality of people, not only the scientists, but all the people who work on grants and who help maintain this whole community that we've developed through thick and thin," said Dr. Phillip Gorden, NIDDK director from 1986 to 1999 and current senior investigator, in his oral history.
This spirit of collaboration and service across NIDDK has helped shape the institute over the past 70 years and will continue to fuel its progress in the years to come.
To read more about the research advances highlighted above, along with many other NIDDK accomplishments, visit NIDDK's 70th Anniversary webpage
NIDDK fellows present diverse research through a new competition
In June 2020, the NIDDK Fellows Advisory Board (FAB) selected eight winners for its first online NIDDK Fellows Abstract Competition. Altogether, 72 fellows submitted their abstracts and participated as judges in the competition for educational or travel awards.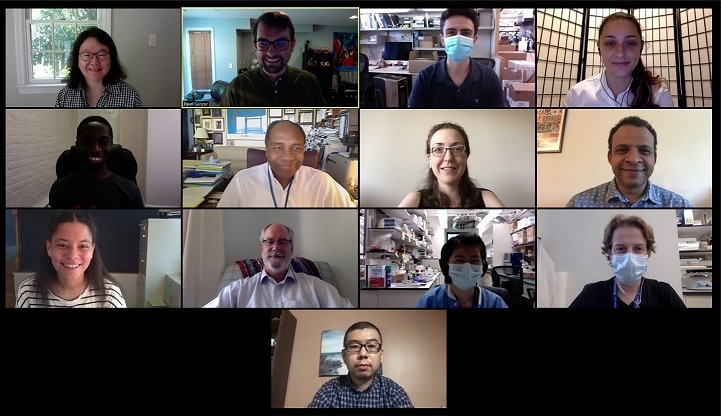 This competition was organized and carried out by the FAB in response to the postponement of the Annual NIDDK Scientific Conference, typically held every April.
"In order to protect fellows' health, yet still promote personal engagement and facilitate career development in unprecedented times, we came up with a way to preserve some of the scientific support and interaction typically provided through the annual meeting," said Dr. Pavol Genzor, FAB chair and postdoctoral fellow in the NIDDK Laboratory of Cell and Molecular Biology. "We pivoted the conference website to facilitate abstract submissions and developed a systematic, anonymous method for abstract distribution and judging."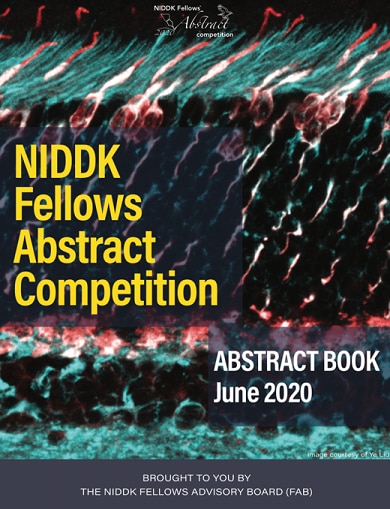 The highest scoring abstracts received travel or training awards, certificates, and had the opportunity to participate in a virtual meeting with NIDDK Director Dr. Griffin P. Rodgers and NIDDK Scientific Director Dr. Michael Krause, who congratulated winners for their achievements.
"NIDDK strives to promote the wellbeing, and the professional and personal development of all fellows," said Krause.
All participants were featured in an Abstract Book that highlighted the winners and showcased diversity of NIDDK science through the abstract and image submissions by NIDDK scientists.
*Editor's note: If you are an NIDDK fellow and interested in participating in the FAB, contact Sezen Meydan for more information. If you are interested in becoming an NIDDK fellow, learn more on NIDDK's Research Training & Career Development webpage.
Getting to Know: Dr. Alan N. Schechter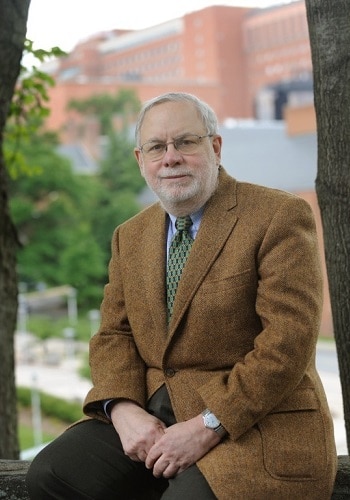 Alan N. Schechter, M.D., is the chief of NIDDK's Molecular Medicine Branch. He joined NIDDK in 1965, after studying medicine at Columbia University. Known for his expansive research career and passion for medical history, Schechter spoke with Katie Clark about his experience at NIDDK and the evolution of his research.
How did you start your research journey and career at NIDDK? What was it like at NIH when you started?
I came to NIDDK with the U.S. Public Health Service Commissioned Corps in July 1965 when it was called the National Institute of Arthritis and Metabolic Diseases. The NIH campus was very different then; it was much smaller, and you could even find a parking space with ease.
I began my work in Dr. Christian B. Anfinsen's laboratory, located in the NIH Clinical Center. The Clinical Center was the first major medical research facility that combined basic and clinical programs and had the distinction of being the largest brick building in the world at the time. During my long stay at NIH, I have been able to participate in both basic and clinical research – an important component of why I have continued to work here.
What has been one of your most memorable moments working at NIDDK?
While I was working in his lab, Dr. Anfinsen received the Nobel Prize in Chemistry in 1972 for demonstrating that the three-dimensional structure of a folded protein is determined by the chemistry of its amino acid sequence. The discovery was one of the most important simplifying concepts of molecular biology. The award and its aftereffects — like the vast opportunities that opened for Dr. Anfinsen to talk about and promote the field of protein folding around the world — made that period a very exciting time for all of us.
How do you stay motivated and keep your team engaged?
Passion for our research is really the heart of our motivation. Knowing that what we do at NIDDK could be significant in uncovering fundamental knowledge with potential wide applications to medicine is what keeps us engaged. The NIDDK Intramural Research Program has classically encouraged such collaborations in moving basic research to translational, and then to clinical studies, uniquely all occurring on the NIH campus.
Your work in the last two decades has been on understanding how nitric oxide may be transported in the blood and used as a possible agent to deliver therapies. What inspired you to begin your work on nitric oxide?
In the late 1990s I was asked to review and write a commentary about a manuscript on the use of inhaled nitric oxide to treat sickle cell disease, which was highly experimental then. A few months later, Dr. Griffin P. Rodgers (then the Chief of the Molecular and Clinical Hematology Branch) referred Dr. Mark Gladwin, who at the time was a new staff physician in the Clinical Center, to me to discuss this topic. From there, we began a long and productive collaboration on basic research and clinical studies of nitric oxide. I always say the direction of one's research can be the result of a lot of chance events, and I think this is evidence for that, but it was also dependent on the freedom of the NIDDK Intramural Research Program encouraging investigator-initiated research.
You served in the Office of NIH History – could you tell us more about that?
I was the acting historian in the Office of NIH History for two years (2005 - 2007), a role I held in addition to my usual research efforts. In 1975, the former deputy director of NIH for Intramural Research, Dr. Hans Stetten, recognized that NIH could benefit from a formal history program focusing on our Institutes and Centers (as well as the Office of the NIH Director) in the preservation of their own histories. He then assembled a group, in which I was a member of, to plan to create an Office of History at the NIH. The proposal for the office was authorized and made official around 1985. I toyed with the idea of staying on as the historian, but I didn't in large because around that time, I started seeing many promising applications of my new nitric oxide work and how it applied to various clinical problems.
What advice would you give to new investigators?
Work on something original and don't be afraid to step out of the box. Explore topics that may be different than your focus in your Ph.D. program or postdoc years, or even your last several years of research.
NIDDK strategic planning update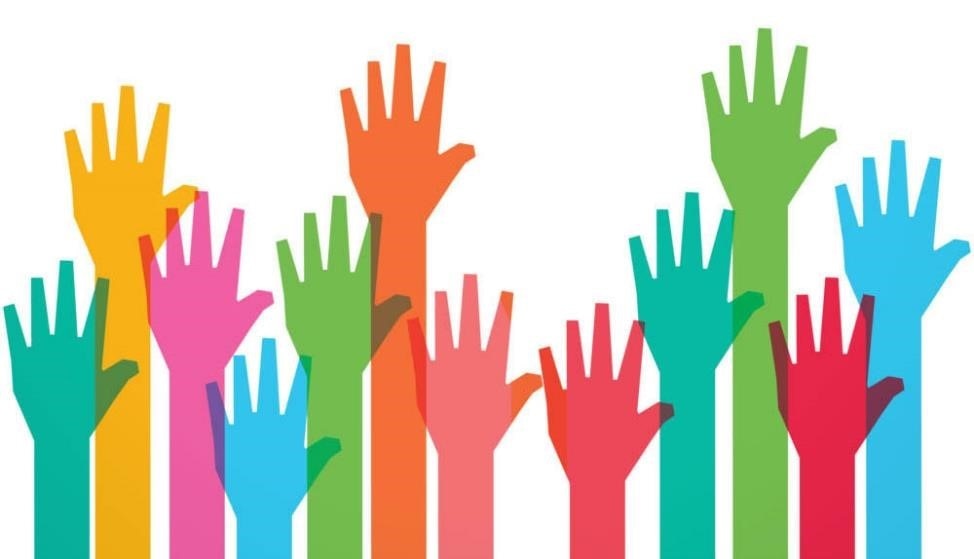 As part of an ongoing effort to develop its institute-wide strategic plan, NIDDK invited broad external perspectives through a public Request for Information (RFI), which was open for several months. The institute received helpful comments. Based on the RFI input along with input from its strategic plan working group and Advisory Council, NIDDK will write a first draft of the strategic plan and post it online for public comment in 2021.
Visit NIDDK's website for more information about the strategic plan working group, process, and ongoing updates.
NIDDK director talks research recovery efforts amid the COVID-19 pandemic
By Terese Ketchen
As lab and clinical research begins to reawaken after a near shutdown, NIDDK and its Advisory Council members have worked to identify steps to help mitigate the impacts of the COVID-19 pandemic on scientists and their work.
To outline the steps NIDDK has taken and plans to take, NIDDK Director, Dr. Griffin P. Rodgers shared a video message with the extramural research community discussing how NIDDK, and NIH as a whole, are working to support researchers and help restart research.
"Many of you are worried about the future for biomedical research," stated Rodgers in the video. "What will be the 'new normal'?"
Rodgers emphasized three priorities in returning to research:
NIH policy flexibility in grant submission and reporting deadlines,
Accommodations for submitting preliminary data, and
Targeted investments for young investigators to reduce the disproportionate impacts of COVID-19 on their careers.
"I remain optimistic that we as a scientific community can move biomedical research forward while dealing with the many effects of the COVID-19 pandemic," said Rodgers. To this end, NIDDK and NIH have started making changes to allow for more flexibility, such as providing leeway on post-award reporting deadlines.
The video follows an NIDDK Advisory Council discussion in May that helped shed light on concerns about the future of biomedical research and how to move forward in an environment challenged by the current conditions.
Watch Dr. Rodgers' video and visit the new webpage dedicated to sharing the more about the NIDDK COVID-19 Research Response.
NIDDK staff take part in oral history project
By Katie Clark
Just in time for NIDDK's 70th anniversary, an oral historian sat down with several distinguished NIDDK staff, all of whom have made significant contributions to their research field, to recount and relive important events in their NIDDK history. The interviews highlight what drew each of them to the institute, major turning points in their lives and careers, the impact of their research, how NIDDK has grown over their years of service, and more.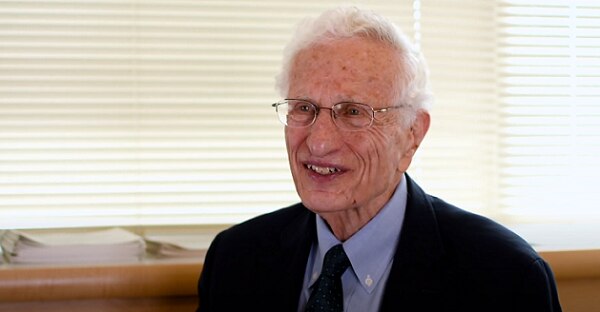 "It was important for us to bring this project to fruition, especially as we enter our 70th year as an institute. By shedding light on how we got to where we are today and sharing stories behind some significant achievements, we are able to celebrate our group and individuals while we honor our history" says Dr. Michael Krause, scientific director of the Division of Intramural Research at NIDDK.
Dr. Herbert Tabor, who was a senior investigator in NIDDK's Laboratory of Biochemistry and Genetics, was filmed for an oral history last year during his 77th year with NIH. In his oral history, he talks about administering the first penicillin that cured illness in the United States and how the research field has evolved beyond his imagination.
NIDDK Director Emeritus Dr. Allen Spiegel shared inspiring stories like meeting a swimmer who was diagnosed with type 1 diabetes at the age of 25, and who went on to win the 50-meter sprint in the Sydney Olympics.
A common theme is how many NIDDK achievements are the result of group efforts involving scientists, trainees, and support staff, often as a result of collaborations across the different Institutes and Centers at the NIH and beyond.
As NIDDK Director Emeritus Dr. Phillip Gorden describes, "It's not necessarily about what an individual does, but about how one can create a collaborative effort so that you have a lot of expertise focused on the same problem. You've got all these people who work in different areas, but when they come together it is really a force that's much greater than any individual."
In addition to Drs. Tabor, Spiegel, and Gorden, oral histories were collected from Drs. William Eaton, distinguished investigator and chief of the Laboratory of Chemical Physics; Gary Felsenfeld, distinguished investigator in the Laboratory of Molecular Biology; Paul Kovac, section chief in the Laboratory of Bioorganic Chemistry; Griffin P. Rodgers, NIDDK director and chief of the Molecular and Clinical Hematology Branch; and Alan Schechter, chief of the Molecular Medicine Branch.
Watch the full interviews on NIDDK's YouTube page and check back often as more videos are added. For more oral histories from across NIH, please visit the Office of NIH History & Stetten Museum's Oral and Collected Histories.
Fauci shares COVID info on NIDDK's Healthy Moments radio
By Amy Reiter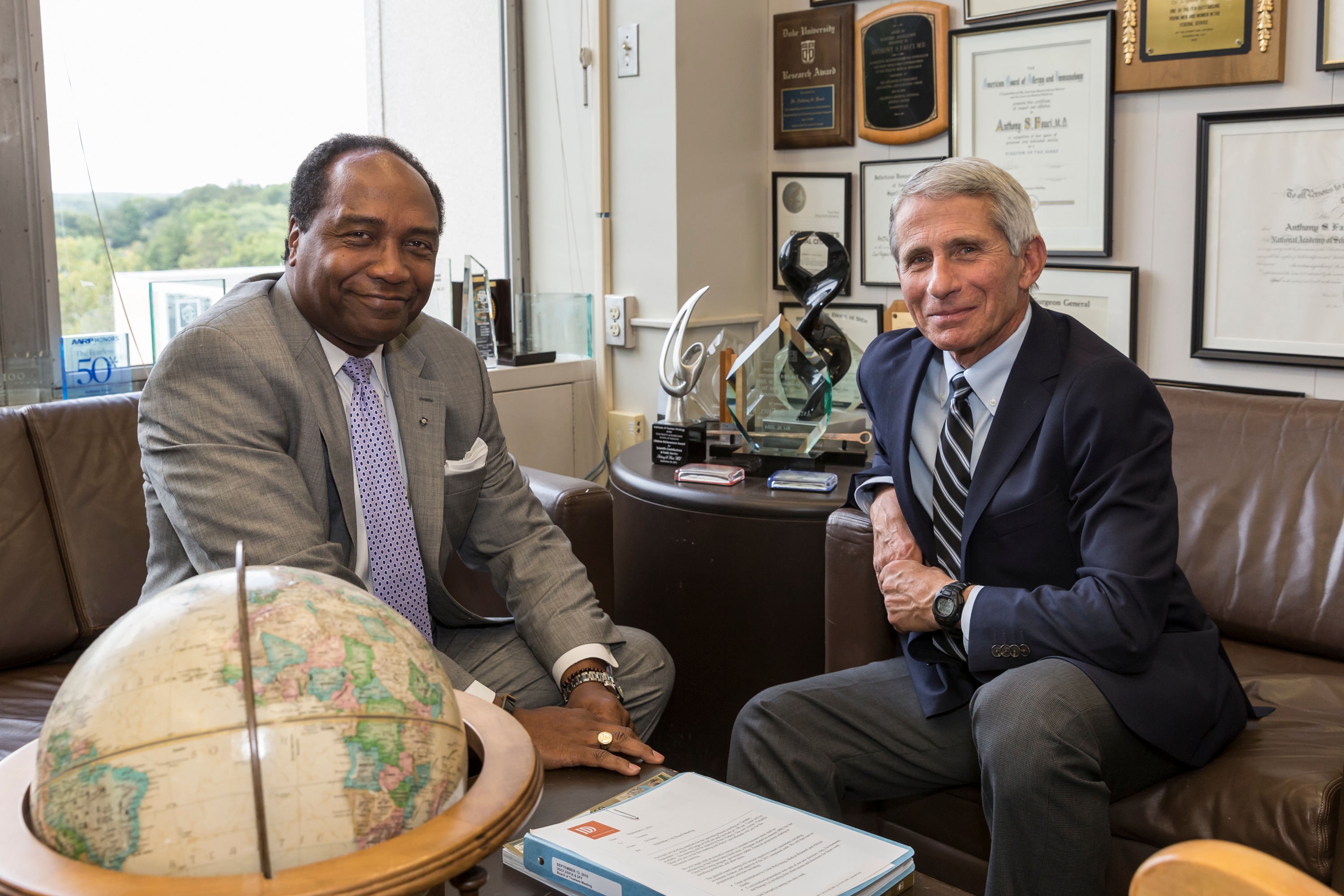 In four September episodes of NIDDK's Healthy Moments radio show, listeners heard from a voice that needs no introduction, Dr. Anthony Fauci. Fauci joined NIDDK Director Dr. Griffin P. Rodgers for a series on COVID-19. Among the world's most trusted voices on coronavirus and other infectious diseases, Fauci shared his considerable expertise with listeners.
In the one-minute radio segments, the longtime director of the NIH's National Institute of Allergy and Infectious Diseases (NIAID) touched on topics including how to protect yourself and others from COVID-19 and why communities of color have been disproportionally affected by the disease.
"This crisis has put a spotlight on economic and health disparities affecting our communities of color. These disparities seem to be factors in the higher rates of severe COVID-19 illness and deaths in these communities," Fauci told listeners." It is very important for everyone to follow the CDC guidelines and do as much as possible to slow the spread of COVID-19."
Other topics discussed are the need for plasma donation from people who have tested positive for COVID-19 and recovered and how to get involved in research to test COVID-19 vaccines.
"In these uncertain times, Dr. Fauci remains a steadfast voice in service to public health," said Rodgers. "We hope this Healthy Moments series helps people learn how NIH and others are moving at warp speed towards a safe, effective vaccine and therapies for COVID-19, while also showing how we all have steps we can take to protect our health and the health of our communities."
Dr. Fauci's segments – and all Healthy Moments episodes – are available on the NIDDK website and syndicated on radio stations across the country.