National Kidney Month
March is National Kidney Month, a time to bring awareness to kidney disease. Ask these key questions to start a conversation with your health care provider about kidney health.
If you have diabetes or high blood pressure, or a family history of kidney failure or heart disease, you are at greater risk for kidney disease. The sooner you find out you have kidney disease, the sooner you can get treatment. By getting treatment early, you may be able to prevent or delay more serious health problems.
Three questions to start the conversation about kidney health with your health care provider
Have these with you during your next visit.
Have I been tested for kidney disease and how healthy are my kidneys?

How often should I get my kidneys checked?

What should I do to keep my kidneys healthy?
Chronic kidney disease is a serious condition that affects more than 30 million adults in the United States, yet people in the early stages may not have symptoms. Many people don't find out they have kidney disease until their kidneys are permanently damaged, which is why you should get tested early.
Learn more about kidney disease
Share with family, friends, and community
National Kidney Month Flyer
Download a flyer (PDF, 248 KB) with tips on how to talk with your health provider about kidney health.
Print copies for your bulletin board, share in an e-newsletter, or distribute at an upcoming health fair.
Social Media Posts
Share this year's key messages with family, friends, and community about getting tested for kidney disease. Use the social media posts below.
Tools to help you talk about kidney health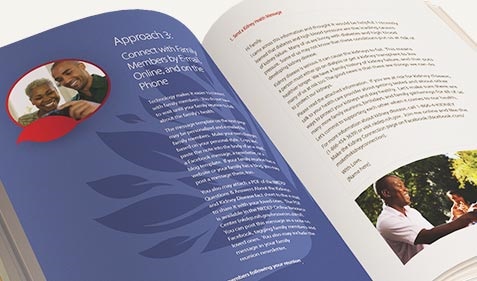 Family Reunion Health Guide
Family reunion planners – or anyone planning or attending a reunion or family gathering – can use this guide to help make kidney health a family affair.
Download a Free Copy (PDF, 1.48 MB)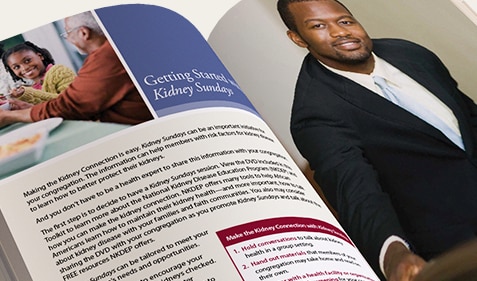 Kidney Sundays: A Toolkit
Health ministry leaders – or anyone interested in bringing health programming to their congregation – can use this toolkit to help make the kidney connection.
Download a Free Copy (PDF, 1.87 MB)
Health Care Providers