NIDDK Director's Update
Summer 2023
News Around NIDDK
With help from the community, NIDDK releases new report aimed to advance health equity
By Lisa Yuan
The COVID-19 national emergency has come to an end, but the health disparities that the pandemic exposed continue to affect communities around the country – and underscore the need for more research focused on reducing health inequities. To that end, NIDDK released a new report, "Pathways to Health for All," which makes recommendations NIDDK could pursue to improve health equity and reduce the health disparities that exist for so many NIDDK diseases. The report aims to be useful to staff and researchers at NIDDK and other research agencies and partners.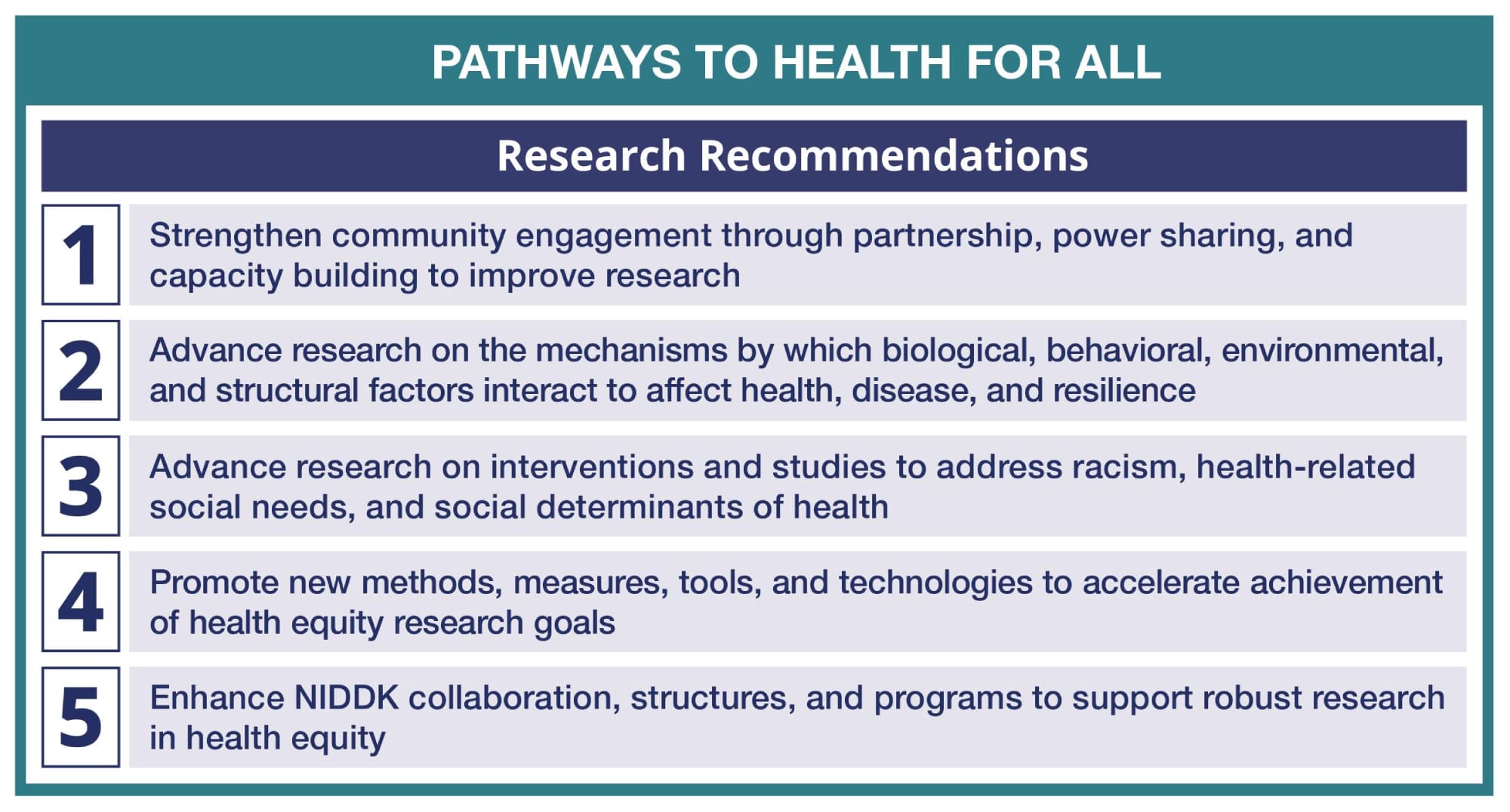 View full-sized image
"COVID-19 highlighted long-standing health inequities and magnified problems about social conditions that have been long ignored but are addressable," said Dr. Gregory Germino, NIDDK deputy director. "We found ourselves standing at the intersection of COVID-19 and health disparities, asking what we could do collectively to advance health equity."
To develop the report, Germino and Dr. Pamela L. Thornton, NIDDK senior advisor for workforce diversity and health equity, co-led the establishment of a Health Disparities and Health Equity Research Working Group of NIDDK's Advisory Council in 2021. The group included NIDDK staff, external researchers, and community members, including patients and caregivers who have lived experiences with the diseases in NIDDK's mission.
"This work requires uplifting and elevating the enduring strengths of historically excluded communities while addressing the challenges they face. The perspectives of community members affected by the diseases and conditions in our portfolio are therefore at the heartbeat of this report – and of NIDDK's work," said Thornton.
The report recognizes that the social determinants of health – the conditions in which people are born, grow, work, live, and age – can be primary contributors to health inequities, particularly among groups that are socially or economically marginalized. The insight of community members was crucial to understanding these factors, including the barriers people face to optimal health – such as limited access to healthy foods, fresh air, transportation, educational resources, and insurance.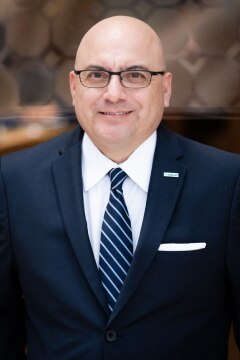 David Rodriguez, member of the National Board of Directors of the American Association of Kidney Patients (AAKP) who served on the working group, knows a lot about these barriers. A kidney transplant recipient in 2011 and recent liver transplant recipient, Rodriguez has spent the past decade advocating for and educating other people with kidney disease, diabetes, liver disease, and high blood pressure – sometimes visiting more than 200 kidney dialysis centers in a single year. He has seen firsthand the need for more resources to educate patients and build trust in health care providers, particularly among the Hispanic community in Texas where he lives.
He's also seen how lacking health insurance – a common issue in his community – can affect health outcomes. Rodriguez's father, a retired carpenter, did not have insurance and went to Mexico for medical care, where he was prescribed the wrong diabetes medication. He later developed kidney failure and passed away. Rodriguez vowed to honor his father's memory by doing everything he could to help people with kidney and other diseases. Collaborating on this report allowed him to do just that.
"What I love about the report is that it's very comprehensive, and people are going to learn so much from it. I'm excited to be able to share it – to help patients get educated and learn something new," said Rodriguez. "I hear people talk about their health, not knowing where their information came from. We can share this report knowing it has the facts right."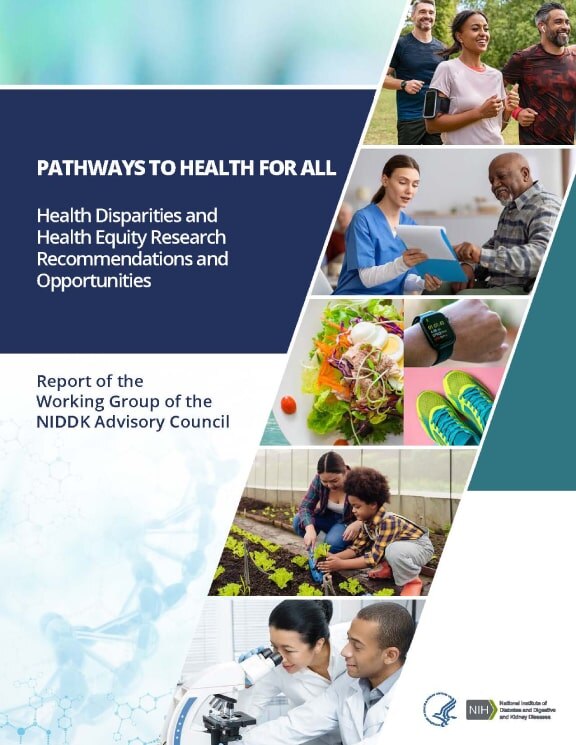 Rodriguez's and other community members' voices are prominently represented in call-out boxes throughout the report. Their insights, together with those of researchers and NIDDK staff, helped shape the report's overarching research recommendations – as well as the opportunities presented with each recommendation for high-impact research and strategies to reduce health disparities and advance health equity.
The report also includes seven guiding principles for embedding equity into research and tips for researchers who plan to pursue health equity research. These principles and tips emphasize that every researcher, from basic to translational research, has a role to play in combatting health inequities.
"This project was a true collaboration between our staff, colleagues from research institutions across the country, and members of the community, and we're grateful to everyone who contributed," said NIDDK Director Dr. Griffin P. Rodgers. "With the breadth of insight and expertise that went into this report, I'm confident it will be a game-changer in our efforts to pursue pathways to health for all."
Read the "Pathways to Health for All" report on NIDDK's website.
NIDDK fellows host 18th annual scientific conference in person for the first time in three years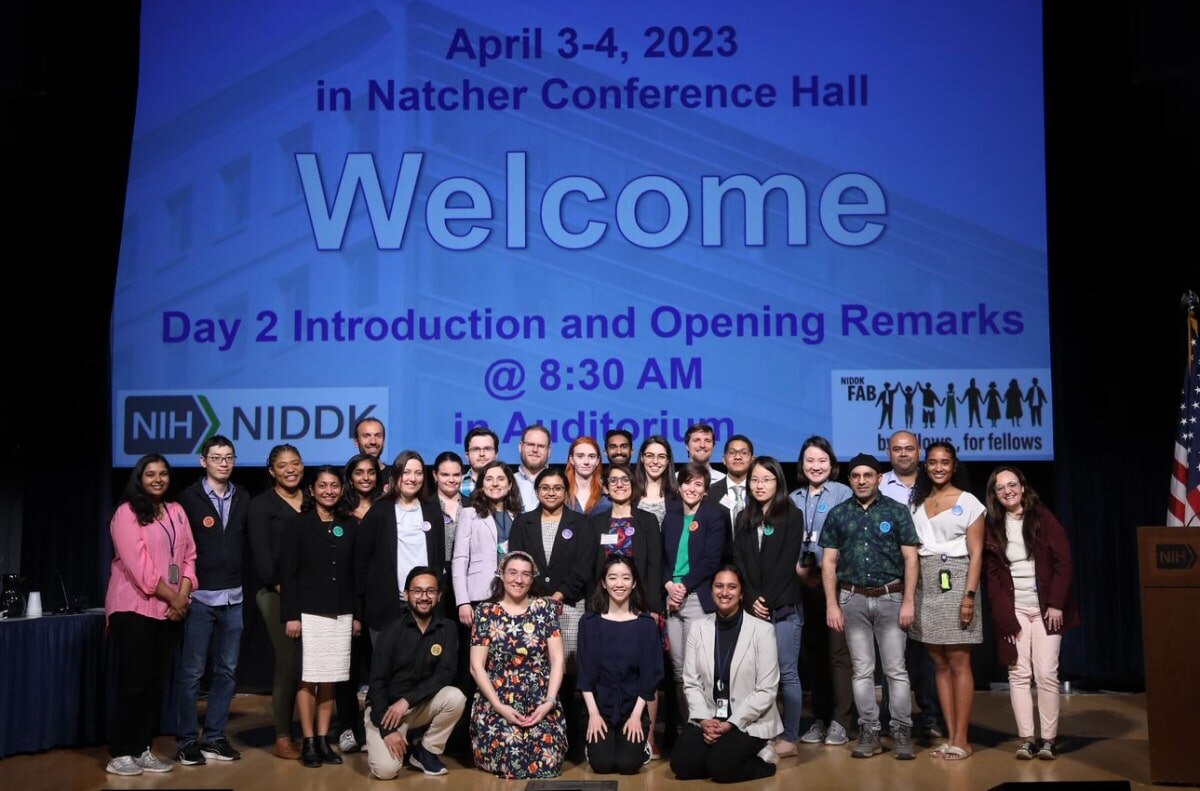 After several years marked by canceled events and virtual meetings due to the pandemic, the 18th Annual NIDDK Scientific Conference was held in person this year – for the first time since 2019. NIDDK's Annual Scientific Conference is organized by the Fellows Advisory Board, currently chaired by Dr. Amber Lockridge in collaboration with the NIDDK Fellowship Office. This year's conference, held at NIH's Natcher Conference Center, had more than 230 registrants from 18 NIDDK labs and branches, including principal investigators, staff scientists and clinicians, and fellows. A record-setting 112 abstracts were submitted resulting in 12 oral presentations, 10 elevator talks, and 86 poster presentations.
2023 18th Annual NIDDK Scientific Conference award winners:
Getting to Know Dr. Madhumita Sinha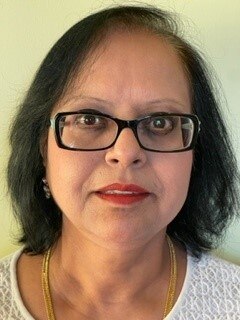 Dr. Madhumita Sinha, associate clinical investigator in NIDDK's Phoenix Epidemiology and Clinical Research Branch spoke to Lisa Yuan about her research career, including almost a decade at NIDDK, and why engaging the community is such an important – and rewarding – part of her work.
What led you to the NIH?
I always wanted to do high-quality clinical research, which requires funding and research support. The NIH is a unique institution that provides that opportunity, especially for the long-term, population-based research I'm interested in.
At NIH, I had a great opportunity to develop my own protocol, the Early Tracking of Childhood Health Determinants (ETCHED) study, which will look at a host of factors – biological, psychosocial, and socioeconomic – contributing to obesity and metabolic dysfunction. The study is enrolling pregnant women who reside in the Phoenix, Arizona metropolitan area and who self-report as Hispanic American or American Indian/Alaska Native. These racial and ethnic groups have the highest prevalence of childhood obesity and youth-onset type 2 diabetes in the United States. We'll follow the mother/child dyads until the child's 18th birthday to assess long-term health outcomes.
Your research focuses on childhood obesity. How did you get into this field of study?
For nearly two decades, I've worked as a pediatrician in Phoenix with children from minority groups. I have also volunteered at the Phoenix Indian Health Service hospital since August 2020, providing in-person pediatric care to patients from American Indian/Alaska Native communities. I see the problems associated with childhood obesity routinely in these vulnerable populations. It is one of the most challenging chronic conditions with poor health outcomes, even premature death, and tremendous health disparities. By identifying the factors that contribute to childhood obesity, our research could help inform policies that can lead to healthier communities. That's why I'm in this field – because I really want to make a change.
Dr. Madhumita Sinha stands outside NIDDK's Community Research Clinic in Guadalupe, Arizona, where she conducts some of her research.
Why is working in the community so important to advancing research in your field?
Engaging communities as collaborators in the research allows you to really understand the barriers to research and optimal health, particularly in underserved and disadvantaged communities. In my childhood obesity research, we have to understand that children are surrounded by family, their local community, the country, and even the global community. These various environments all make a difference in the child's health, so we must engage not only the child, but also the community. Working with communities helps build trust among the people we're trying to serve and brings together a diverse group that can lead to better research and health outcomes.
What is the most rewarding part of your job?
My team members and I all share the same vision, and they go above and beyond. Many of them are from the same community as our study participants, so they understand the issues that our participants may face. For instance, a major barrier for the mothers in our ETCHED study is transportation, so my staff often go to participants' homes to collect samples, drop off forms, and help them meet study milestones. The mothers feel comfortable talking to my staff, who can relate to their problems and try to accommodate their needs as much as possible. To see this interaction and team building happening among my research team and study participants is truly a great reward for me.
What advice do you have for young scientists, particularly from groups underrepresented in the biomedical research workforce?
I would encourage younger folks to understand that they have the power and social responsibility to make a change – and they can do so by working in biomedical research. During my academic career of more than 25 years, I have mentored many physicians, medical students, residents, and fellows from communities underrepresented in the research workforce. I tell them to have confidence in their abilities and to always believe that if they are sincere with the right motivation, they will achieve their goal. Nothing is achieved without challenge, but if you have conviction that you're doing the right thing, you will get there.
Molecular Medicine Branch transition recognizes leadership and scientific innovation
By Susan Boswell-Maier
For four decades, Dr. Alan N. Schechter served as chief of NIDDK's Molecular Medicine Branch (MMB). He's now passed the torch to the newly appointed acting chief, Dr. Constance T. Noguchi, a world-renowned scientist and colleague, who most recently served as MMB's deputy chief.
"I applaud the collaboration of Dr. Schechter and Dr. Noguchi in effecting this transition and believe that under Dr. Noguchi's continued leadership, MMB is positioned to remain a driving force for future innovation at the intersection of chemistry, biology, and human health," said Dr. Michael Krause, NIDDK scientific director.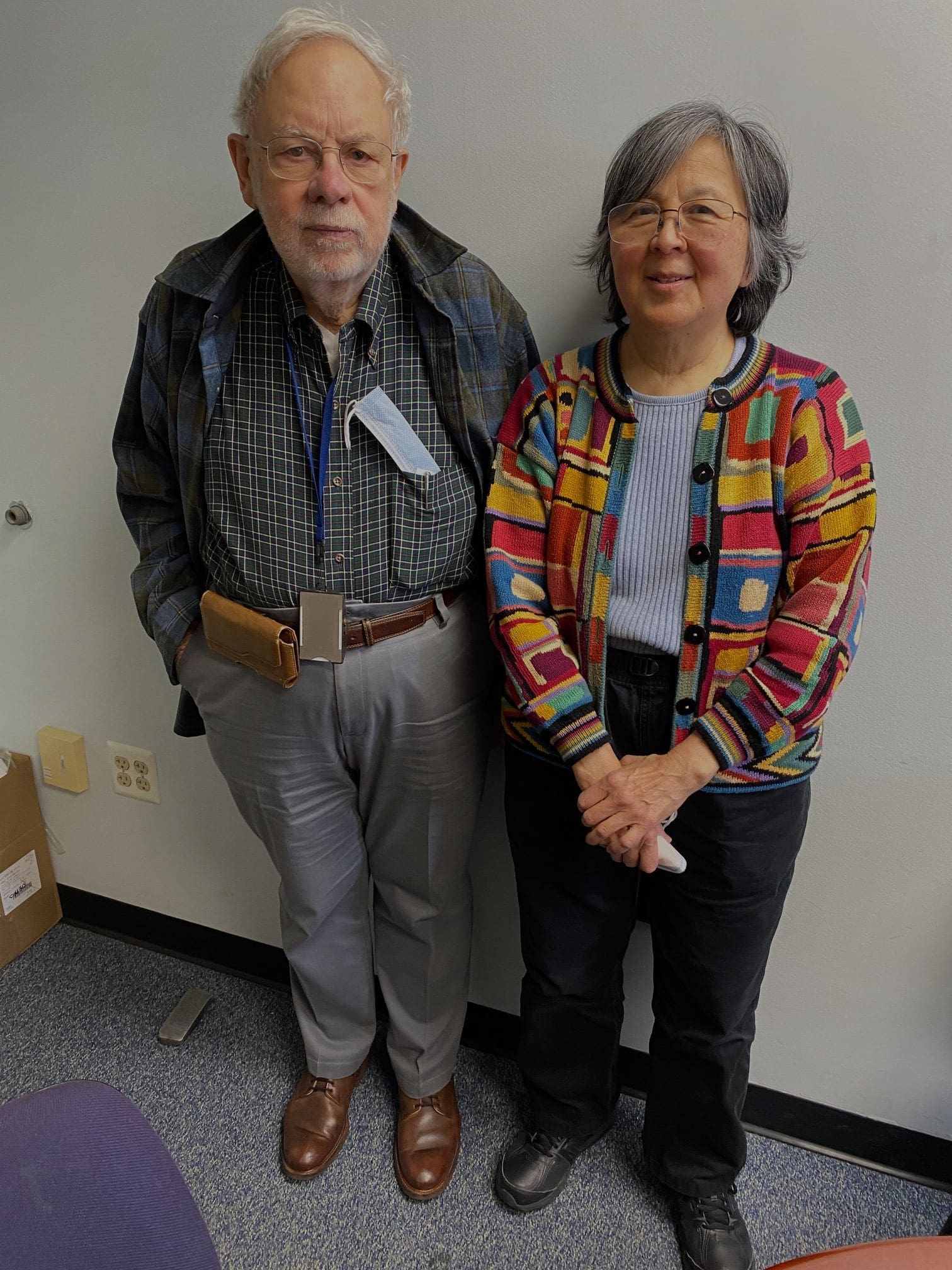 Drs. Alan Schechter and Constance Tom Noguchi together at the lab.Noguchi joined NIDDK as a fellow in 1975 to work with Schechter on sickle cell anemia. In a recent oral history interview, Schechter credited Noguchi with contributing sophisticated skills in physics and mathematics to advance their research.
Noguchi then expanded their sickle cell anemia work to researching the formation of red blood cells. She discovered that erythropoietin – a hormone that regulates red blood cell production – stimulates survival and growth of stem and progenitor cells in tissue in preclinical models. Noguchi quickly became a leader in the study of erythropoietin, working to gain full knowledge of its potential use as a treatment for cardiovascular or brain injury.
For the past decade, in addition to serving as MMB's deputy chief, Noguchi has taken great pride in mentoring fellows and participants in the NIDDK-wide summer fellowship program. She also serves as chair of NIDDK's Animal Care and Use Committee and from 1999 to 2022 was Dean of the Foundation for Advanced Education in the Sciences (FAES) Graduate School at NIH. Schechter, a widely cited physician-investigator and research pioneer in his own right, was recently named the inaugural Christian B. Anfinsen Distinguished Scientist in honor of his Nobel Prize-winning mentor during his first decade at NIH.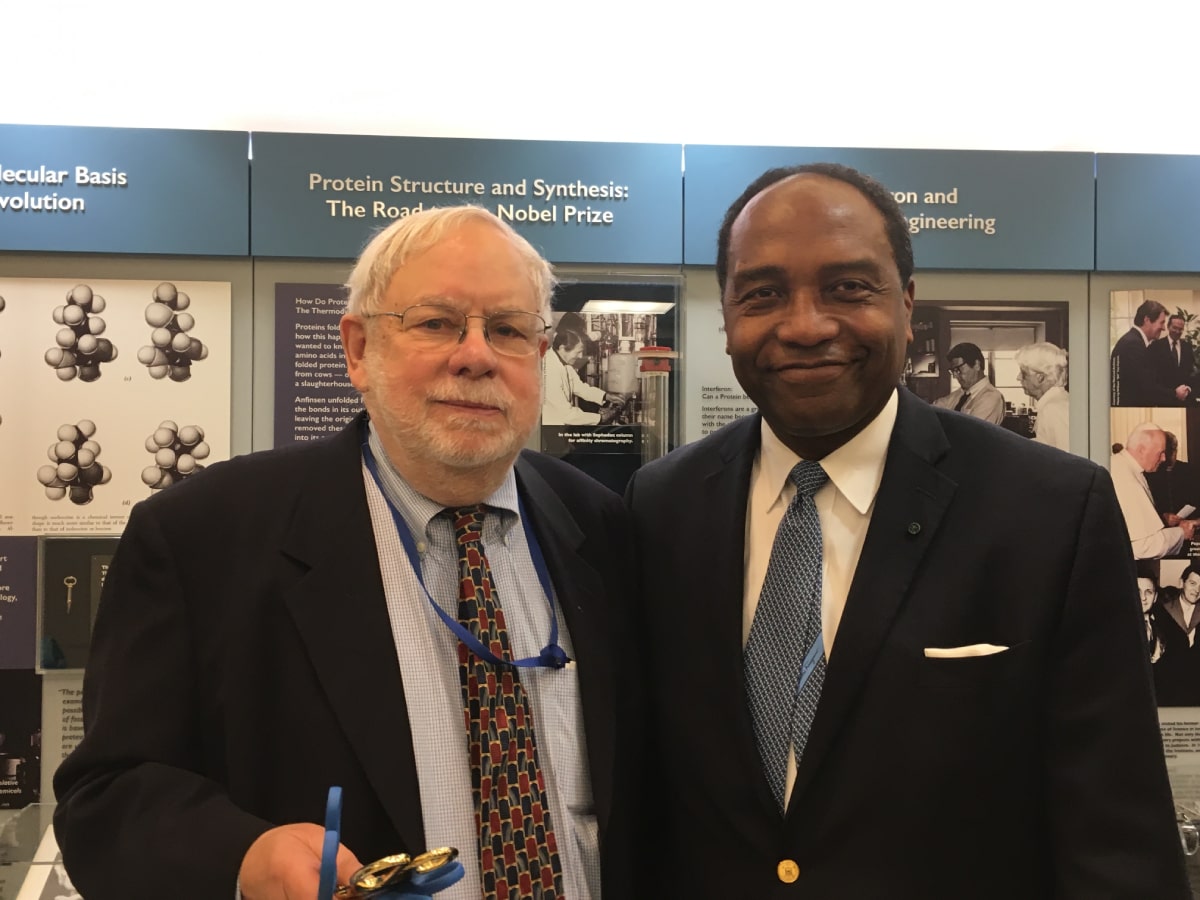 Drs. Griffin P. Rodgers and Alan Schechter attend the opening of the NIH Clinical Center exhibit, "Christian Anfinsen: Protein Folding and the Nobel Prize"Schechter received this honorary appointment in recognition of his stellar research achievements, including providing a fundamentally new understanding of how nitric oxide production occurs in mammalian tissues and how it functions both normally and in diseases, such as sickle cell anemia. He has also pioneered work in sickle cell anemia pathophysiology and therapy in collaboration with groups at NIH and beyond. Schechter's basic and clinical work has also contributed to the understanding of protein folding for which NIDDK is widely recognized.
Schechter also served as acting historian in the Office of NIH History & Stetten Museum from 2005 to 2007 and has contributed to the NIH Assembly of Scientists and FAES.
"It's been a privilege to have personally worked with both Alan and Connie, who have greatly contributed to clinical research on sickle cell anemia," said NIDDK Director Dr. Griffin P. Rodgers. "The Molecular Medicine Branch has benefitted immensely from their research talents, as well as their administrative acumen, and will continue to have a bright future under Connie's leadership."
NIDDK celebrates two decades of data sharing
NIDDK's Central Repository is celebrating its 20th year of helping scientists across the globe advance their research.
The Repository was established in 2003 to provide access to data, biospecimens, and other research-generated products from many of NIDDK's largest and most impactful clinical studies so that scientists worldwide could use these resources for their own hypothesis-driven research. Over the past 20 years, the Repository has greatly expanded its portfolio, which now includes more than 15.5 million biospecimens representing more than 150,000 participants, as well as data from 142 NIDDK-supported studies available for request.
The Repository continues to make significant system and process improvements and is actively revising its policy and practices to align with the implementation of NIH's new data management and sharing policy, which helps researchers maximize the impact of their data.
The Central Repository will be hosting a 20th anniversary virtual workshop on promoting secondary research to accelerate medical breakthroughs and innovation in September.
For more information on resources available and how to request access, visit https.//repository.niddk.nih.gov/faq/.
Fellow Spotlight: Dr. Karl-Frédéric Vieux
Name: Karl-Frédéric Vieux
Hometown: Pétion-Ville, Haiti
Current position: IRTA post-doctoral fellow in Dr. Katherine McJunkin's lab, Section on Regulatory RNA, Laboratory of Cellular & Developmental Biology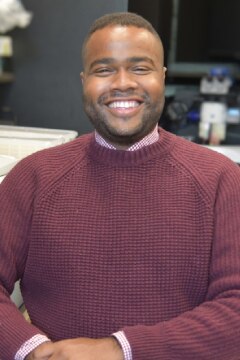 What inspired you to pursue a research career?
Growing up, I was always very curious, asked a million questions, and really enjoyed problem solving – attributes my parents encouraged and fostered in me as a child. I also idolized all sorts of scientists in my favorite books, games, TV shows, and movies. In high school, I specialized in earth and life sciences, earning a French Baccalaureate in Science. Not until my studies at McGill University did I decide to pursue a research career. Working in a lab as an undergraduate, I felt both challenged and accomplished, and I've been seeking the thrill of new discoveries ever since.
My research interests center around mechanisms that regulate gene expression and RNA biology. In graduate school at McGill, I focused on this topic in the context of reproductive biology, working in Dr. Hugh Clarke's lab. From there, my path studying RNA biology progressed. I've had great teachers and mentors, including Dr. Clarke and Dr. McJunkin, who have trained and supported me, and whom I try to emulate every day.
What public health problem do you ultimately hope to solve with your research?
I am currently investigating enzymes involved in the regulation of RNA tails to better understand their role in RNA stability and translation in oocytes, cells involved in reproduction. My goal is to better understand how RNA contributes to the quality of oocytes and viability of embryos and how the mother's age affects that relationship. Ultimately this work could help develop RNA-based therapies to improve pregnancy outcomes for older people or those with fertility issues.
I am also deeply invested in democratizing access to science. I believe that everyone deserves to have a basic understanding of how their body and the world around them works to prepare our communities for life's complexities and the socio-politico-economic and environmental challenges that may concern them. In my free time I work on a science podcast that explains and discusses a wide range of scientific topics in Haitian-Creole for audiences in Haiti and abroad.
I also believe that the scientific enterprise is at its best when it is inclusionary and diverse, reflecting the communities it is meant to serve. Last year, I joined the steering committee of NIDDK's TREaDS (Trainees Recognizing Equity and Diversity in Science), helping to organize a seminar series that highlights the work of distinguished scientists and clinicians from underrepresented groups in science who are also committed to increasing diversity and equity in their respective fields and institutions. As a future principal investigator and mentor, I intend to work on a personal level with others, spreading my enthusiasm for science, bridging the gap between the scientific community and general public, and preparing a more diverse next generation of researchers.