Research Behind the Body Weight Planner
The research behind the Body Weight Planner is from work done by Dr. Kevin Hall and his research group at the National Institute of Diabetes and Digestive and Kidney Diseases to better understand how diet and exercise quantitatively contribute to weight loss and weight loss maintenance.
This research was published as part of The Lancet Series on Obesity (August 27, 2011). Please reference this paper when publishing material using the Body Weight Planner:
Quantification of the effect of energy imbalance on bodyweight.

Hall KD, Sacks G, Chandramohan D, Chow CC, Wang YC, Gortmaker SL, Swinburn BA.
Lancet (2011 Aug 27) 27;378(9793):826-37. Abstract/Full Text
A full description of the model equations can be found in the PDF: Dynamic Mathematical Model of Body Weight Change in Adults (PDF, 243.9 KB) .
The Body Weight Planner allows users to make personalized calorie and physical activity plans to reach a goal weight within a specific time period and to maintain it afterwards.
Launch the Body Weight Planner
and select "switch to expert mode"
Disclaimer: This information is for use in adults defined as individuals 18 years of age or older and not by younger people, or pregnant or breastfeeding women. This information is not intended to provide medical advice. A health care provider who has examined you and knows your medical history is the best person to diagnose and treat your health problem. If you have specific health questions, please consult your health care provider.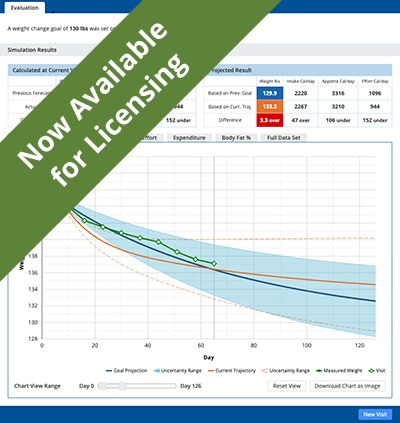 Now Available for Licensing: Personalized Body Weight Management System
The Personalized Body Weight Management System builds on the science behind the Body Weight Planner with new research and patented tracking and feedback technology. A prototype was created to show how health professionals can use it to more accurately plan, track, and update personalized weight management interventions by accounting for changes in human appetite, metabolism, and calorie expenditure over time.
Learn more about the Personalized Body Weight Management System Using Monitoring Devices and Mathematical Models of Metabolism