The Burden of Digestive Diseases in the United States
Jan. 2008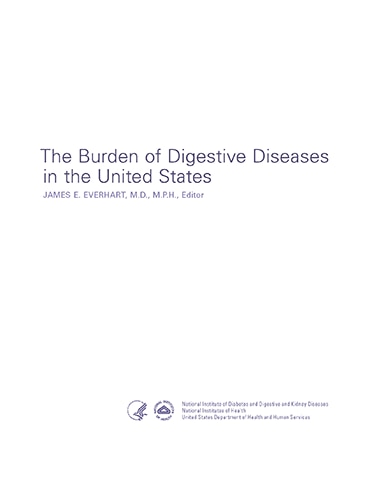 The report incorporates current and retrospective data on all aspects of the epidemiology, practice patterns, costs, and impact of digestive diseases in the United States and is intended for use by public officials, nongovernment organizations, the media, academic researchers, health professionals, and the public.
Additional Information
Download Presentation Slides
The slide sets below are for scientific presentations. A full description of the data is given in the report as only abridged information is given with the slide sets.
Copyright Information
All material appearing in this report is in the public domain and may be reproduced or copied without permission: citation as to source, however, is appreciated.
Suggested Citation
[Author(s). Chapter title. In:] Everhart JE, editor. The burden of digestive diseases in the United States. US Department of Health and Human Services, Public Health Service, National Institutes of Health, National Institute of Diabetes and Digestive and Kidney Diseases. Washington, DC: US Government Printing Office, 2008; NIH Publication No. 09-6443 [pp. – ].
Related Reports