Short-Term Research Experience Program to Unlock Potential (STEP-UP)
Hands-on summer research internship for undergraduate and high school students.
* Undergraduate deadline. High school deadline is February 15.
Why choose STEP-UP?
Inclusion at its Heart
Designed with a focus on underrepresented students.
Flexible Location
Close to home or far away — almost anywhere in the US.
Mentor-Guided Support
Work side-by-side with experienced researchers.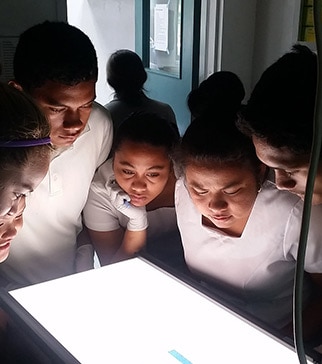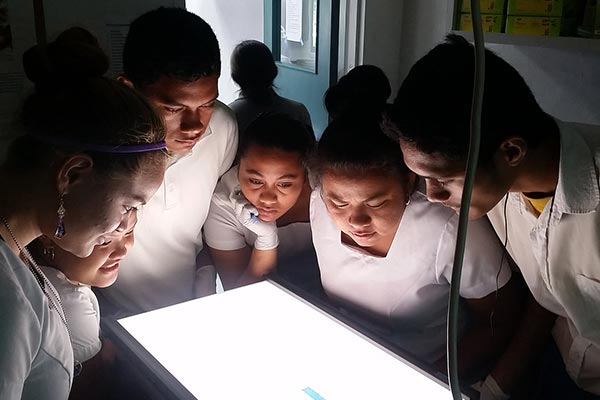 More student benefits:
Hands-on lab work
Do real research in a genuine lab setting.
Wide range of research choices
From engineering to health — and almost everything in between.
Get paid
Receive up to a $2,500 stipend HS and $5,500 stipend undergraduate† for your efforts.
Career inroads
Expand your job and post-graduate network through program contacts.
Apply by February 1* Check eligibility
* Undergraduate deadline. High school deadline is February 15.
How it works
Complete the online application

Follow the

application process

(due Feb 1), and if you're selected, we'll reach out with the good news.

Choose your own research site

Whether you want to be close to home or far away — pick almost any research site in the United States.

Take the training

Complete an online training course prior to joining your research lab.

Do the research

Spend 8-10 weeks over the summer (40 hours per week) researching with mentors.

Present your work

Show off your research in an end-of-summer event with other student researchers.

Keep it going

Get 9 months of post-program mentorship — included with program acceptance.
Learn more about what to expect
Your location, your choice
From your local college or hospital, to big name schools on the other side of the country. With STEP-UP, students choose where to research — even private research labs.
Apply by February 1* Check eligibility
* Undergraduate deadline. High school deadline is February 15.
Frequently asked questions
Logistics and financial support
Where do I conduct my research?
Students work with their coordinating center to identify and secure a research institution and research mentor. We recommend that students conduct research at institutions within commuting distances of their homes. Undergraduate students who are interested in conducting research at an institution not in proximity to their home must make their own housing and transportation arrangements.
I do not live close to a college or university. Can I conduct my research at another location?
Yes. Students can conduct research at institutions other than colleges or universities. For example, students can conduct research at hospitals, departments of public health, private research institutions, etc.
Is housing provided?
No. All housing must be arranged and paid for by the student. STEP-UP does not provide a separate stipend for housing.
I cannot afford to commute to the closest research institution. Are transportation stipends offered to cover the transportation cost to and from my research institution?
Students can use funds from their research stipends to cover commuting cost. STEP-UP does not provide a separate transportation stipend for commuting expenses.
Who funds the STEP-UP program?
The STEP-UP program is a federally funded program managed and supported by the Office of Minority Health Research Coordination (OMHRC) in the National Institute of Diabetes and Digestive and Kidney (NIDDK) at the National Institutes of Health (NIH).
Duration and timing
What are the start and end dates for the program?
The start dates for both the high school and undergraduate program are determined by your coordinating center and research mentor; however, high school students must begin the program no later than June 6, 2022. All students are expected to have a minimum of eight weeks of research experience.
Are vacations permitted?
No. Vacations are not permitted during the research experience. All vacations must be taken before or after the program start and end dates.
Can I take classes or work in the evenings during my research experience if it does not interfere with my time or my research?
Yes. Students are expected to conduct research full-time (equivalent to 40 hours per week) in a supervised laboratory or clinical facility. Outside of the research hours students may take classes or other activities.
Eligibility and applying
How do I know if I'm eligible?
Learn about eligibility requirements from citizenship, GPA, grade level, college year, and more on our eligibility requirements page.
What documents are required to apply?
Visit the required documents checklist to learn more about the experience of applying, the review process, and notification of acceptance.
How does the application process work?
Visit the application process & deadlines page to learn more about the experience of applying, the review process, and notification of acceptance.
What happens after I'm accepted?
Learn about what to expect if accepted with regard to a contact person, mentors, site selection, and training.
Science and research
Does my research have to match the NIDDK's core mission areas?
No. However, we strongly recommend that students pursue research within the NIDDK mission areas of diabetes, endocrinology and metabolic diseases; digestive diseases and nutrition; or kidney, urologic and hematologic diseases. Staff at coordinating centers will attempt to match students with research mentors within NIDDK core mission areas before matching students with research mentors outside of the NIDDK core mission areas.
Will my research experience match my research interest?
Not necessarily, however, your coordinating center contacts will do their best to match your research interest with a research mentor and institution related to your interest. If there is a research mentor and/or institution that you are interested in, we strongly recommend that you speak with staff at your assigned coordinating center.
Still have a question?
Contact the STEP-UP team
† Stipend amount varies by location. Read more about financial support in What to Expect if Accepted.