Hemorrhoids
View or Print All Sections
Hemorrhoids, also called piles, are swollen and inflamed veins around your anus or in your lower rectum. External hemorrhoids form under the skin around the anus. Internal hemorrhoids form in the lining of the anus and lower rectum.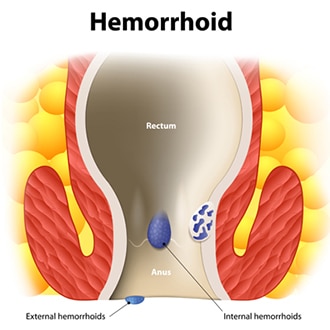 Symptoms of hemorrhoids depend on the type of hemorrhoid. External hemorrhoid symptoms include anal itching. Internal hemorrhoid symptoms include rectal bleeding. Certain toilet habits, constipation, a low-fiber diet, and aging may cause hemorrhoids.
Your doctor can often diagnose hemorrhoids based on your medical history and a physical exam. Your doctor will check the area around your anus, perform a digital rectal exam, and may use procedures to look inside your anus and rectum.
You can treat your hemorrhoids at home by changing your diet and toilet habits. You can use medicines to relieve mild pain, swelling, and itching. Doctors treat hemorrhoids with procedures during an office visit or in an outpatient center or a hospital.
Eating high-fiber foods can make your stools softer and easier to pass and can help treat and prevent hemorrhoids. Drinking water and other liquids, such as fruit juices and clear soups, can help the fiber in your diet work better.
The National Institute of Diabetes and Digestive and Kidney Diseases (NIDDK) and other components of the National Institutes of Health (NIH) conduct and support research into many diseases and conditions.